Exclusive
Military
Frontline report: Russian surrendering soldiers killed by own artillery during Ukraine's liberation of Andriivka near Bakhmut. As Ukrainian forces liberate Donetsk's Klishchiivka and Adnriivka from Russians, Russian artillery fires upon its own troops, leading to casualties among those attempting to surrender.
ISW: As Ukraine liberates Klishchiivka, tactical gains near Bakhmut fix elements of Russian airborne troops in area. The Institute for the Study of War says Ukrainians liberated Klishchiivka near Bakhmut on 17 September, and continued tactical gains fixing Russian airborne elements in the area.
British intel: Elite Russian paratroopers used in unconventional roles near Robotyne. British Defense Ministry's recent intel update underscores Russia's move to reinforce its 58th Army with VDV units. Notably, these units, stationed near Robotyne, seem to operate under strength, altering their traditional offensive role.
Building of occupation administration in Donetsk reportedly attacked. A powerful explosion was reported in the administration building of the so-called Donetsk People's Republic in the center of Russian-occupied Donetsk.
As of 18 Sep 2023, the approximate losses of weapons and military equipment of the Russian Armed Forces from the beginning of the invasion to the present day: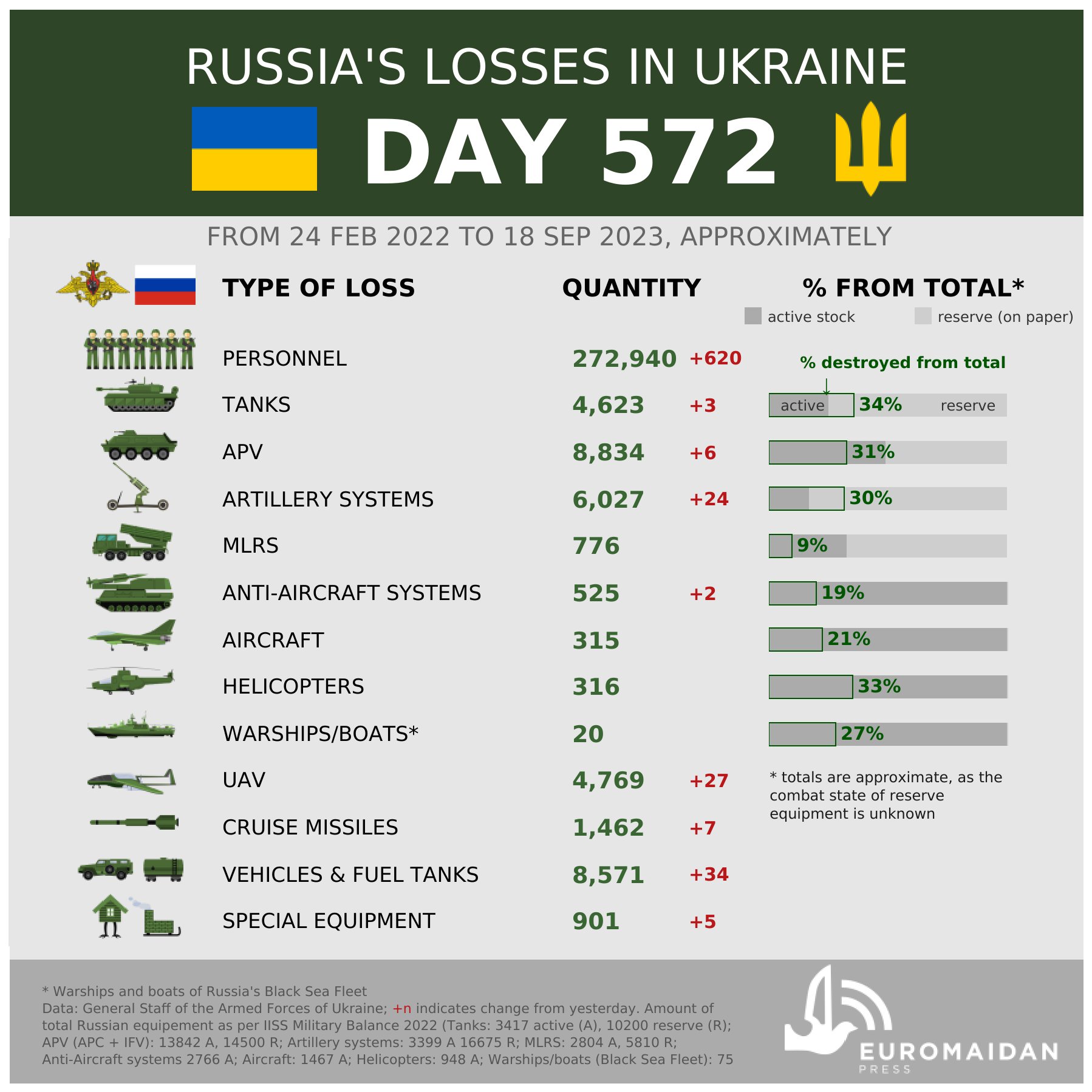 Personnel: 272940 (+620)
Tanks: 4623 (+3)
APV: 8834 (+6)
Artillery systems: 6027 (+24)
MLRS: 776
Anti-aircraft systems: 525 (+2)
Aircraft: 315
Helicopters: 316
Warships/boats: 20
UAV: 4769 (+27)
Cruise missiles: 1462 (+7)
Vehicles and fuel tanks: 8571 (+34)
Special equipment: 901 (+5)
Intelligence and Technology
Ukraine's intel chief: Western military stockpiles didn't run dry. The prolonged war poses significant risks for Ukraine, as it drains the internal resources and those of the Western world, according to Ukraine's spy chief. However, Western support will not diminish, and their military stockpiles are not empty.
Military drone landed on Black Sea resort of NATO's Bulgaria. An explosive drone was discovered in the Bulgarian Black Sea town of Tyulenovo last weekend, according to Reuters. On 18 September, Bulgaria's defense ministry sent a special unit to deactivate a drone. Earlier this month, Romania reported finding debris from a Russian drone on its territory near the Ukrainian border.
International
Germany announces new EUR 400 million military aid package for Ukraine. Germany will provide Ukraine with a new military aid package worth EUR 400 million
Media: EU foreign ministers to meet in Kyiv in October. Ukraine's capital Kyiv will likely host a meeting of the European Union's Foreign Affairs Council in early October
Bloomberg: EU likely to ban Russian diamonds in 12th Russia sanctions package. The EU is considering further sanctions on Russia, including a ban on diamonds and tapping frozen assets to assist Kyiv, according to Bloomberg sources.
World Court to hear Russian objections to Ukraine genocide case, Reuters reports. "Russia and Ukraine will square off before the International Court of Justice on Monday in a case that centres around claims by Moscow that its invasion of Ukraine was done to prevent genocide. Ukraine brought the case to the United Nations' highest court just days after the Russian invasion on Feb. 24 last year. Kyiv argues Russia is abusing international law by saying the invasion was justified to prevent an alleged genocide in eastern Ukraine."
Humanitarian and Social Impact
Russian shelling kills four, injures eight in two Ukraine's oblasts. Over the past 24 hours, Russian forces have repeatedly shelled Ukraine's Kherson and Donetsk oblasts, killing four civilians and wounding eight.
Farmers block roads across Bulgaria, protesting agricultural imports from Ukraine. Bulgarian farmers have blocked the country's main roads, demanding that the Bulgarian government impose a ban on the import of Ukrainian agricultural products.
Political Developments
Zelenskyy arrives in US ahead of UN General Assembly. President of Ukraine Volodymyr Zelenskyy arrives in New York and announces participation in the UN General Assembly and a meeting with US President Biden.
Zelenskyy to meet with Brazilian president Lula for the first time in person this week. Ukrainian President Zelenskyy and Brazilian President Lula will meet for the first time on 20 September amid UN General Assembly meetings in New York, Lula's spokesperson says.
Ukraine government dismisses all six deputy defense ministers after new minister's appointment. The Ukrainian government removes all deputy defense ministers and the ministry's state secretary, a week after Rustem Umerov took over as the new Defense Minister, replacing Oleksii Reznikov.
New Developments
Ukraine to sue Poland, Hungary, and Slovakia over grain ban. Kyiv plans WTO action against three EU countries over the restrictions, Ukraine's Trade Representative Taras Kachka told POLITICO. Earlier, Poland, Hungary, and Slovakia imposed their own bans on Ukrainian grain following the EU Commission's decision to end its restrictions.
Ukraine repels Russia's another massive drone and missile attack. Last night, Russia launched another air attack targeting Odesa Oblast and central Ukraine with missiles and Iranian-made drones. Ukrainian air defenses destroyed all 17 cruise missiles and 18 of 24 UAVs, Ukraine's Air Force says.
In the other news
Ukrainian soldier says US-made Bradley fighting vehicles are 'priceless' in nighttime assaults, offering visibility better than in daylight, Insider reports.  US-made Bradley fighting vehicles are invaluable for Ukrainian forces in nighttime assaults against Russia, offering better visibility than in daylight, per a Ukrainian soldier. The armored vehicles have kept troops alive amid hazards. The Bradley's thermal imager provides clear visibility of targets miles out. Its 25mm cannon causes significant damage despite limited range. At night, the vehicle is "absolutely priceless" with faster target acquisition than daytime. The Bradley withstands mine blasts and is superior to Soviet-era counterparts for breakthroughs, defense, and evacuations. The US has pledged 186 Bradleys to Ukraine, though 53 have been destroyed, damaged, or abandoned per data. Ukrainian crews have repaired some to return to combat.
Production of key munition years ahead of schedule, Pentagon says, Defense News reports. "Production of 155mm artillery rounds crucial to the war in Ukraine is years ahead of schedule, according to Pentagon acquisition chief Bill LaPlante. The Pentagon's original goal was to build 85,000 of the rounds per month by fiscal 2028. It's currently on pace to reach 100,000 per month by FY25, LaPlante said, and at least 57,000 a month by spring 2024. The current rate, he noted, is 28,000 per month — about double the rate from half a year ago."
Euromaidan Press fundraising
Euromaidan Press boosted Odesa's 160th air defense brigade with 12 additional anti-aircraft searchlights (7600 €). The brigade still needs two reconnaissance drones – so far we collected 700 €, 2500 € still needed.