Patrons, donors, and partners
Patrons
We are grateful to all our supporters and patrons. You make it possible for us to be truly independent and to continue serving the people who truly matter — you, our readers. We are especially thankful to our super patrons! Everyone who pledges $25 and above can enter our hall of fame. Would you like to become a patron and enter this hall? Check out the options on Patreon.
PATRON HALL OF FAME
Anonymous patron
Paul Hawran
Jessica Piziali
Olga
Chloe Caso
Michael Balahutrak
Phil Strongman
Dennis P Jans
Nicolas Malard
Hans Petter Midttun
Ariadna Motus
Alex Towstopiat
Roman Cybriwsky
Alexandra hoag
Denis Batta
Heikki Hakala
John Sullivan
Christian Winther
Melaniya Temnycky
Bohdan Komarynskyj
Janet Demiray
Darcy
Yuri Deychakiwsky
Denys Dratsky
Ana Chechelashvili
Betty Wang
John Liccione
Pacedomi AB
Shelly C
David
Leslie
Lisa Recneps
Peter Kurg
Steven Robbins
Vincent Sabio
Alexander Wilhelmsen
Andrei Melnikov
Andy Gardner
Arnstein Melgaard
Bjoern Markstedt
Brendon Cornett
Carla Guido
Chris Klugewicz
Cristina Go
David Fisher
Deborah Sheaf
Dirk Krenzke
Don Williams
Doug Hensley
Eric Piety
Jack Sanders
Jesper Juul Keller
Jim Dubinsky
Joanna Griffin
Johan Danielsson
John
John Ashington
Lesia Zubjuk
Liz Kelleher
Mary Senchyna
Michael Schilling
Oliver Greschke
Pamela J Hoiles
Reynir Hardarson
Rick Coomer
Shubhang Varma
Sonya
Tamara Krawchenko
Valerie Richardson
Wayne Kilburn
Tom Henderson
Partners
Euromaidan Press is proud to be working alongside these organizations:
Krytyka Magazine  – a magazine providing in-depth analysis and substantial historical, political, and cultural context for the current situation in Ukraine working with a wide network of experts, journalists, and international faculty. Krytyka seeks to participate in the global debate around key issues concerning the world today, while also articulating Ukrainian emphases and perspectives and works on establishing high standards of cultural and political debate in Ukraine, especially with regard to freedom of speech and tolerance for differences of opinion.
INFORMNAPALM is a volunteer initiative to inform both Ukrainian citizens and the foreign public about the crises in Ukraine consisting of journalists, political scientists, military experts, public figures, IT specialists, editors, and translators.
Ukraine World is an English-language multimedia project about Ukraine run by the NGO Internews Ukraine. It produces articles, podcasts, video explainers, reports, analysis, and books about Ukraine in English and other languages. As well, Ukraine World maintains a google group uniting over 300 international journalists and experts on Ukraine. See here to check it out and join.
KYIV NOT KIEV is a weekly news video project hosted by Tetiana Gaiduk and Polina Boichuk, leading TRUMAN Agency experts specializing in strategic communications and diplomacy. The show covers the most important Ukrainian political, economic, and cultural events and their analysis and includes video interviews with key opinion leaders and experts dealing with topical importance issues. Follow their Facebook page here.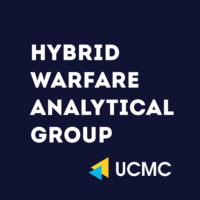 Hybrid Warfare Analytical Group (HWAG) is an integral part of the Ukraine Crisis Media Center. It focuses on monitoring, deconstructing, and countering Russian hybrid influences with an emphasis on information security. Experts that established the team worked in-house with Ukrainian Armed Forces, being on the frontline of hybrid war since 2015, lending their expertise in detecting and deconstructing Russian influence operations, improving the government's strategic communications, and building resilience towards malign influence. HWAG builds up and expands expertise in the areas of: – The image of Ukraine, the USA and European states promoted by Russian disinformation; – Military narratives in top Russian domestic media – Narratives aimed at whitewashing the Soviet past and reconstructing the empire; – The role of the local Kremlin's agents of influence; – Evolvement of all of the above. The group has more than 40 partner organizations worldwide and in Ukraine, including Euromaidan Press.

The Media Initiative for Human Rights (MIPL) is a Ukrainian NGO launched in September 2016 by journalists Maria Tomak and Olga Reshetylova. Its combines journalism and human rights activities to respond to human rights violations in Ukraine arising from Russia's aggression against Ukraine. Currently, the organization focuses on journalistic investigations and advocacy to advance solutions and appropriate national and international responses to problems of human rights violations in the occupied Crimea and Donbas. MIPL focuses on the problem of hostages in occupied Donbas, supporting their families and raising national and international awareness of the problem; forming national and international sanctions policies related to the armed conflict, as well as monitoring and drawing public attention to ongoing judicial processes in connection to the armed conflict.
Promote Ukraine is a Brussels-based non-profit media and civil society hub for the exchange of expertise between Ukraine and the EU. Promote Ukraine has several instruments to promote Ukraine's European integration with the help of expertise: a website and a mobile app Leads Ukraine to give more space for EU-Ukraine-Russia relevant news, commentaries and interviews; a bilingual printed and online quarterly journal "Brussels Ukraїna Review" which is shared among policymakers of Ukraine and the EU. Experts from Kyiv, Brussels, and other capitals and cities of the European Union are invited to share their views on the website and in the journal.
Razom is a non-profit organization established to support the people of Ukraine in their continued quest for democracy, justice, and human rights.
Euromaidan SO
S is a self-organized group of human rights and civil society activists, lawyers, journalists and other concerned citizens of different professions. Initially defending the rights of peaceful protesters on Maidan Square in Kyiv, the group now operates covering a broad range of human rights issues.
Civic sector of Euromaidan is a civic initiative that started on Euromaidan to support the demands of civic society and now has grown into a network of NGOs working to transform Ukrainian society. They release a weekly newsletter in English about the latest events in Ukraine.
The Public Union "Reanimation Package of Reforms Coalition" is a coalition of leading non-governmental organizations and experts from all over Ukraine who have united their efforts to facilitate and implement reforms. The RPR was established by the NGOs and experts that after the Revolution of Dignity joined their forces in March 2014 to develop a consolidated position on the reforms necessary for the country and their proper implementation. The RPR members maintain the process of advocacy and communications of the reform in Ukraine. See more information about RPR Coalition on their website.
Lviv Security Forum is a discussion ground for finding an answer to the question – what the new world security order should be. It gathers leading intellectuals, specialists in the field of geopolitics and international security, politicians, and representatives of the military command of Canada, the United States, Ukraine, Estonia, and Moldova at the same site.
Depositphotos is one of the world's leading content marketplaces with a library of 140 million stock photos, videos, and vectors. The company helps in realizing all kinds of projects by making creative content accessible for everyone. Their motto is "Create. It's for you."
Donors

Euromaidan Press is grateful for the long-time support of the International Renaissance Foundation.
As well, Euromaidan Press is thankful for the past support of GPD Charitable Trust, British Embassy Kyiv, and National Democratic Institute.
All of our content is editorially independent and may or may not reflect the views of our donors.