Euromaidan Press (EP) is an online English-language independent newspaper launched by Ukrainian volunteers in 2014. EP focuses on events concerning Ukraine and provides translations of Ukrainian news, expert analyses, and independent research. Through its work, EP strives to bridge Ukraine with the English-speaking world.
EP is a registered non-governmental organization in Ukraine, NGO "Euromaidan Press." Its current head of the board is Alya Shandra.
EP's coverage is vast, spanning Ukrainian politics, the war and peace process in eastern Ukraine, the economy, history, breaking news, business opportunities, tourism, and more. We collect, rely on, and promote non-partisan, non-religious, unbiased information in our fight against the Russian disinformation campaign. Many of our stories are devoted to Ukrainian soldiers' efforts to defend the territorial integrity of our country's eastern flank.
Our vision and mission
Our vision: We believe in a democratic and united Ukraine that is free from foreign pressure or coercion, with a government that is accountable to its people and where on basis of the rule of law a society is created and maintained that provides its citizens of all ethnic backgrounds with equal rights and possibilities to build their futures, free from want, corruption, and political oppression.
Our mission: We provide truthful, reliable, and accurate information on developments within Ukraine as well as on issues that relate to Ukraine, both as a state entity and a multi-ethnic free society, by developing and maintaining media, information, and analytical sources that are non-partisan, non-religious, non-aligned, and that counter the disinformation that is detrimental to Ukraine and to Ukrainian society.
We wish to be an independent voice of Ukraine and to construct a bridge between Ukraine and the Ukrainian communities living abroad. We strive to inform global public opinion about our country's history, political and social developments and the opportunities our country offers for business and tourism.
We support all honest initiatives to help our country realize the ideals and values that formed the basis of the Euromaidan movement in Ukraine. We also support initiatives to develop independent media and democratic actions in other states that uphold core democratic values.
What we do: We run the site euromaidanpress.com where we translate and write news articles and analyses on Ukraine, create videos and graphic materials about Ukraine in English, and maintain a professional presence on social media (Facebook and Twitter). We release daily newsletters with our materials.
Our past projects included quasi-weekly newsletters from the Friends of Ukraine network covering projects in support of Ukraine and articles analyzing authoritarian movements in Ukraine, Europe, and beyond in the Reft & Light project. In conjunction with the Center for Civil Liberties, we launched and ran the site letmypeoplego.org.ua and promoted it on Facebook (English, Ukrainian) and Twitter (English, Ukrainian) in two languages to inform the world about the #LetMyPeopleGo campaign aimed to free Ukrainian political prisoners and hostages illegally held in Russia.
Contact
We welcome editors, translators, journalists, and web designers who care about the future of Ukraine to join our team and other friends to support our work. You can submit your contribution here. Or drop us a line at euromaidanpress (a) gmail.com.
Corrections and feedback? Contact Alya Shandra at alya.shandra (a) gmail.com.
Editorial principles
Euromaidan Press abides by the following Editorial Codex.
We have also submitted a Transparency Report within the NewsGuard program by the Journalism Trust Initiative
The team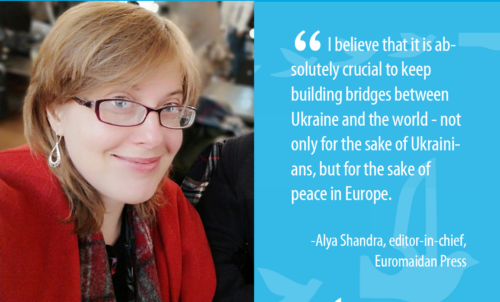 Alya Shandra
Alya Shandra is the editor-in-chief at Euromaidan Press. Before joining Euromaidan Press, she participated in environmental research and education projects. Alya can be contacted at alya.shandra (a) gmail.com, on twitter @AlyaShandra, or FB
"Euromaidan was a protest against an authoritarian president, but it set in motion global events. Ukraine now attempts to simultaneously fend off a resurgent empire in the east and heal the rot of its society caused by 70 years of totalitarian Soviet rule, all in times of immense change in the west.
The outcome of this battle will impact the whole world. Were Ukraine to again fall under the Russian sphere of influence, the authoritarian axis of modernity would grow, with potentially disastrous outcomes. This happened before: in the 1920s, it was Ukraine's resources that allowed the USSR to industrialize and, ultimately, grow an appetite for dividing up Europe.
I believe that it is absolutely crucial to keep building bridges between Ukraine and the world – not only for the sake of Ukrainians but for the sake of peace in Europe."
[hr]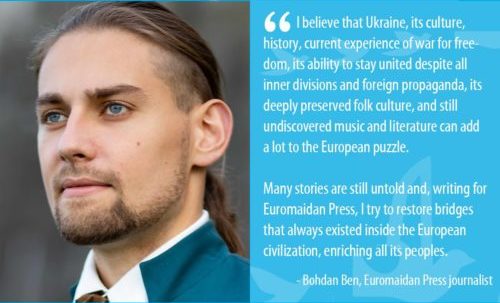 Bohdan Ben
Bohdan Ben is a researcher in the field of social and ethical philosophy and in the field of local governance. He was among the winners of the program "Youth will change Ukraine" organized by Bohdan Hawrylyshyn Foundation. Together with his friends, he began the implementation of the project "In the land of Hope," which aims to facilitate and promote local initiatives that strive for social and ecological sustainability. Bohdan can be reached by [email protected] or on FB.
"Only now did Ukrainians start to rediscover themselves, following 70 years of totalitarian self-oblivion, during which Ukrainian parents taught their children to speak only Russian for by doing so they will make a career in the empire. Apparently, 30 years of independence hasn't been enough to overtake the previous epoch. But if we add 100 years of the Ukrainian Cossack state, 200 years of Ukraine being part of the Polish-Lithuanian Commonwealth, as well as its experience in the Austrian Empire and the Kyivan Rus to this short period, the outcome of the contemporary Ukrainian struggle becomes predictable. The only requirement is that Ukrainians don't forget their legacy of contributing to and creating the most liberal European states of that time, where clear limits for authorities, elections, and free discussion existed far before their modern form.
The contemporary Ukrainian struggle against Putin's remnants of the Soviet Empire and for a free and democratic state is also part of the struggle of European civilization to protect its values. What is Europe? A question that becomes yet more puzzling in today's complicated world. However, in times of authoritarian regimes rising around the world, Europeans need to stay together and unified, both by their past and future. I believe that Ukraine, its culture, history, current experience of active war for freedom and hybrid warfare against disinformation, its ability to stay united despite all inner divisions and foreign propaganda, its deeply preserved folk culture, and still undiscovered music and literature can add a lot to the European puzzle. Many stories are still untold and, writing for Euromaidan Press and doing my Ph.D. research, I try to restore bridges that always existed inside the European civilization, enriching all its peoples."
[hr]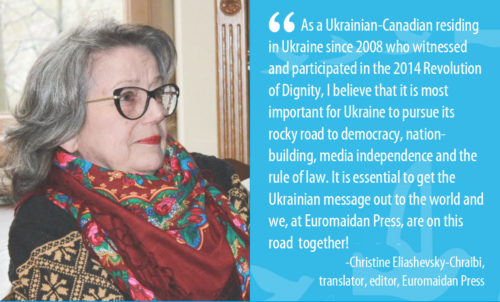 Christine Chraibi
Christine Chraibi is an editor and translator at Euromaidan Press.
"Throughout its long history, Ukraine has been a battleground for foreign powers striving to gain control of its people, wealth, and resources. But today, after three decades of independence and numerous internal upheavals, such as the 2004 Orange Revolution and the 2014 Euromaidan, Ukraine is forging its own path as a sovereign state while underlining its strong commitment to western values, European integration, and NATO membership.
Unfortunately, Russia has other plans for Ukraine. Through its aggressive policy in Ukraine and throughout the world, the invasion of Crimea, and the war in the Donbas, the Kremlin has made it clear that it considers Ukraine its sphere of influence, striving to draw it into its own project – the so-called Eurasian Union, a hegemony of territories that Russians regard as historically theirs. However, Ukrainians have shown that they are willing to suffer, take risks and even die in the name of Europe and freedom!
As a Ukrainian-Canadian residing in Ukraine since 2008 who witnessed and participated in the 2014 Revolution of Dignity, I believe that it is most important for Ukraine to pursue its rocky road to democracy, nation-building, media independence, and the rule of law. It is essential to get the Ukrainian message out to the world and we, at Euromaidan Press, are on this road together!"
[hr] [hr]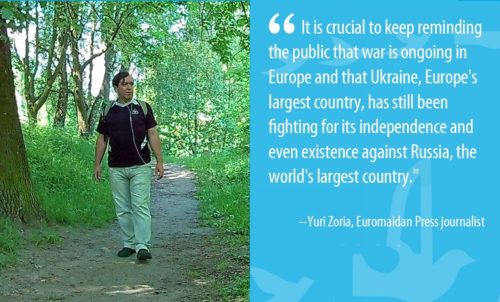 Yuri Zoria
Yuri Zoria. A philologist by education, in 2003-2007 Yuri worked as a journalist in a Luhansk online media. He was born and lived all his life in the peaceful provincial city of Luhansk, where nothing serious happened. Until 2014. Now he is an IDP. Follow Yuri on twitter: @loogunda
"Russia's war in the east of Ukraine has entered its eighth year. As the war turned into trench warfare after its initial most violent months, it largely disappeared from news cycles around the world. Not so many know that this long-forgotten war is far from being over or even frozen, and Russia's goals in Ukraine remain unchanged since 2014.
It is crucial to keep reminding the public that war is ongoing in Europe and that Ukraine, Europe's largest country, is still fighting for its independence and even existence against Russia, the world's largest country."
[hr]
Volunteers
Euromaidan Press is grateful to the hundreds of volunteers who translated news 24/7 during the hottest days of Euromaidan. Today, volunteers help us greatly as well. We are especially thankful for the regular generous contributions of time and talent of these volunteers:
Sonia Maryn is an editor at Euromaidan Press. She has worked professionally in journalism, communications, and public affairs. Being the daughter of WWII refugees, she has been active in Canada's Ukrainian community all her life; the Ukrainian Canadian Students' Union, the Canadian Institute of Ukrainian Studies, Encyclopedia of Ukraine, the Ukrainian Canadian Congress, as well as youth and cultural groups.
"We called it 'The Cause,' meaning our lives were devoted to the freedom of Ukraine. We grew up with one foot in the mainstream and the other in Ukraine – the Beatles and the Bandurysty. Our parents had survived the war, and many the Holodomor, and we were their lucky descendants.
The world is only now learning about Ukraine, against the backdrop of Russia's invasion of sovereign territory. From the Tsarist Empire, to the USSR, to the Putin regime, Ukraine has fought and survived the tyranny of Russian hegemony."
[hr]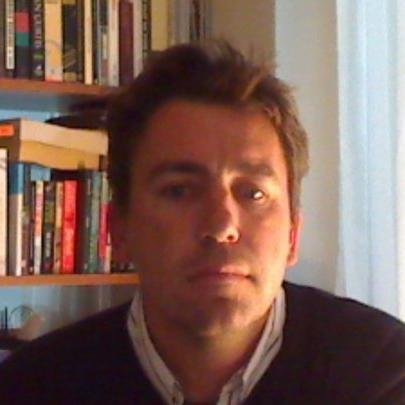 Michael Garrood is an editor at Euromaidan Press. He teaches German and English in Switzerland.
"I read a book as a child about Stalin's deeds in the Kuban, Ukraine and Volga German republic in the 1930s. The fact that just a week before the end of the Maidan I had hardly heard of it is a small matter of personal shame which by providing linguistic support I am hopefully making up for."
[hr]
Annual report
Euromaidan Press has been cited by:

[hr]
Contact
If you wish to contact us about contributions, news, suggestions, or advertising, please reach us at the following: