Exclusive
Military
Ukrainian Army liberates Klishchiyivka in Donestk Oblast. Ukraine's Armed Forces liberate the second town on the eastern front within a week.
Frontline report: Seven Russian warships targeted by Ukraine in just four days, with three destroyed and at least two damaged. In four days, Ukraine attacked at least seven Russian warships in the Black Sea with missiles and drones, destroying three of those – the boat Tunets, the submarine Rostov-na-Donu, and the landing ship Minsk – and damaging at least two Kalibr-NK missile carrying patrol boats.
ISW: Ukraine continued advancement near Donetsk's Bakhmut and Zaporizhzhia's Robotyne. Based on ISW's findings, Ukrainian forces, in areas of Bakhmut and Robotyne in the country's east and south, continue their offensive operations, emphasizing their gains and breaches against Russian defenses.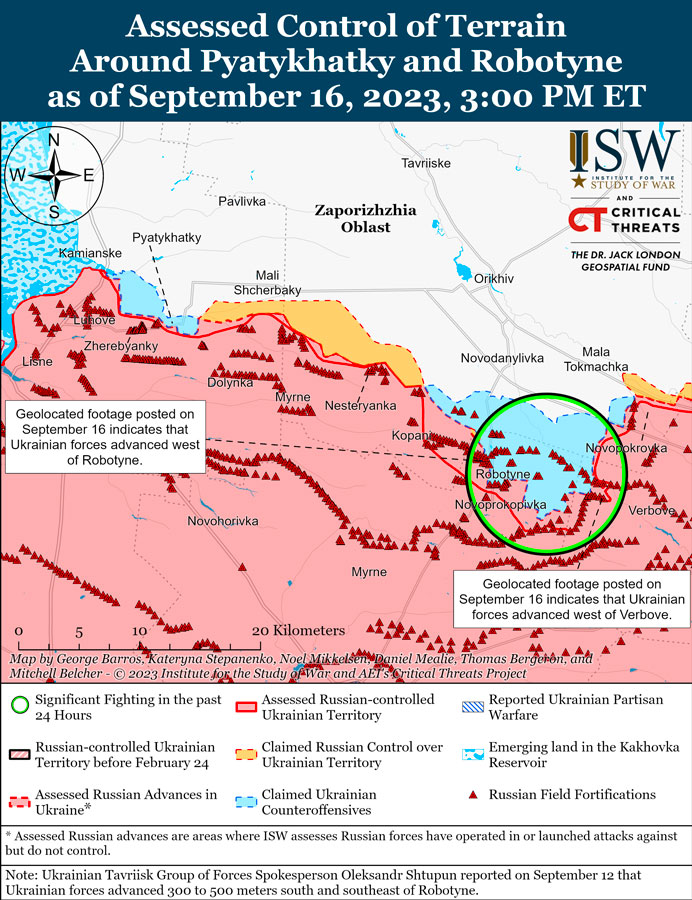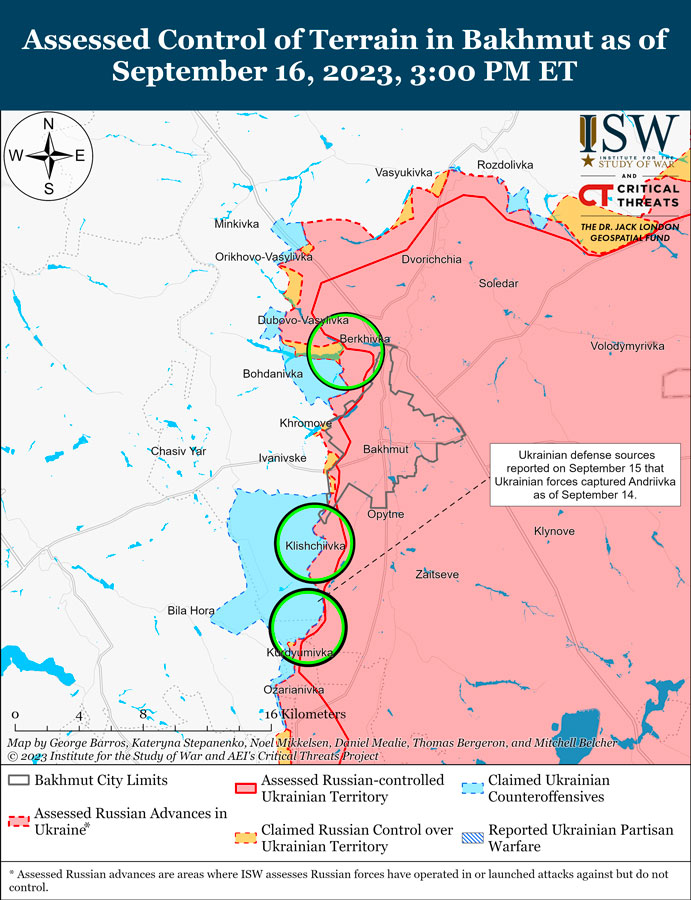 Drone hit fuel depot in Russia's Oryol, causing a fire. An allegedly Ukrainian one-way attack drone hit a fuel depot in Russia's Oryol Oblast in the early hours of 17 September, setting a fuel tank ablaze.
British intel: Russia fortifies Zaporizhzhia's Tokmak, fearing Ukrainian breaches. British intelligence reveals that Russian forces are boosting their defenses around Tokmak in southern Ukraine, possibly in response to Ukrainian tactical movements north of the city.
Russian air attack targets Odesa agricultural enterprise as Ukraine downs 6/6 drones, 6/10 missiles. Russia again targets Odesa agricultural infrastructure in a nighttime air attack as Ukraine downs all six "kamikaze drones" and six of ten air-launched cruise missiles, according to Ukraine's Air Force.
As of 17 Sep 2023, the approximate losses of weapons and military equipment of the Russian Armed Forces from the beginning of the invasion to the present day: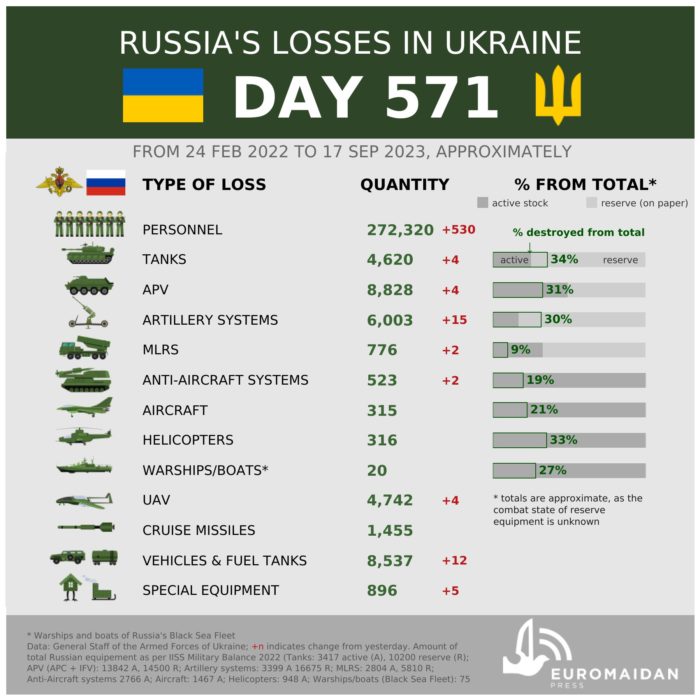 Photo of the day
International
Canada to contribute some $25 mn to buy air defenses for Ukraine. Canada is investing C$33 million into a UK-led partnership including the US and other nations, to buy air defense equipment for Ukraine against Russian threats.
NATO chief Stoltenberg: "We must prepare ourselves for a long war in Ukraine". "We must prepare ourselves for a long war in Ukraine," says NATO chief Jens Stoltenberg.
Humanitarian and Social Impact
Ukraine condemns Russia's war crimes after deadly shelling in Sumy Oblast. The Russian Army continues to target Ukrainian civilians and multiply war crimes in Ukraine.
Political Developments
Polish PM slams Merkel for energy agreements with Russia, draws comparison to Molotov-Ribbentrop Pact. Mateusz Morawiecki criticized the gas and raw materials policy pursued by former German Chancellor Angela Merkel.
CNN: Zelenskyy to meet Biden at White House. Ukraine's President Volodymyr Zelenskyy will meet all US senators in Senate and US President Joe Biden at White House on 21 September, according to CNN.
New Developments
Forbes: Russia spends USD 300 million a day on war against Ukraine. Direct military spending and the cost of Russia's lost equipment over the 18 months of the Russo-Ukrainian war amount to about $167,3 billion.
Two cargo ships arrive in Ukraine's Chornomorsk port to load grain amid Russia's blockade. First two cargo vessels, Resilient Africa and Aroyat, have reached Ukraine's Chornomorsk port using a newly established corridor in the Black Sea amid Russia's maritime blockade. They aim to load 20,000 tonnes of wheat for export to Egypt and Israel.
In the other news
FT: The race to save Ukraine's abducted children. Since Russia's invasion of Ukraine began, thousands of Ukrainian children have been abducted and relocated to Russia against their families' wishes. Ukraine's human rights ombudsman says records show nearly 20,000 such deportations, while a Russian official has boasted of 700,000 Ukrainian children now in Russia. As time passes, it is becoming increasingly difficult to identify and repatriate these children, as Russian authorities often obscure their identities and speed up adoptions. With little help coming from institutions like the UN, the race is on for Ukrainian parents, charities and the government itself to find innovative ways – from hacking databases to leveraging backchannel contacts – to bring these children home before they are lost forever.
Read the daily review for Sun Sep 16 2023 here