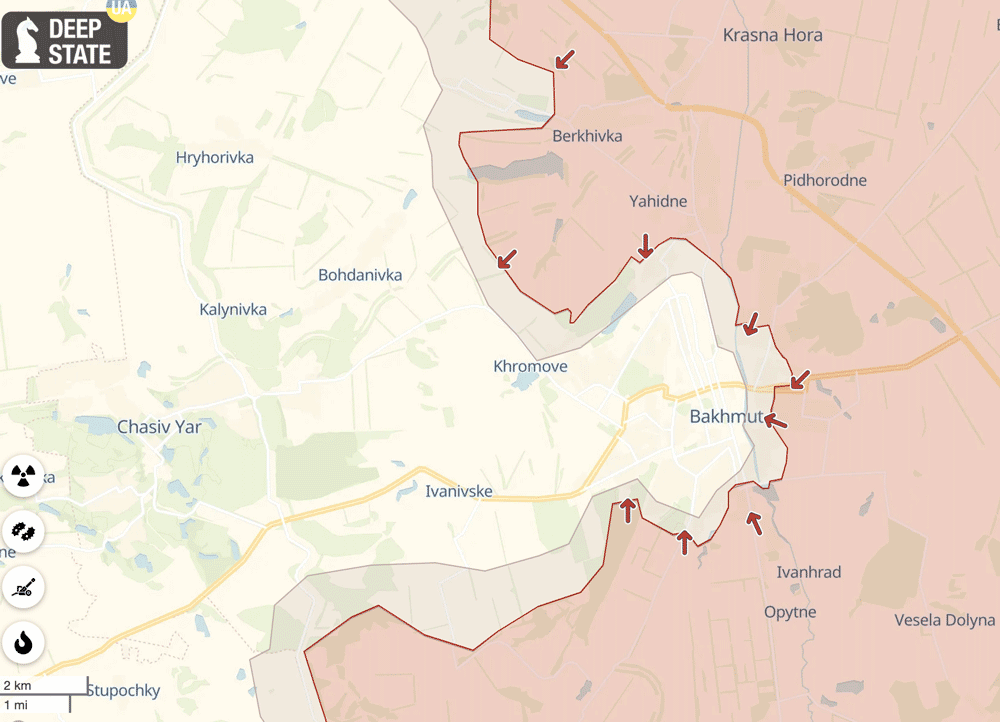 Situation around Bakhmut, Donetsk Oblast, as of 4 March 2023. Map: deepstatemap.live 
Editor's Note
In its March 3 Russian offensive campaign
assessment
, the Washington-based Institute for the Study of War says that Ukrainian forces
"appear to be setting conditions for a controlled fighting withdrawal from parts of Bakhmut."
Russian forces have been fighting to take Bakhmut, a city with a pre-war population of roughly 70,000 people, since roughly May 2022 and have suffered devastating casualties in the process.
Geolocated footage posted on March 3 confirms that Ukrainian troops have destroyed two critical bridges in the Bakhmut area—one across the Bakhmutivka River in northeastern Bakhmut and one along the Khromove-Bakhmut route just west of Bakhmut.
Ukrainian-held resupply routes out of Donetsk's Bakhmut are increasingly limited – British intel
The preemptive destruction of bridges is likely an indicator that Ukrainian troops may seek to inhibit Russian movement in eastern Bakhmut and limit potential westward Russian egress routes out of Bakhmut.
Ukrainian Presidential Advisor Oleksandr Rodnyanskyi previously stated on February 28 that Ukrainian forces could choose to pull back from positions in Bakhmut as needed. Rodnyanskyi also noted that Ukraine has fortified the area west of Bakhmut such that even if Ukrainian troops begin to withdraw, Russian forces would not necessarily be able to rapidly take the entire city.
Ukraine SOF commander inspected units defending Donetsk's Bakhmut
If the Ukrainian military command deems it necessary to withdraw from Bakhmut it will likely conduct a limited and controlled withdrawal from particularly difficult sectors of eastern Bakhmut judging from Ukrainian statements and reported Ukrainian actions. ISW will continue to monitor the situation and offer updated assessments of the implications of possible Russian courses of action if and when Ukrainian forces begin to pull back.
Read also:
Still 4,500 civilians in Bakhmut as Russian forces advance, Ukrainian official told CNN
Springtime muddy conditions to benefit Ukraine's defending forces – British intel
Russia loses 500 soldiers a day in Bakhmut offensive alone – Ukraine's Defense Minister
Tags: Bakhmut, Donetsk Oblast, t