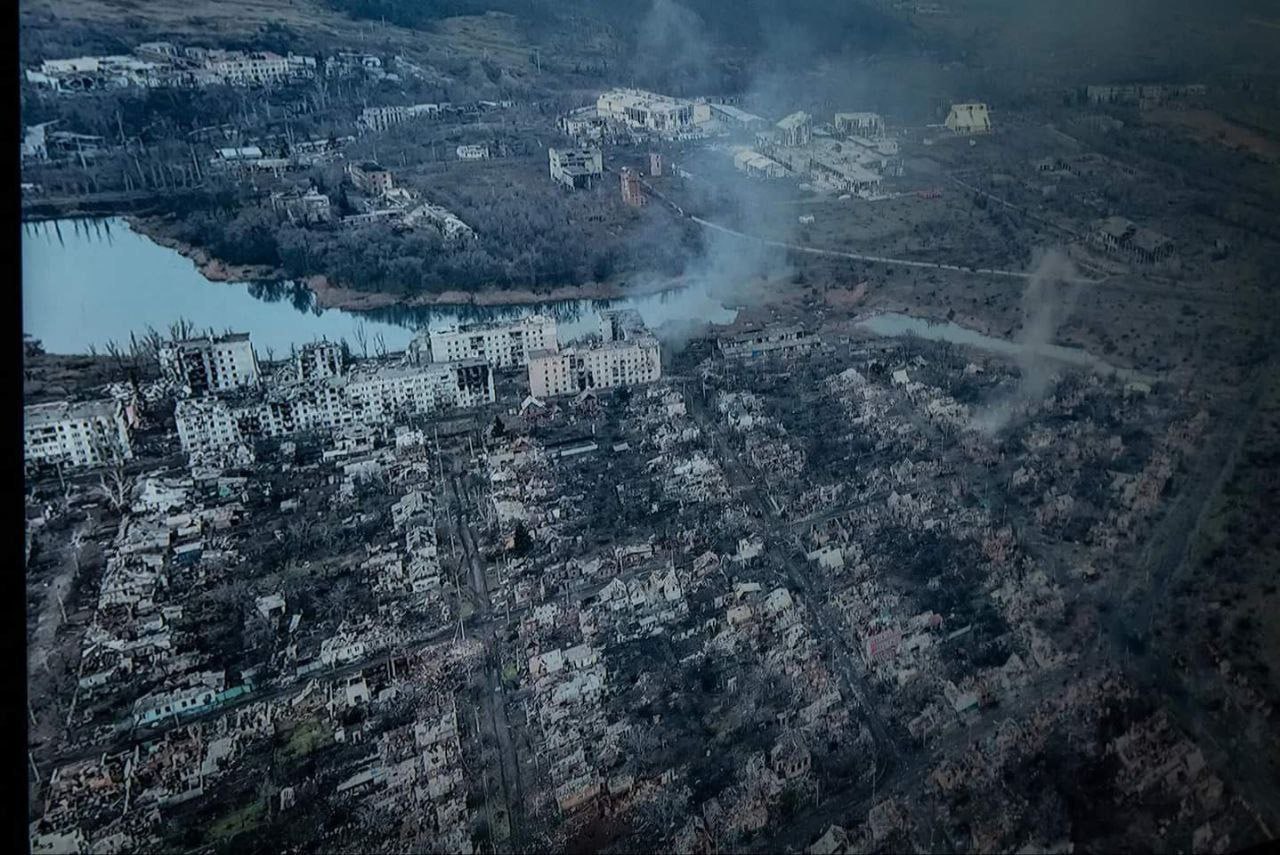 Russia razes Bakhmut to the ground. Photo by UNIAN/Telegram 
Russian forces ramped up the intensity of air strikes and artillery shelling on Bakhmut in Donetsk Oblast, eastern Ukraine, a Ukrainian soldier of the Special Operations Forces with a call-sign Sokil (Falcon) said in an interview published by the official Telegram account of the Special Operations Forces of the Armed Forces of Ukraine on 4 April 2022.
Despite numerous claims by the head of the Russian mercenary group Wagner PMC, Evgeny Prigozhin, that Russian forces, including Wagner, face ammunition shortages on the frontlines, Ukrainian defenders of Bakhmut do not see signs of such shortages on the battlefield lately.
In his interview, the Ukrainian soldier with a call-sign Sokil admitted that Russian forces did have problems with ammunition, but such problems seem to be solved now.
"The head of the Wagner Group said they had no ammunition, so they could not continue the assault. We saw that on the battlefield and it was a great moment for us to carry out raids and ambushes on Russian units," Sokil said. "However, it all ended quickly. Now the enemy is supplied with ammunition. Artillery and air strikes have become twice as strong at this point."
According to the Ukrainian soldier, the enemy artillery is working non-stop in and around Bakhmut. Russian reconnaissance drones track the movement of Ukrainian troops, and immediately the enemy launches air or artillery strikes at that location.
According to the Institute for Study of War, Wagner Group fighters continue to advance inside Bakhmut. However, Ukraine has denied claims by Wagner's head Yevgeny Prigozhin that his forces had raised the Russian flag over the administration building in Bakhmut. A spokesperson for Ukraine's eastern military command said that fighting was ongoing around the building and that Russian forces were "very far" from capturing the town, Reuters reports.
Related: