Wagner Group fighters made further advances in central Bakhmut and seized the Bakhmut City Administration Building on the night of April 2, the Institute for Study of War writes in its daily report.
Wagner Group financier Yevgeny Prigozhin raised a Russian flag with an inscription in memory of assassinated milblogger Maksim Fomin across from the Bakhmut City Administration building the night of April 2 and claimed that Wagner "legally controls" Bakhmut, though Ukrainian troops remain in the western part of the city, the think tank wrote.
On April 3, Russian forces continued their progress and a video released on the same day showed Wagner Group and Russian flags being planted on the remains of the demolished administration building. Milbloggers from Russia also shared a picture of a Wagner fighter standing in front of the Bakhmut City Administration building before it was destroyed. It is probable that the Wagner Group will persist in its efforts to establish its dominance over central Bakhmut and endeavor to move westwards through heavily populated urban zones towards Khromove, ISW believes.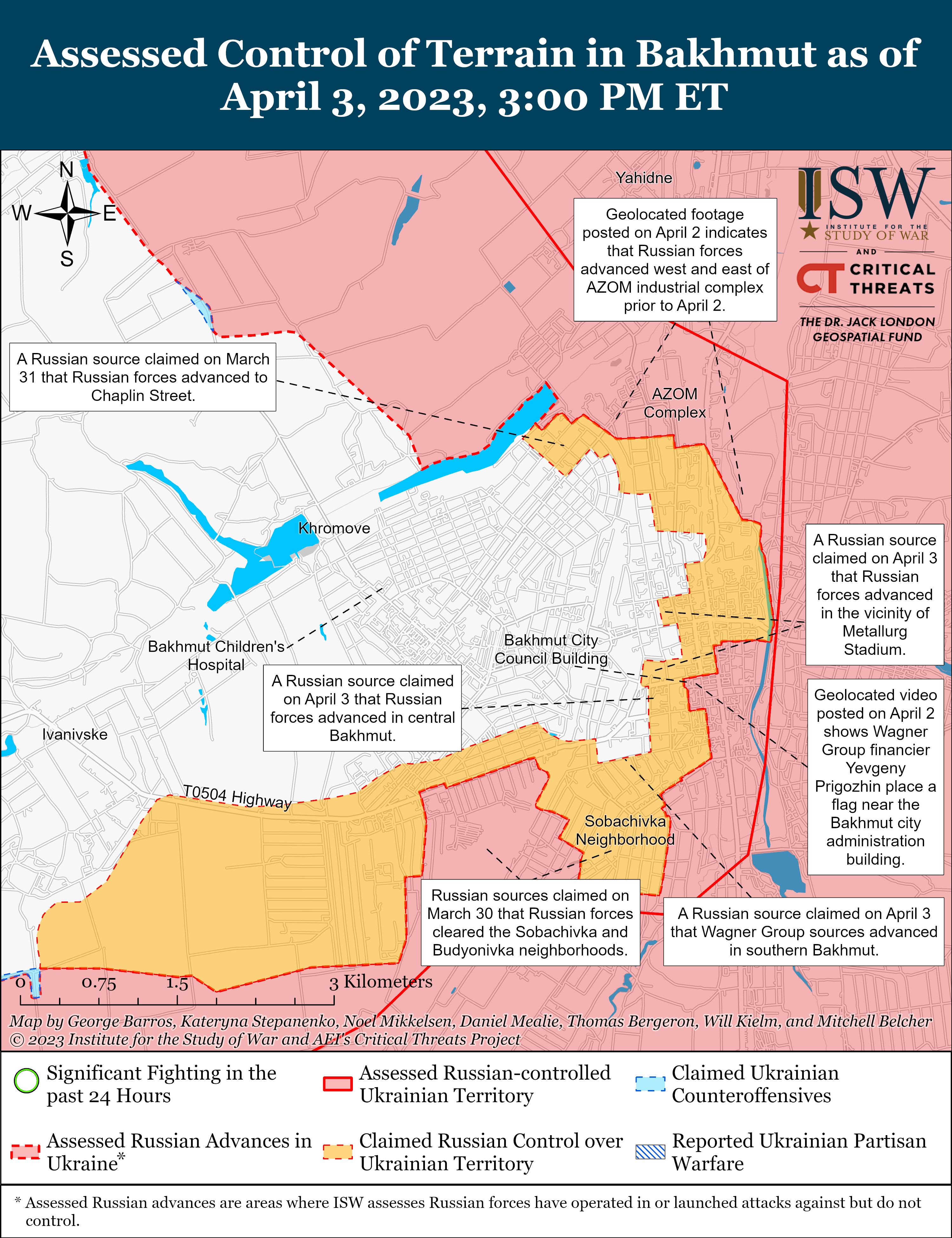 The city has been at the epicenter of fighting in the last months, and the city has obtained a symbolic status for both Ukraine and Russia. Yesterday, Ukrainian officials denied Prigozhin's claims that Bakhmut was seized, stating that fighting was ongoing and Russian forces were "very far" from capturing the town.
Speaking during a press briefing, John Kirby, Coordinator for Strategic Communications at the National Security Council in the White House, said on Monday that Ukraine is still fighting hard for the eastern city of Bakhmut in Donetsk Oblast, despite Russian propagandists' claims.
"They [Ukrainians] are still there, that's why the city did not fall into the hands of the Russians. We have talked a lot before about the high level of casualties in Bakhmut and how the Wagner Group continues to throw its recruits, many of whom are former convicts, into the meat grinder. So, such brutality, human effort is quite staggering when it comes to how much Russia has thrown into this city," Kirby added.
"Bakhmut is of great importance to Ukrainians, and we, of course, respect and understand that," but even if Bakhmut falls, "it won't change the dynamics of the battle from a strategic point of view," Kirby added. He reiterated the view that the founder of the PMC Wagner, Yevgeny Prigozhin, sees economic gain in seizing Bakhmut through its mines.
"But as we see it today, the battle for Bakhmut is not over, and the Ukrainians have not been pushed back. And again, [the fights] continue to be quite fierce and quite close," the senior official said.