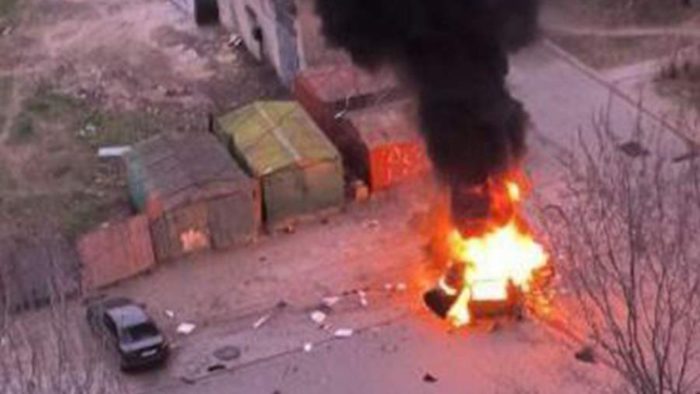 The burning car of quisling Tkach in Melitopol. Screengrab from video 
Ivan Tkach, a Ukrainian quisling who collaborated with the Russian occupiers in Melitopol, was killed in a car explosion on 14 March, Ukrainska Pravda reported. His Toyota Land Cruiser Prado was destroyed by a self-made explosive device using about 1 kg of explosive in TNT equivalent, according to Vladimir Rogov, another collaborator.
According to sources of the media in Ukraine's security service, when the south-Ukrainian city was just occupied in March 2022, Tkach started collaborating with the Russians and organized the work of city transport in Melitopol. In September, he was appointed to direct the municipal transport enterprise of the city.
As part of his activities, he set up transport connections to other Russian-occupied territories such as Crimea and occupied Donetsk and Luhansk oblasts, and transported Russian servicemen from these territories to Zaporizhzhia Oblast and back.
Using the assets of his municipal enterprise, he transported mercenaries of the Wagner PMC to the frontline in this oblast.
It is likely that the buses filmed bringing Wagner recruits to the Zaporizhzhia frontline were organized by Tkach.
The Ukrainian city on the Azov Sea has been turned into a Russian military hub. Recently, Wagner was reported to be recruiting residents of occupied Melitopol for the assault on Bakhmut, which is at the center of battles nowadays.
Blowing up collaborators and quislings is a common tactic of Ukraine's resistance movement. In June 2022, the Kherson partisans reportedly offered bitcoins for the heads of invaders and collaborators and were involved in bombing collaborators.
Such explosions have previously occurred in Melitopol, where on 23 December 2022, a police collaborator was injured in a car explosion. Before that, collaborators Dmytro Trukhin and Mykola Volik were injured from such explosions.
They have also occurred in other cities. On 3 February 2023, a car explosion killed a policeman who was collaborating with Russian occupiers in the Ukrainian city of Enerhodar.  Similarly, in December 2022, a high-ranking collaborator's car was blown up in Skadovsk in occupied Kherson Oblast and in August 2022, a car with a collaborator was blown up in Berdiansk, Zaporizhzhia Oblast.
Additionally, Vitaly Gura, the quisling deputy head of the administration of Nova Kakhovka, was reported to be hospitalized and in serious condition after being poisoned in Kherson Oblast.
Growing partisan movement of Kherson Oblast now bombs collaborators