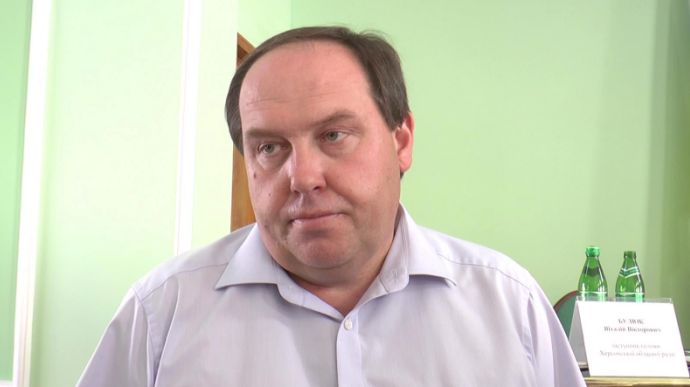 A high-ranking collaborator's car was blown up in Skadovsk in occupied Kherson Oblast, the Skadovsk city council reported. The collaborator, former lawmaker of the Kherson Oblast council Vitaliy Buliuk, proclaimed "vice-governor of Kherson Oblast"  by the Russian occupiers, was taken to a hospital with injuries, while the driver was killed in the blast.
According to the legitimate Ukrainian authorities of Skadovsk, several blocks around the house and the city center were cordoned off after the incident. The Russian occupiers are conducting searches and document checks.
The so-called "minister of health" of the occupied part of Kherson Oblast Vadym Ilmiev confirmed the injury and hospitalization of Buliuk, adding that the driver died on the spot, and, possibly, a remote-controlled mine was set off.
Buliuk, a close friend of chief Kherson quisling, Russian-appointed "governor" of Kherson Oblast Vladimir Saldo, figured in numerous criminal cases on charges of smuggling, bribery, extortion, abuse of office, but was never brought to trial.
Growing partisan movement of Kherson Oblast now bombs collaborators
Russian collaborator killed in car blast in occupied Berdiansk, Zaporizhzhia Oblast
Tags: Kherson Oblast, partisans