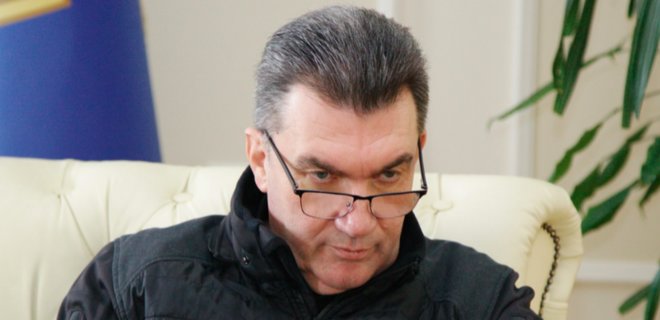 Ukraine's NSDC (RNBO) chief Oleksiy Danilov. Photo: RNBO 
Speaking to CNN, Ukraine's National Security and Defense Council chief Oleksiy Danilov hinted that Ukraine has capabilities to strike Russian territory.
"Regarding Russian territory, nobody prohibits us to destroy targets with weapons produced in Ukraine. Do we have such weapons? Yes, we do," Danilov, secretary of Ukraine's National Security and Defense Council, said Monday.
Western officials have warned Ukraine against striking Russian territory. Recently, Ukrainian Defense Minister Reznikov has promised that it will not use western long-range systems to hit Russia and German Chancellor Scholz has said that Ukrainian President Zelenskyy promised not to use German tanks for attacking Russia proper.
Ukraine says it will not strike Russian territory with new longer-range missiles – Reuters
Last month, in an interview with ABC News, Kyrylo Budanov, head of the Defense Ministry's Main Intelligence Directorate, did not take responsibility for the strikes on Russian air bases but suggested that such strikes would go deeper and deeper.
Speaking to CNN, Danilov also said he is confident Ukraine will eventually receive American-made F-16 fighter jets:
"It's only a matter of time before we get F-16s. They will definitely come. Unfortunately, in the meantime, we're losing our people while fighting for our independence."
Possible Ukrainian strikes on Russian territory
Russian-held territory has been targeted by unexplained strikes that are beyond Ukraine's officially-stated capabilities.
On 26 December, the Russian airbase in Saratov's Engels Oblast was under attack by what Russia claimed was a Ukrainian UAV.
Earlier, a twin attack on Russia's Dyagilevo (Ryazan Oblast) and Engels (Saratov Oblast) air bases occurred on 5 December hundreds of kilometers into Russia away from the Ukrainian border. The Russian Defense Ministry blamed Ukrainian drones for the attacks while Ukraine never publicly claimed responsibility for the strikes that damaged at least two Russian strategic bombers.
Ukraine's top generals have argued that to really win the war, Ukraine would need to even out its striking capabilities with Russia's.
Ukraine needs long-range missiles to really win the war, country's top generals say
In an interview with Euromaidan Press, Ukrainian physicist Oleksandr Marchenko concurred with that idea, and explained that Ukraine is developing its own long-range missile program.
Researcher: Ukraine will build its own long-range missiles. If the West allows.
Related:
Tags: Danilov, long-range weapons