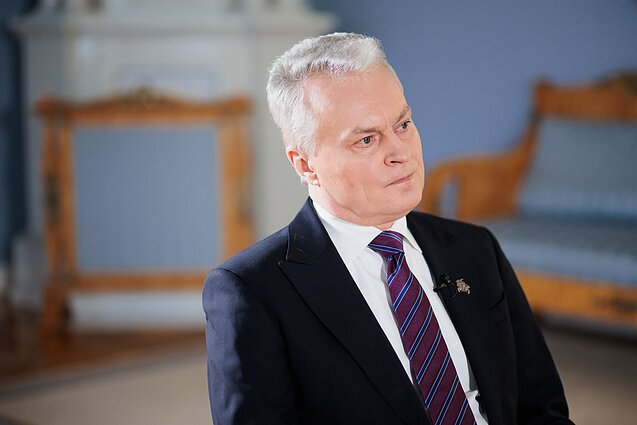 Lithuanian President Gitanas Nausėda. Photo: J. Stacevičius/LRT 
NATO countries should stop drawing red lines and supply Ukraine with any weapons it needs, Lithuanian President Gitanas Nausėda told LRT TV on 30 January evening.
"I have seen many red lines that have been drawn, and sometimes I even have the impression that these red lines are not drawn by us, the Western countries, the democracies, but that it is the terrorist state of Russia that is trying to draw them through fear and threats. And it is trying to impose them," he said.
Nausėda noted that a number of "red lines" have already been crossed when it comes to Ukraine, even Ukraine's EU candidate status "was once a taboo, a red line, too."
"This Rubicon has been crossed, so I do hope that this red line – if it really exists, and I think it exists only in our heads – will also be crossed," he said, referring to Kyiv's plea for fighter jets and long-range missiles, which are "essential military aid" and the West should "act without delay," according to Nausėda.
Rutte, Macron, Biden not yet ready to give Ukraine F-16 jets

The Netherlands and France will not supply Ukraine with F-16 fighter jets at this point, Dutch PM Mark Rutte and French President Emmanuel Macron said on Jan 30 after meeting in The Hague. https://t.co/9qaDPhGoYu

— Euromaidan Press (@EuromaidanPress) January 31, 2023
Read also:
Tags: Lithuania, western weapons