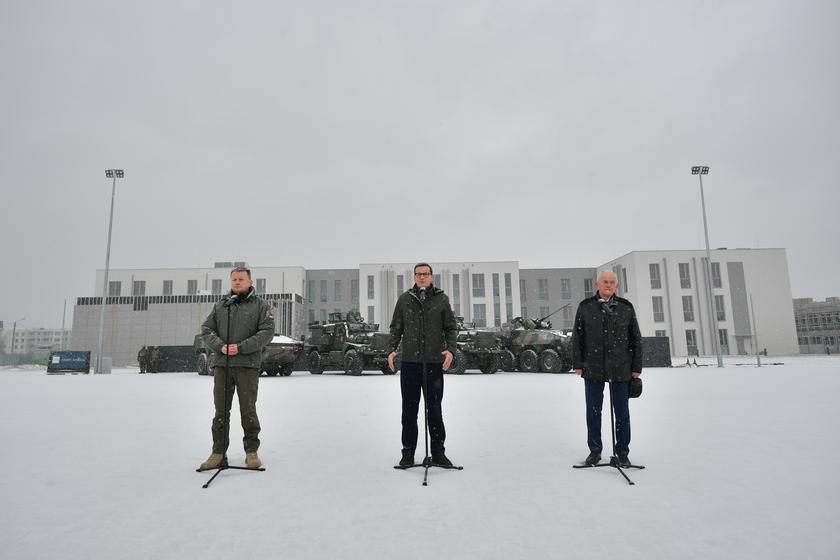 Poland's Defense Minister Mariusz Błaszczak, Prim Minister Mateusz Morawiecki and Minister of Energy Krzysztof Tchórzewski at the headquarters of the Polish 18th Mechanized Division in in Siedlce, Poland.
Photo by Przemysław Piątkowski. 
Poland strives to help Ukraine strengthen its air forces in close coordination with other NATO partners, the Prime Minister of Poland Mateusz Morawiecki claimed on 30 January, according to TVN24.
When asked about further military support for Ukraine, Mateusz Morawiecki replied that all decisions aimed at strengthening Ukraine's defense had always been made in coordination with the NATO partners of Poland.
"Bringing Patriots [air defense systems] to Ukraine, organizing this powerful tank force consisting of Leopard tanks and other modern battle tanks, and other decisions were made due to the pressures from our side and coordination with the United States," Poland's Prime Minister said. "Just as it was a few months ago, when the delivery of MIG fighter jets to Ukraine was discussed, any other aircraft will be transferred [to Ukraine] in consultation with NATO countries. We will take decisions in close coordination," Morawiecki added.
Ukraine keeps working to get fighter jets F-16, the head of the Office of the President of Ukraine Andrii Yermak announced on 30 January.
Ukrainian Foreign Minister hints they are already working towards the supply of F16 after Germany approved Leopard 2s
"We have positive signals from Poland that is ready to give Ukraine F-16s in coordination with NATO. Tanks and fighter jets will turn Russian invaders into fine compost," Yermak wrote on Telegram today.
Ukraine urgently needs fighter jets to strengthen its air defense capabilities and protect Ukrainian cities from Russia's relentless missile attacks that target residential areas and critical civilian infrastructure. Furthermore, Ukraine's Armed Forces require fighter jets to support large-scale counteroffensive operations aimed at liberating all Russian-occupied territories of Ukraine.
Related:
Tags: F-16, fighter jets, military aid to Ukraine, NATO, Poland, Poland Ukraine, Russian invasion of Ukraine