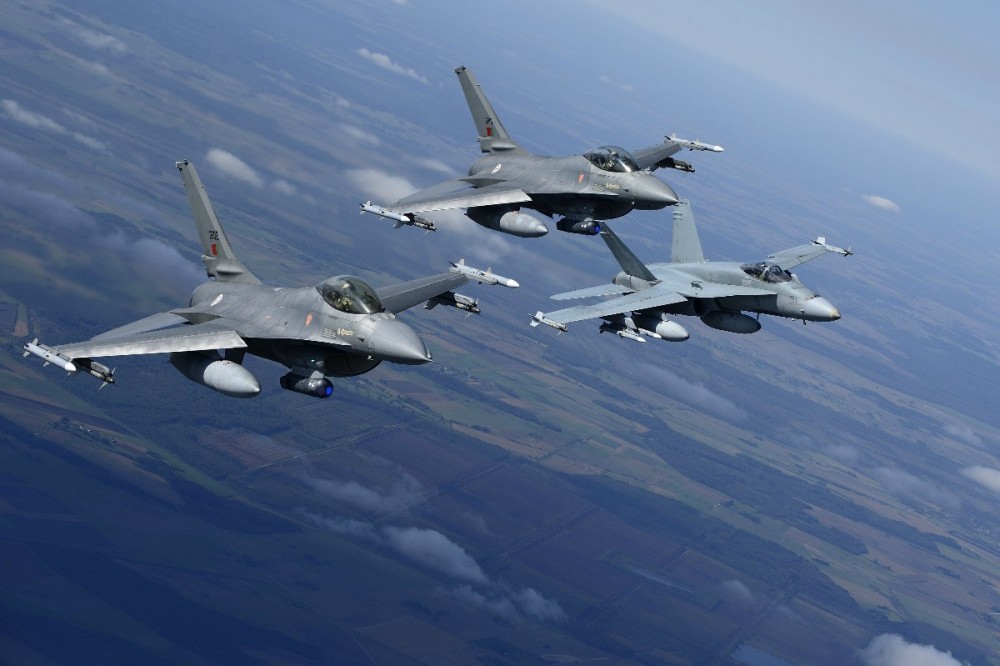 Two Portuguese F-16AM-15MLU and a Canadian CF-18 Hornet protecting the Baltic States. 
The American corporation Lockheed Martin has announced that it is ready to augment the production of F-16 fighter jets in order to meet Ukraine's demand for its combat aircraft, the Financial Times reported.
Lockheed Martin's announcement came amid the reignited discussions on the need to supply Ukraine with combat aircraft as some of Ukraine's allies resuscitated efforts to hand Ukraine fighter jets, according to the Financial Times.
Ukraine urgently needs combat aircraft to defend its airspace and support the large-scale counteroffensive aimed at regaining control over Russian-occupied territories in the eastern and southern parts of Ukraine.
On 25 January, Yuriy Sak, the adviser to Ukraine's Defense Minister Oleksii Reznikov, told The Hill that he was optimistic about the possibility of Ukraine getting Western-style combat aircraft, such as the American F-16 fighter jets, in the nearest future.
Those countries that plan to replace F-16 with F-35 fighter jets are among the potential donors of F-16s to Ukraine. The Netherlands, which decommissions F-16 fighter jets, may become the first country to supply Ukraine with F-16s, according to the Ukrainian OSINT group of analysts Defense Express.
Another factor that can cause the increase in the production of F-16s may be related to the possible decision of certain countries in Eastern Europe to transfer their Soviet-era jets to Ukraine and replace the transferred aircraft with F-16 fighter jets, Defense Express stated.
For instance, Slovakia is ready to discuss the transfer of its Soviet-era MiG-29 fighters to Ukraine, according to Slovak Defense Minister Jaroslav Nagy. In 2018, Slovakia ordered 14 F-16V fighter jets worth $1,6 billion. If other countries in Eastern Europe chose to supply Ukraine with Soviet-era fighter jets, they might be willing to replace them with relatively cheap and extremely effective F-16 fighters, Defense Express asserted.
There was "a lot of conversation about third party transfer of F-16s," whereby several countries would re-export their US-made F-16 fighter jets to Ukraine, the chief operating officer of Lockheed Martin, Frank St. John, told the Financial Times.
"Lockheed Martin is going to be ramping production on F-16s in Greenville [South Carolina, the USA] to get to the place where we will be able to backfill pretty capably any countries that choose to do third party transfers to help with the current conflict," Frank St. John added.
Lockheed Martin Corporation is one of the world's largest companies in the aerospace, military support, security, and technologies industry. It is a widely known manufacturer of such highly effective weaponry as the M142 HIMARS multiple rocket launcher or F-35 Lightning combat aircraft.
Related:
Tags: fighter jets, military aid to Ukraine, Russian invasion of Ukraine