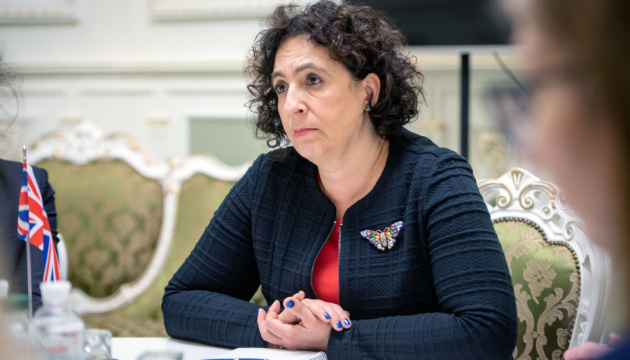 British Ambassador to Ukraine, Her Excellency, Dame Melinda Simmons DCMG, an illustrative image/ Source: ukrinform.ua 
Commenting on the decision to provide fighter jets to Ukraine, British Ambassador to Ukraine, Her Excellency Dame Melinda Simmons, stated that the UK cannot always be first in the provision of weapons and that this is a "long-term conversation," as reported by Ukrainska Pravda, referencing Ambassador Simmons on the live national telethon.
"This is a long-term conversation for us. We cannot always be the first to complete it. Wherever we have the opportunity and believe it will help to improve the situation, we take action.We have often been the first to provide aid, but from the standpoint on fighter jets, we believe this is a long-term deterrence mechanism," stated Ambassador Simmons.

Ambassador Simmons added that the UK's prime minister determined the fighter jets were a long-term solution. Thus, the UK decided to begin training Ukrainian pilots first.
According to Ambassador Simmons, the question of Ukraine's NATO membership is also a long-term decision. Her Excellency emphasized that the UK supports Ukraine's membership in the Alliance.
In addition, the ambassador also stated that she had decided not to view the recent video depicting the brutal killing of a Ukrainian soldier. The video outraged the international community.
Ambassador Simmons also added that she would not comment on the UK's military assistance to Ukraine.
Read also:
British billionaire Richard Branson becomes new ambassador of Ukraine's official fundraising platform
Tags: fighter jets, military aid to Ukraine, Russian invasion of Ukraine, United Kingdom (UK)