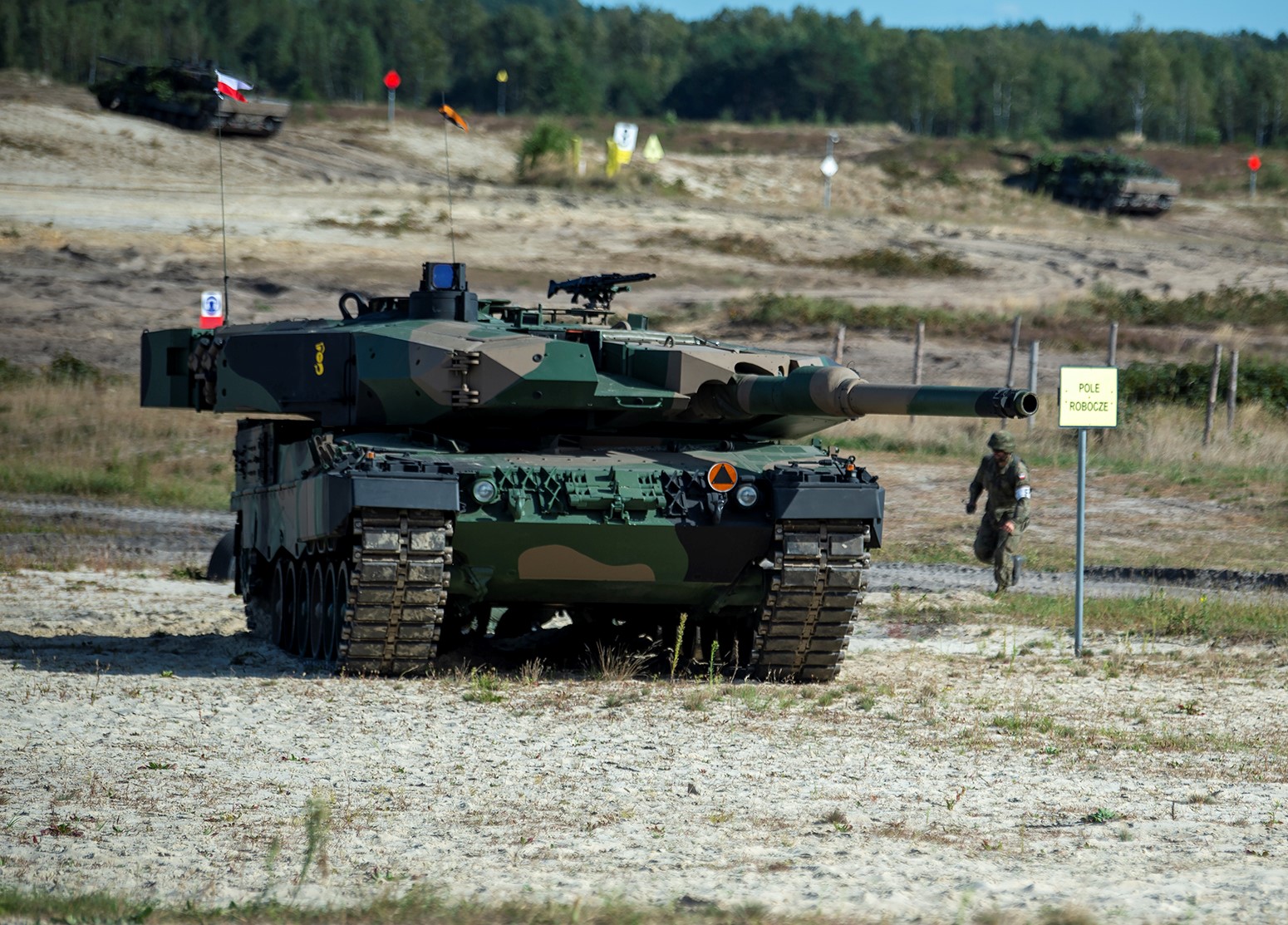 Polish Leopard 2PL tank at excercises, a modernized version of the older Leopard 2A4 tank, phased out by Germany and first acquired by Poland in the 2000s. Photo: gov.pl via Wikimedia Commons 
Since the summer of 2022, the German Ministry of Defense has had a list of Leopard tanks that could be used to identify vehicles that could potentially be transferred to Ukraine, Spiegel reports citing its sources.
According to this list, the Bundeswehr has a total of 312 Leopard 2 tanks of different series, of which 99 required repairs and one to be written off.
The remaining 212 tanks include the models:
The latter is considered the most modern. The Bundeswehr had 53 of them on the list as of May 2022.
The list also showed which models could be given to Ukraine – a total of 19 tanks of the 2A5 model. They are currently used in training centers as enemy tanks, and this is allegedly their only use, so it would be easiest to give them.
Spiegel notes that 2A5s are also well suited for a "package" with Leopard tanks from other allies, including Poland, which has very similar 2A4 models.
However, technical differences between the tanks used by the Bundeswehr and other allies remain a problem. While the German tanks are already mostly equipped with electronic controllers for the tank turret, many other Leopards in Europe are hydraulic.
For Ukraine's purposes, it would be best if these were the same type of vehicle, both in terms of training the Ukrainian military to use them and in terms of maintenance and repair, as each technical difference between models complicates all these tasks.
This report comes on the heels of a report by Business Insider, which claimed that the Ministry of Defense did not make an inventory of existing Leopard tanks so that it would not be seen as a sign of readiness to transfer them to Ukraine.
During the January 20 meeting of Ukraine's military allies on the Ramstein base in Germany, German Defense Minister Boris Pistorius said that Western allies have not yet agreed to provide Ukraine with Leopard 2 main battle tanks but instructed his ministry to prepare for "the day that may come." Scholz denied that he had allegedly required the USA to supply Ukraine with Abrams tanks as a condition for delivering Leopards — a claim circulated by media on the eve of the meeting.
Some German politicians then called on the government to at least allow other countries that are ready to do so to transfer Leopards to Ukraine, and several hundred people organized a rally in Berlin to demand that the tanks be provided to Ukraine.
#FreeTheLeopards Protest in Munich y'day

🔹"Ukraine is a shield 4 Europe"
🔹"Appeasement 4 tyranny? No TY! Justice & peace in freedom!"
🔹"Leopards or more deaths-is that a hard question?"
🔹"Olaf, U have b̶a̶l̶l̶s̶tanks, use them"
📷 Rostyslav Kasianenkohttps://t.co/bfojFu1erV pic.twitter.com/eEY3Fk7jJY

— Euromaidan Press (@EuromaidanPress) January 22, 2023
German Chancellor Scholz has come under intensified pressure to deliver the Leopard tanks to Ukraine or at least allow the delivery of Leopards by other countries, with the most recent call being by the EU parliament.
Following the Ramstein meeting, Polish Prime Minister Morawiecki said that if Germany will not make this decision, Poland will build a "smaller coalition" of countries willing to supply tanks to Ukraine.
Earlier, German arms manufacturer Rheinmetall told it will not be able to repair and deliver Leopard 2 main battle tanks to Ukraine until 2024.
As well,  Frankfurte Allgemeine Zeitung reported that if the German government decides to supply Ukraine with Leopard 2 tanks in the near future, it will be able to transfer 10 to 15 repaired tanks by the end of 2023.
If Germany won't free the Leopards, Poland to build smaller coalition to send tanks to Ukraine – PM Morawiecki