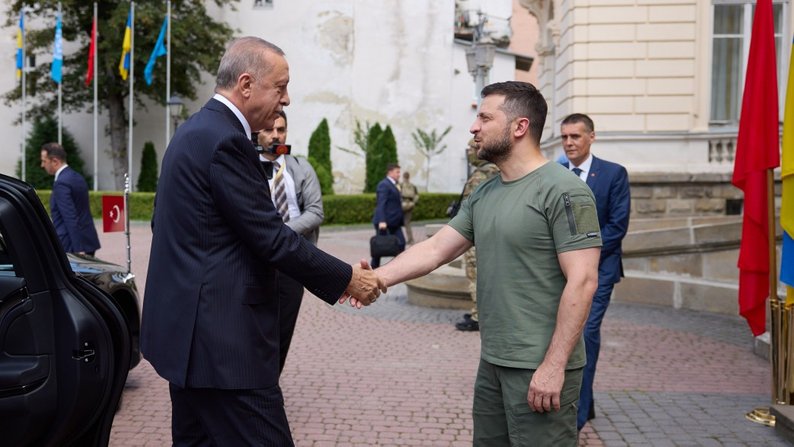 Zelenskyy meets Erdogan in Lviv in August 2022. Credit: President's Office 
Turkey is committed to seeking a peace dialogue between Russia and Ukraine, Turkish media cited President Tayyip Erdoğan as saying on 12 November, as he accused the United States and other Western countries of provoking Moscow, Reuters reported.
"The West, and especially the US, is attacking Russia seemingly endlessly," Turkish media cited the President without elaborating on what he meant, according to Reuters. "Of course, Russia is displaying great resistance in the face of all this," he added.
"We are working on how to create a peace corridor here, like we had the grain corridor. We think the best way for this is a path from dialogue to peace," Erdogan reportedly said, adding Ukraine's view would be important.
Erdogan believes grain deal can lead to broader negotiations between Ukraine and Russia
Previously, The Washington Post reported citing anonymous sources that the US was privately encouraging the Ukrainian leaders to "signal an openness for negotiations with Russia." Then the Russian Foreign Ministry announced its readiness for negotiations without any conditions "taking into account the current state of affairs."
Back in September, Ukraine's President Zelenskyy said that no talks with Russia are possible before the full withdrawal of its troops from Ukraine.
Read also:
US top general sees "window of opportunity" for Russia-Ukraine negotiations ahead of winter
Western allies don't force Ukraine into negotiations with Russia – Ukrainska Pravda sources
Putin keeps rejecting Ukrainian sovereignty in a way that is fundamentally incompatible with serious negotiations – ISW
Tags: Erdogan, negotiations, Russia, Turkey