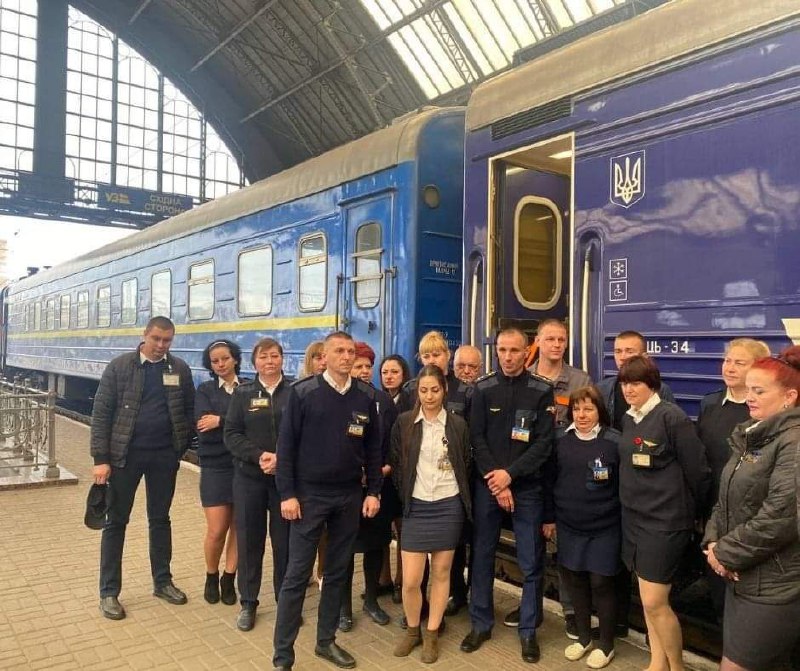 Crew of Ukrzaliznytsia's train that came under Russian shelling in Kherson on 3 May after their arrival in Lviv on 4 May. Photo via UNIAN 
Ukrzaliznytsia's train #109, which came under Russian shelling at the Kherson station on 3 May, has arrived in Lviv without delay and was welcomed by rail workers and local residents, UNIAN reports.
According to one of the train conductors, he came out from the shelter onto the platform after the shelling and saw a carriage covered in smoke. Next to it, the police were already putting a tourniquet on the wounded conductor Roman.
The train crew acted quickly, moving two low-mobility passengers from the evacuation carriage to shelters a few minutes before the hit, and then they promptly detached the burning carriage from the train, boarded the passengers, and departed the station with a delay of only 14 minutes, despite the chaos and air-raid alarm.
The injured conductor Roman has already been discharged from Kherson hospital and returned to his hometown of Mykolaiv. His condition is stable.
Multiple Russian artillery attacks against Kherson city and oblast carried out on 3 May killed 23, and injured 46 civilians.
Update: Russian shelling kills 23 civilians in Kherson Oblast, Ukraine says
Tags: Kherson, Ukrzaliznytsia