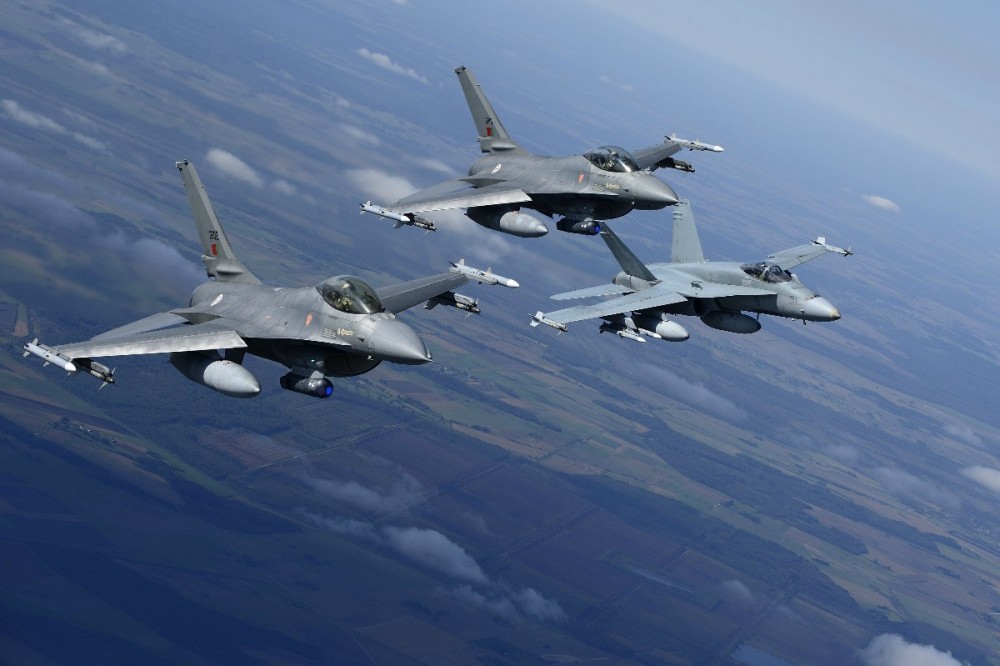 Two Portuguese F-16AM-15MLU and a Canadian CF-18 Hornet protecting the Baltic States. 
Eight senators from both the Democratic and Republican party have written to the US Defense Secretary, Lloyd Austin, asking for information about what it would take to send F-16 jets to Ukraine, claiming the conflict between Ukraine and Russia is "now at a critical juncture," Politico reports,
The senators, organized by Mark Kelly of Arizona, requested assessments on a range of factors needed to successfully transfer F-16s to Ukraine by the end of the week, including how the US military assesses the jets would impact the conflict, how the fighter jets are ranked by Ukrainian officials when requesting weapons, how the F-16s would be sourced — either newly produced or from current inventories, — and how quickly Ukrainian pilots could be trained on the jets.
The senators argue that the F-16 fighters could give Kyiv an edge as Moscow's invasion enters a second year, with Gen. Christopher Cavoli, the top US and NATO commander in Europe, having reportedly said that sending advanced weapons, including F-16s and long-range missiles, could help bolster Ukraine's defenses.
Top US general in Europe supports giving Ukraine jets, ATACMS – media
However, President Joe Biden and other top administration officials have cooled on the idea, with Pentagon policy chief Colin Kahl suggesting the most optimistic timeline for delivering older F-16s would be roughly 18 months and producing newer jets could take three to six years to deliver.
Bipartisan efforts to convince the Biden administration to send F-16s, or facilitate other countries sending them to Ukraine, have been growing, with a bipartisan effort in the House also calling for F-16s or similar aircraft to be sent to Kyiv.
The US Congress has also pressed the Pentagon on Biden's reluctance to give Ukraine F-16s, according to Washington Post.
Meanwhile, the US is reportedly evaluating Ukrainian pilots for possible F-16 training, CNN reported, citing its sources.
Poland's President Andrzej Duda has called for training Ukrainian pilots to operate F-16 fighter jets, stating that it is important and quite necessary.
Furthermore, Ukraine has officially requested the Netherlands to supply F-16 fighter aircraft, while Poland is also ready to train Ukrainian pilots on F-16 jets. However, the decision on the supply and training of F-16s rests on approval within a wider coalition.
Why does Ukraine need western jets and where could it get them?