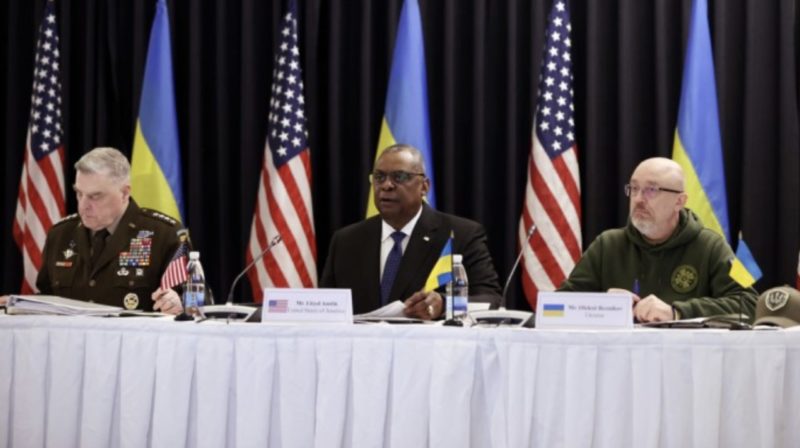 The eighth meeting of the Contact Group on Ukraine's Defense at Ramstein Air Base in Germany/ Source: Getty Images 
European Pravda reports, referencing CNN, that the US Secretary of Defense Lloyd Austin opened the Ramstein meeting in Germany today, stating that Russia is regrouping, it suffers significant combat losses, and running out of ammunition; there is no time for delay. The Secretary of Defense called on allies to provide more assistance to Ukraine.
"This is a crucial moment. Russia is regrouping, recruiting, and trying to re-equip. This is not a moment to slow down. It's time to dig deeper. The Ukrainian people are watching us. The Kremlin is watching us. And history is watching us. So we won't let up. And we won't waver in our determination to help Ukraine defend itself from Russia's imperial aggression," he said.
According to Austin, Russia's attacks are intended to break Ukraine's spirit. However, they have failed. Austin emphasized that Ukrainians have inspired the world.
Austin asserted that Moscow is now "turning to its few remaining partners to resupply its tragic and unnecessary invasion, but even Iran and North Korea won't admit that they are supplying Russia."
Austin proposed comparing Russia's remaining partners to the representation of the groundswell of support for a free and sovereign Ukraine at today's meeting.
After President Volodymyr Zelenskyy addressed the meeting, Austin said, "the US remains determined to lead and to do our part to help Ukraine defend itself," Austin added.
On Thursday, the US announced an additional $2.5 billion in military aid to Ukraine. The package will include more armored vehicles and ammunition.
Read also:
No decision to supply Leopard tanks to Ukraine approved at Ramstein meeting – German Defense Minister
Scholz will send tanks to Ukraine if Biden goes first – media
Scholz will send tanks to Ukraine if Biden goes first – media
US to send Stryker APCs, more Bradleys, additional vehicles and ammunition to Ukraine