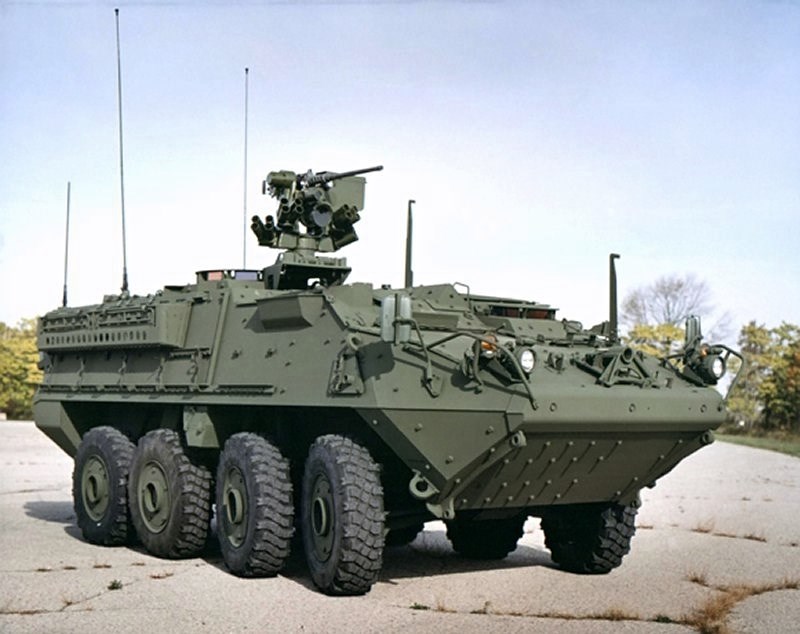 Stryker Infantry Carrier Vehicle (M1126). File photo: US Army via Wikimedia Commons. 
On 19 January, the Pentagon announced a $2.5 billion Ukraine security package. For the first time, the package includes 90 Stryker armored personnel carriers. Among other items, there are 59 more Bradley infantry fighting vehicles, more MRAPs and HMMWVs, as well as additional munitions for previously supplied systems in the package.
This is the Biden Administration's 13th drawdown of equipment from the Department of Defense's inventories for Ukraine since August 2021, according to the Pentagon.
"The 59 Bradley IFVs included in this package, together with the 50 Bradleys previously committed on January 6, and the 90 Stryker APCs will provide Ukraine with two brigades of armored capability," the Pentagon says.
According to the Pentagon, the package includes:
Additional munitions for National Advanced Surface-to-Air Missile Systems (NASAMS);
Eight Avenger air defense systems;
59 Bradley Infantry Fighting Vehicles (IFVs) with 590 TOW anti-tank missiles and 295,000 rounds of 25mm ammunition;
90 Stryker Armored Personnel Carriers (APCs) with 20 mine rollers;
53 Mine Resistant Ambush Protected Vehicles (MRAPs);
350 High Mobility Multipurpose Wheeled Vehicles (HMMWVs);
20,000 155mm artillery rounds;
Approximately 600 precision-guided 155mm artillery rounds;
95,000 105mm artillery rounds;
Approximately 11,800 120mm mortar rounds;
Additional ammunition for High Mobility Artillery Rocket Systems (HIMARS);
12 ammunition support vehicles;
6 command post vehicles;
22 tactical vehicles to tow weapons;
High-speed Anti-radiation missiles (HARMs);
Approximately 2,000 anti-armor rockets;
Over 3,000,000 rounds of small arms ammunition;
Demolition equipment for obstacle clearing;
Claymore anti-personnel munitions;
Night vision devices;
Spare parts and other field equipment.
Read also:
US Plans to include 100 Stryker infantry carrier vehicles  in new Ukraine aid package – Bloomberg
Denmark to donate all of its 19 French-produced Caesar howitzers to Ukraine
Sweden to supply Archer artillery systems, NLAWs, and 50 Strf90 combat vehicles to Ukraine
France considering sending Leclerc tanks to Ukraine – Politico citing French official