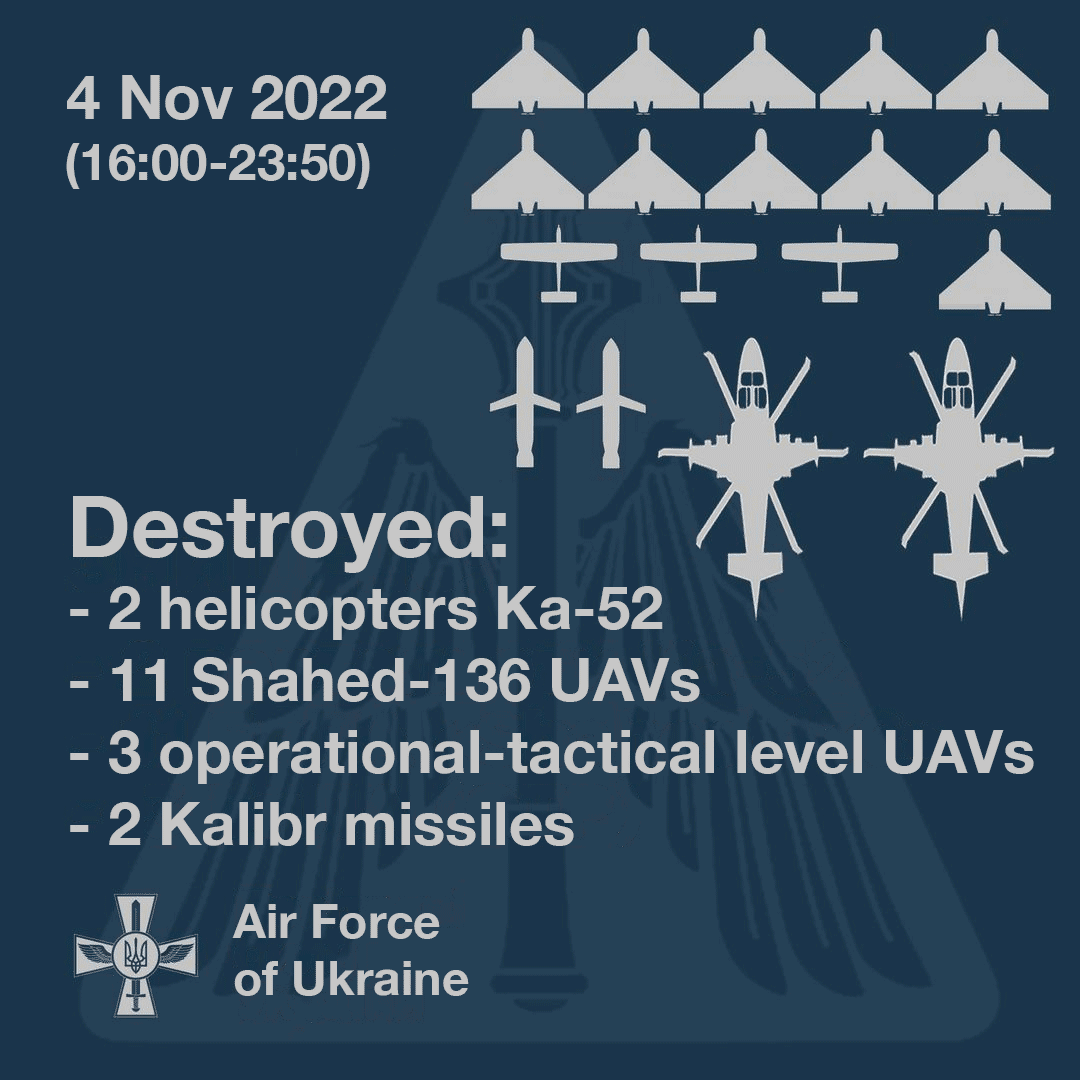 On November 4 at around 16:00, Ukrainian air defenses shot down two Russian Kalibr cruise missiles in the southern direction, Ukraine's Air Force Command reported.
"At night, two Russian Ka-52 attack helicopters were shot down in Kherson oblast. Also, units of the anti-aircraft missile forces and mobile fire groups destroyed 11 [Iranian-made] Shahed-136 kamikaze drones and three operational-tactical UAVs," the Command wrote.
The command says that those involved in the destruction of air targets were the units of the air commands Souths, Center, East, and West.
One of the Shahed-136 loitering munitions was shot down in Synelnykove district of Dnipropetrovsk Oblast, according to the oblast's head.
According to the November 4 evening report by the Ukrainian President's Office, Russian missile strikes and artillery attacks took place in Zaporizhzhia, Dnipropetrovsk, Donetsk, Mykolaiv, and Sumy oblast over the course of the day.
Read also:
Spain to supply SAM Aspide battery, four Hawk air defense systems, artillery pieces, shells to Ukraine – Ukraine FM
Ukrainian air defenses shoot down 12 of 13 Iranian-made drones in Russia's night attack
Russia to possibly place Iranian missiles in Belarus – Ukraine's Air Force
US to send eight NASAMS air-defense systems to Ukraine; two will be deployed soon – Pentagon
Tags: air defenses, Ka-52, Kalibr, Shahed-136