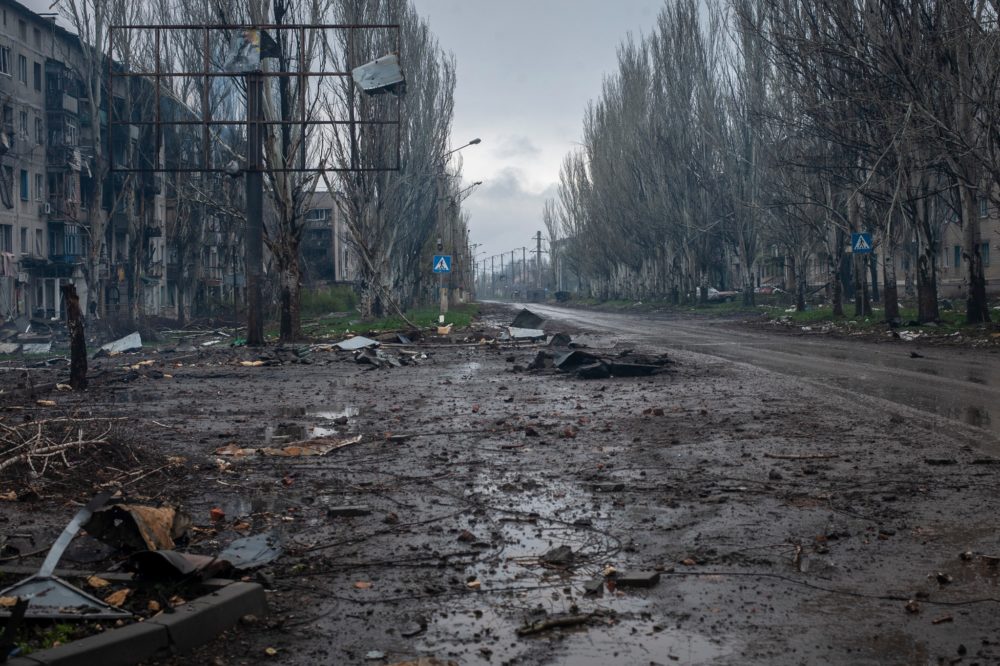 Street in the embattled city of Bakhmut, Donetsk Oblast. Photo: source. 
In their article published in The Atlantic, war experts Phillips O'Brien and Mykola Bielieskov argue that Ukraine's decision to keep fighting for the small Donbas city of Bakhmut is part of a "considered attempt to reduce Ukrainian losses in the future and prepare for the counteroffensive" as Russia's unskilled army exposes itself to great losses storming the city.
The authors note that many Western commentators and outlets criticize Ukraine for what the authors call the Second Battle of the Donbas – continuing to fight in small cities like Bakhmut, Avdiivka, and Vuhledar in the Donbas region, despite warnings from US intelligence officials to withdraw and take up more easily defended positions in the countryside.
"But Ukraine does not have the luxury of choosing where it has to fight, precisely because it is preparing a counteroffensive," they argue. "The plan has been to use the benefits of being on the defensive to accumulate and train forces for the counteroffensive" while simultaneously wearing down Russian troops and equipment.
Despite Russia's military failures in 2022, Moscow remained obsessed with taking small communities in the Donbas region. The Russian army had brought in a large number of new soldiers, especially after last September's mobilization, and went back on the offensive. The Russian army committed significant resources to capture Kupyansk, Lyman, Avdiivka, and Vuhledar.
Russian debacle near Vuhledar demonstrates systemic poor training – ISW
Meanwhile, the Russian effort in Bakhmut has been particularly intense due to the community becoming the target of the infamous Wagner Group, the private military company financed by "Putin's chef" Yevgeny Prigozhin.
"Bakhmut has been an even more grisly example of the Russian willingness to sacrifice soldiers. The Wagner Group has adopted a particularly perverse form of warfare. Raw, inexperienced troops of convicts are sent forward to attack Ukrainian lines with almost no hope of survival. Their role is only to be targets—to make the Ukrainians expose their own positions by opening fire," the article reads.
However, even this "form of self-destructive warfare" yielded only small territorial gains with great losses of Russian soldiers.
The authors believe that President Zelenskyy's decision to "prolong and play up the significance of the [Bakhmut] battle might seem callous, but it is part of a considered attempt to reduce Ukrainian losses in the future and prepare for the counteroffensive."
"Far better for Ukrainian forces to confront a large, unskilled Russian army when it is doing the attacking and exposing itself to great losses. If the Russian leadership keeps trying to press forward under these circumstances, the Ukrainians have to keep taking advantage," the authors conclude.
Commenting on the ongoing Battle of Bakhmut, the commander of Ukraine's Ground Forces, Col-Gen Oleksandr Syrskyi, said that defense of Bakhmut "gives us the opportunity to restrain the enemy's offensive for several months and not expand the front in this area, destroy its best units, and gain time."
In his recent interview with Al Arabiya, President of Ukraine Volodymyr Zelenskyy said:
"It is impossible for us to give up on Bakhmut because this will [help] expand the battle front and will give the Russian forces and Wagner chances to seize more of our lands."
Read also:
Tags: Bakhmut, Donetsk Oblast