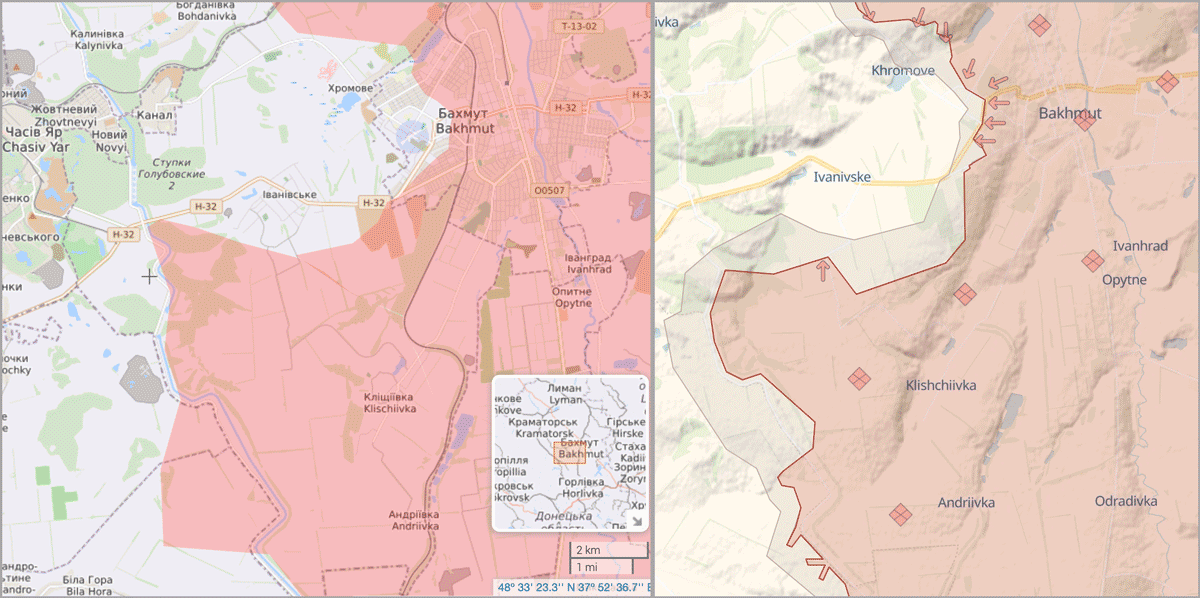 Frontline maps by Liveuamap (left) and DeepStateMap (right) showing the situation south of Bakhmut as of 11 May 2023. The DeepState's map shows the recent Ukrainian gains in the area. 
The Commander of the Ukrainian Ground Forces, Colonel General Oleksandr Syrskyi, says Russians have retreated up to 2 km near Bakhmut, Donetsk Oblast, due to Ukraine's competent defense and effective counterattacks.
"Thanks to our well-thought-out defense in the Bakhmut sector, we are getting results from the effective actions of our units. In particular, we are conducting effective counterattacks. In some areas of the frontline, the enemy could not withstand the onslaught of Ukrainian defenders and retreated to a distance of up to 2 kilometers," Syrskyi wrote.
He says the competent conduct of the defensive operation exhausted the well-trained forces of the Wagner Group and forced Russians to replace them in certain areas with less trained regular army units, who saw their defeat and retreated.
Earlier, Wagner financier Yevgeny Prigozhin claimed that Russia's 72nd Separate Motor-Rifle Brigade had been routed from its positions southwest of Bakhmut.
The Battle of Bakhmut has been ongoing for months as Russia attempts to take full control of the city, while Ukrainian troops have chosen to defend the city despite the threat of encirclement.
Read also:
Tags: Bakhmut, Donetsk Oblast