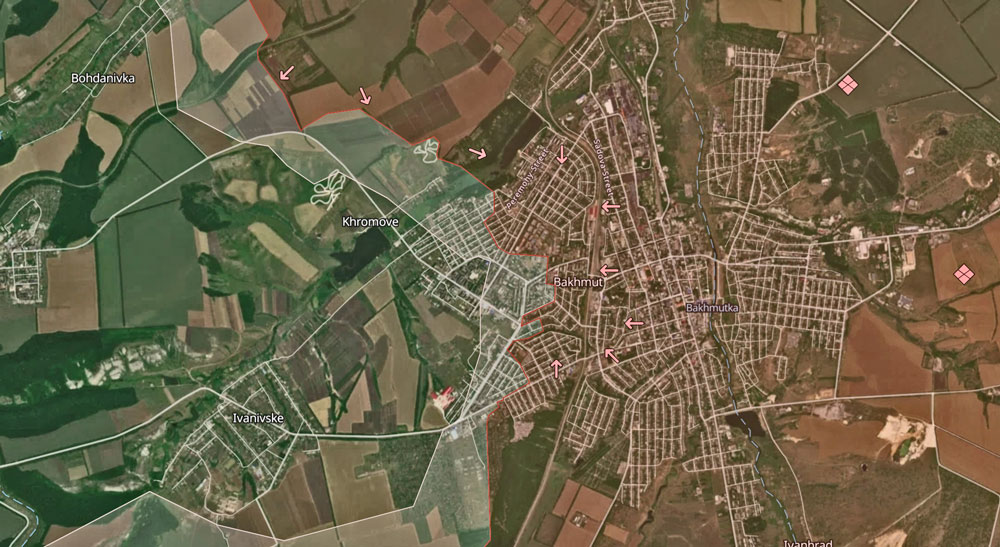 Situation around Bakhmut, Donetsk Oblast as of 29 April 2023. Map: Deep State Map. 
In our daily update from the front, we pair up with the military blogger Reporting from Ukraine to keep you informed about what's happening on the battlefield in the Russo-Ukrainian war. Ukrainian forces repel Russian airstrikes and conduct successful strikes of their own in Donetsk Oblast in the area of Bakhmut while also taking measures to destroy possible key Russian positions.
Day 429: April 28
Today, there is a lot of news from the East. Here, Russian forces rapidly increased the use age of aviation and started demolishing key Ukrainian defensive positions with air bombs. However, Ukrainians quickly took action and improved their anti-aircraft warfare.
The freshest reports indicate that these actions brought results. A fighter from the 93rd Mechanized Brigade reported that the usage of FAB-500 significantly decreased. He said it is highly likely due to the region's increased density of Ukrainian air defense and overall better attention to the sky.
The fighter also alluded to the recent powerful Ukrainian strikes on Russian positions west of the barracks, and said that such strikes started to happen quite frequently and cause similar to FAB-500 destruction but to Russians. Such precision strikes successfully complicated Russian logistics in the northern part of Bakhmut and forced them to take time to regroup. Due to the process of regrouping, the pressure from this line was alleviated, and Russians have not gained new ground.
When it comes to the central part, Ukrainians assumed strong positions east of the department of the Engineering Academy and Medical College. Combat footage from this region showed how a Wagner unit attempted to cross Pavlova Novgorodseva Street but was immediately destroyed. A bit east of this location, another combat footage showed how Ukrainian drone operators cooperated with a mortar crew and destroyed another assault unit. They spotted how Russian troops in small numbers accumulated in the building and then conducted a strike.
Russo-Ukrainian War. Day 429: Another massive missile attack on Ukraine overnight
The situation is the most challenging for Ukrainians in the southern part of the region. For a long time, this area was the most stable, but the moment things stabilized in the north, they deteriorated along Korsunskogo Street. The main goal of Russian assault units in this region was to establish control over the Industrial College and split Ukrainian forces in Bakhmut into two groups. A fighter from the 93rd Mechanized Brigade reported that Russians devoted an absurdly high number of troops to this operation. He said that the control over the college changed three times over the last day. The chronology was the following: Russians prepared assault units consisting of at least 20 troops, and sent one assault unit after another until Ukrainians got overwhelmed and retreated; then Ukrainians reduced Russians with artillery and conducted a counterattack, and then the cycle repeated two more times. The drone footage showed that the college was turned into a barely standing carcass due to the intense fights.
As you can see, when it comes to intense street fighting, the front line is always very unstable, and the control over entire residential quarters can go back and forth several times during the day. In the face of such high uncertainty, Ukrainians started destroying possible key Russian positions. Recently, Ukrainian sources published a video of a controlled explosion of a high-rise building on the city's outer edge. Some sources speculated that these positions were lost, and Ukrainians tried to blow up Wagners. However, the building was empty, and Ukrainians are still controlling these positions, which is confirmed by today's footage filmed from a vehicle that used the Ivanivske highway to deliver supplies to Bakhmut. The reason why Ukrainians destroyed it is the following. This building does not give fire control over Russian positions because other buildings block it, so it has no value for Ukrainians apart from being used for storage. However, if Russians take it by any chance, then this building would allow them to establish multiple ATGM positions and destroy all vehicles moving between Bakhmut and Chasiv Yar. So, Ukrainians blew it up just in case while they continued holding other buildings to control the region.
Ukrainian fighters also made an interesting observation and reported that the number of regular Russian forces has substantially decreased, and 90% of soldiers are from the Wagner Group. A few days ago, the Head of the Wagner forces, Prigozhin, said in an interview that his private military company is losing five times as many men as he expected. Today he also said that Wagner Group is on the verge of extinction, underscoring that he is not being alarmist and that people will soon see for themselves. It looks like the commanders of the regular Russian forces understood that they would not be able to finish the battle and take all the credit quickly and once again left it to the Wagners to take all the losses.
Read also:
Fuel depot on fire in occupied Sevastopol after alleged drone attack
Tags: Bakhmut, Frontline update