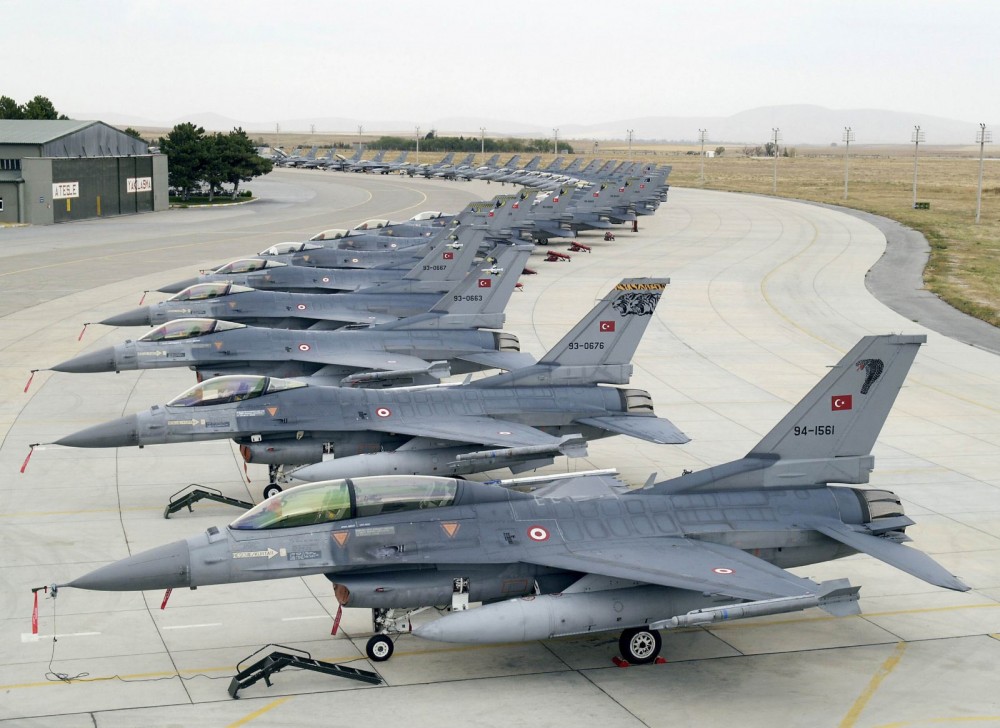 An F-16 wing. File photo: Turkish Air Force 
For successful counter-offensive actions, Ukraine needs, among other things, modern long-range air defence systems and modern multi-role fighter jets, Colonel Yurii Ihnat, spokesperson for the Air Force of the Armed Forces of Ukraine, explained during the national telethon.
According to Ihnat, the success of Ukraine's counter-offensive operation, which is expected to commence in the spring, hinges upon stopping Russia's attacks, and gaining air superiority with the help of modern powerful air defense systems and modern fighters that will ensure this air dominance in Ukraine's occupied territory, and interrupting the logistics of supplying the enemy with fuel and ammunition. "Then the counter-offensive operation will be doomed to success," he said.
While the future of western jets is still unclear, things have moved forward for Ukraine with Soviet-era jets, as earlier in the day Slovakia approved the sending of 13 Soviet-era MiG-29 fighter jets to Ukraine. Additionally, Poland's President Duda has stated that his country will send Ukraine at least four MiG-29 fighter jets "within the next few days."
While valuable, these airplanes will not give Ukraine an edge to fight off the Russian invasion, according to Ukraine's air force.
"This will enhance our capabilities. The aircraft perform a number of functions: patrolling Ukraine's airspace, fighter cover (covering attack groups of attack aircraft and bombers). MiG-29s also strike enemy air defenses with HARM anti-radar missiles and try to intercept both cruise missiles and Shahed kamikaze drones during massive missile attacks," said Colonel Ihnat.

 

"But I would like to note that the Soviet equipment we have in service, namely those MiGs, is not an effective weapon against [Russia's] weapons of terror. Their obsolete missiles, radars, and aircraft radar cannot be very effective," the spokesman stressed.
He once again reminded that in order to defeat the Russian aggressor, Ukraine needs, first and foremost, fourth-generation modern Western multi-role aircraft like the F-16.
Why does Ukraine need western jets and where could it get them?
Counteroffensive and jets
Preparing for the counteroffensive, Ukraine has launched an Offensive Guard which has received 28,000 volunteer applications to join its assault brigades, as reported on 11 March. Ukraine needs at least 300 battle tanks to support large counteroffensive operations, as well as other armored vehicles.
However, Ukraine's call for modern fighter jets remains yet unaddressed, with western countries still discussing the option of sending them to Ukraine. Bipartisan pressure is growing in the US to send F-16 jets, Ukraine's plane of choice, and it was reported that the US is evaluating Ukrainian pilots in the United States to determine how long it would take to train them to fly the F-16s. Meanwhile, Poland's President, Andrzej Duda, has called for the training of Ukrainian pilots to operate F-16s as well. However, while Poland is ready to train Ukrainian pilots on the F-16s, the decision needs approval "within a wider coalition."
Finland's Prime Minister Marin has implied that her country could consider supplying F/A-18 Hornet combat aircraft to Ukraine, considering they have already placed an order for 64 US-made 5th-generation F-35A jet fighters to replace their aging fleet of F/A-18 Hornets.
Meanwhile, ISW believes that Russia lacks the capability to support more than one simultaneous offensive, and this situation is favorable for Ukraine to launch a counteroffensive and push back the Russian forces.
Tags: counteroffensive, fighter jets