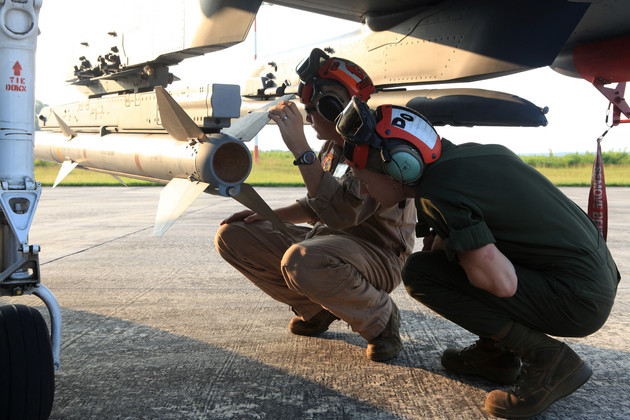 US Marines inspect an AIM-120 Advanced Medium-Range Air-to-Air Missile (AMRAAM) aboard Marine Corps Air Station. Illustrative photo: US Marine Corps, via Politico
The US military is studying the possibility to integrate advanced Western air-to-air missiles AIM-120 with Ukraine's Soviet-era MiG fighter jets, Politico reports referring to two unnamed US Defense Department officials and another person involved in the discussions.
US officials are "looking into whether AIM-120 advanced medium-range air-to-air missiles, designed to be fired from Western fighter jets such as the US-made F-16, can be mounted on Ukraine's existing MiGs, according to two Defense Department officials and another person involved in the discussions," Politico says.
If this attempt to jury-rig old platforms with new capabilities is successful, this could be part of a solution to Ukraine's need for additional firepower and air defenses ahead of expected spring offensives.
"But the integration process poses challenges, said one of the DoD officials and another person with direct knowledge of the effort. Both were granted anonymity in order to discuss internal deliberations. Not only must the missile physically be fitted onto the aircraft, it must also "talk" to the aircraft's radar. To fire a shot, first the aircraft radar gives the missile a target, and guides the missile until it is close enough to find the target on its own," Politico reported.
Previously, Ukraine successfully integrated the American AGM-88 HARM air-to-surface anti-radiation missile to launch them from Ukrainian MiGs. The HARMs were actively used to soften Russian air defenses, particularly in Ukraine's Kherson Oblast amid the Battle for Kherson last fall.
Ukraine successfully integrated American HARM anti-radar missiles onto Ukrainian aircraft – Pentagon
Read also:
US evaluating Ukrainian pilots for possible F-16 training – CNN sources
Slovakia considering giving Ukraine 10 of its 11 Soviet-made MiG-29 planes