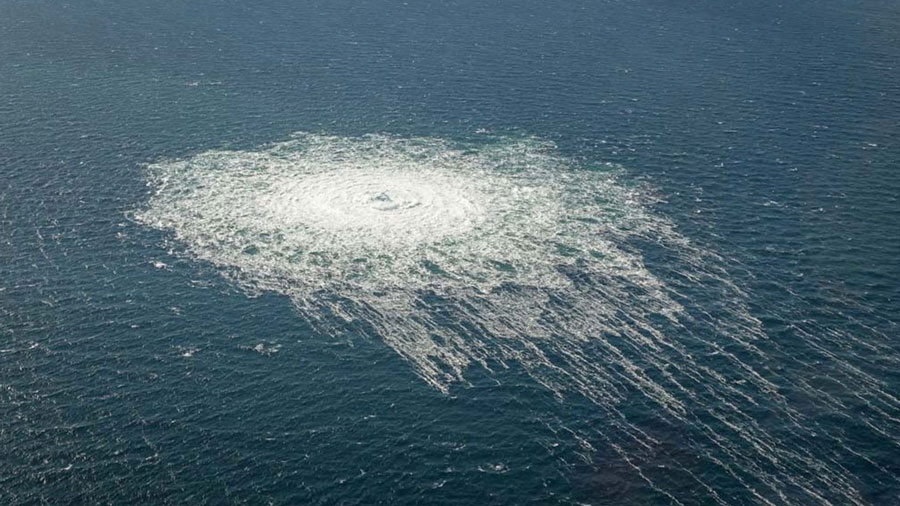 Gas bubbles from the Nord Stream 2 leak reaching surface of the Baltic Sea on 27 September 2022. Photo via news.sky.com
 
New intelligence reviewed by US officials suggests that a pro-Ukrainian group carried out the attack on the Nord Stream pipelines in 2022, according to the New York Times (NYT).
The US officials claimed that they had no evidence Ukraine's President Volodymyr Zelenskyy or his military were involved in the attack on the natural gas pipelines, which link Russia to Western Europe, or that the perpetrators were acting at the direction of any Ukrainian government officials, the NYT reported.
Russian disinfo on social media: "Zelenskyy and western embassies fled Kyiv, US sabotaged Nord Stream"
The US officials who have reviewed the intelligence said they believed the saboteurs were most likely Ukrainian or Russian citizens or some combination of the two, and no American or British nationals were involved in the attack on the Nord Stream, according to the NYT.
Ukraine has opposed the construction of the Nord Stream for years, calling it a national security threat because it would allow Russia to sell gas to Europe without relying on Ukrainian pipelines for transit, which could help Russia to monopolize gas transit to Europe. However, despite being interested in the disruption of the Nord Stream pipelines, the Ukrainian government and military intelligence officials claim they had no role in the attack on and do not know who carried it out.
Three pipes of both Nord Stream gas pipelines may become unusable – Tagesspiegel citing sources
The review of newly collected intelligence suggests the perpetrators of the attack on the Nord Stream were opponents of Russia's President Vladimir Putin but does not specify the members of the group, or who directed or paid for the operation, according to the NYT. The US officials declined to disclose the nature of the intelligence, how it was obtained, or any other details of the evidence it contains.
There are still no firm conclusions about the attack on the Nord Stream pipelines, the NYT concluded referring to the unnamed US officials.
Four explosions caused leaks in three of the four links that make up the Russia-owned Nord Stream 1 and 2 pipelines in September, sending tons of pressurized methane gas into the Baltic Sea at a time of heightened concerns in Europe over a potential energy crisis due to supply disruptions from Russia amid its ongoing war with Ukraine.
The explosives were most likely planted with the help of experienced divers who did not appear to be working for military or intelligence services, the US officials who have reviewed the new intelligence said, according to the NYT.
Related:
Tags: Germany, Great Britain, Nord Stream, Russia, Ukraine, USA