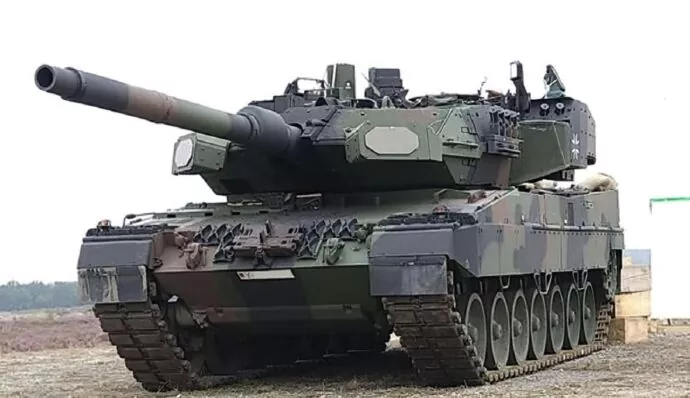 Leopard 2 tank. Photo: mil.in.ua 
On the afternoon of 24 February, the Swedish government confirmed Spiegel's earlier report that it would give Ukraine up to 10 Leopard 2 tanks.
According to Spiegel sources, Sweden wants to donate ten type 2A6 and 2A5 Leopard tanks to Ukraine. The Swedish government didn't confirm these plans as of February 24 morning as the country's Defense Ministry said only that a new aid package for the Ukrainian army should be announced in the afternoon.
"The Leopard tanks, called Stridsvagn in Sweden, could primarily be used to complement the tank package that Germany is currently putting together for Ukraine. Berlin had promised the delivery of 14 Type 2A6 models from Bundeswehr stocks for the battalion, which is to be equipped with 31 Leopard 2 tanks. Since late January, the [German] federal government has been admonishing the European partners who have Leopard 2 models to make commitments for deliveries. To this end, Chancellor Olaf Scholz, Defense Minister Boris Pistorius and Foreign Minister Annalena Baerbock held numerous talks during the Munich Security Conference at the end of last week," Spiegel wrote.
Sweden to supply Archer artillery systems, NLAWs, and 50 Strf90 combat vehicles to Ukraine
So far, Portugal has announced that it would deliver three Leopard 2A6 tanks, and Spain wants to repair six older Type 2A4 Leopard tanks and supply them to Ukraine – but that will take time. Spiegel says, Poland also reported on 24 February that the first four Leopard 2A4 tanks had been delivered to Ukraine as Poland wants to send a total of 14 Leopards. Other tanks for the 2A4 battle group are said to come from Canada and Norway in addition to Spain.
Update:
Sweden will donate up to 10 Leopard 2 tanks and HAWK anti-aircraft systems to Ukraine, the Swedish government said on 24 February:
"The Swedish tanks reinforce the Leopard 2 contribution that other European countries make. Coordination of support is ongoing with international partners donating Leopard 2 or other tanks," the government said in a statement, according to Reuters.
Read also:
Norway to supply eight Leopard 2 tanks to Ukraine, Norwegian Defense Minister says
Sweden allocates new USD 338-million aid package for Ukraine that includes air defense
Sweden's 9th package of security assistance for Ukraine is bigger than the previous 8 combined