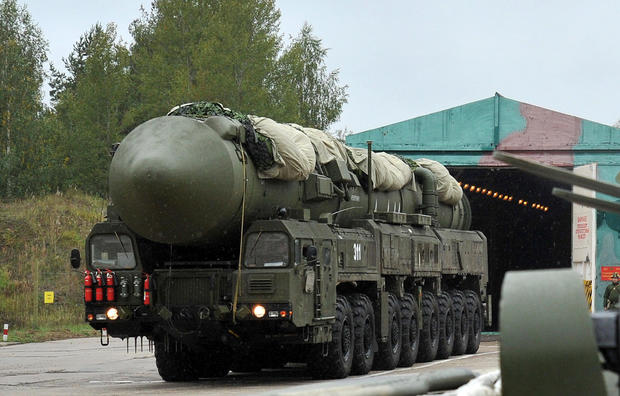 RS-24 Yars SS-X-29 thermonuclear intercontinental ballistic missile that Russia can use for a strategic nuclear strike 
Russia started large-scale drills of its strategic nuclear forces ahead of Joe Biden's visit to Europe, Ukraine's Intelligence reported.
Russia's strategic nuclear forces have been put on high alert and prepared for the launch of ballistic and cruise missiles, according to the Main Directorate of Intelligence of the Ministry of Defence of Ukraine.
The combat control channels of Russia's strategic nuclear forces (SNF) were put to the highest level of combat readiness. The crew of the strategic missile submarine cruiser was given a 24-hour combat readiness order, according to Ukraine's Intelligence.
An auxiliary control point of the long-range aircraft command has also been deployed at the Tambov air base in the western part of the Russian Federation.
A direct nuclear blackmail by the military and political leadership of the Russian Federation is likely to be an attempt to weaken international support for Ukraine and hinder the visit of US President Joe Biden to Europe, which is scheduled for February 20-22, Ukraine's Intelligence reported.
Related:
Tags: Defence Intelligence, FSB (Russia's Federal Security Service), GUR, Joseph Biden, Main Intelligence Directorate (HUR), military aid to Ukraine, Nuclear blackmail, Russian invasion of Ukraine, Ukrainian military intelligence, USA