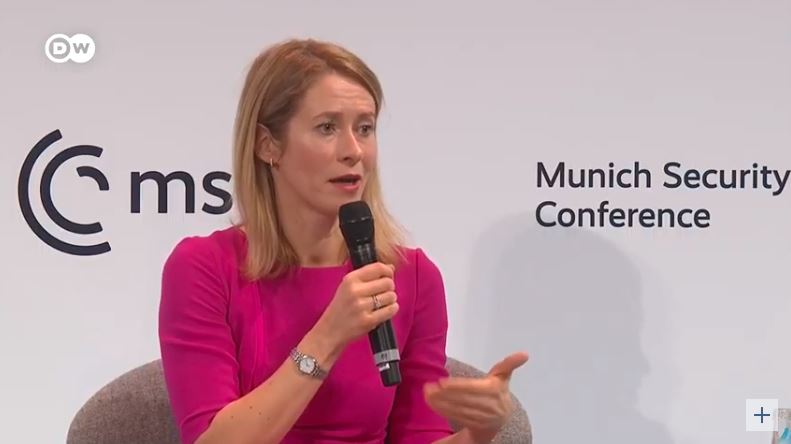 Estonian President Kaja Kallas speaking at the Munich Security Conference. Screenshot from broadcast by DW 
For sustainable peace in Europe, Russians must face their past and modern crimes, Estonian President Kaja Kallas said at the Munich Security Conference, Euromaidan Press reports.
Answering a question by Ukrainian MP Oleksiy Honcharenko on whether Europe needs a policy to deimperialize Russia to have a secure Europe, Kallas said that Russians must be brought to accountability for Russia's ongoing crimes against Ukraine through a tribunal such as the Nuremberg tribunal, but also facing the crimes of the Soviet regime.
"The question that needs to be addressed is accountability. After WWII, there were the Nuremberg and Tokyo tribunals. Nazi crimes were widely condemned across the world. And the effect of the Nuremberg tribunal was that the German people got to know about the crimes that the Nazis committed, hence the change in mindset."
Kallas said that there has been no such change in Russia.
"They are defining themselves through the empire really; they are the masters of that empire. If people admire dictators, there is no obstacle to becoming one or submitting to one.

 

How to tackle that cycle? History matters. Our history books were rewritten after we regained our independence to reflect all the [Soviet] crimes that were committed. It was not the same for Russia. They are teaching and learning from Soviet history books. Accountability is of utmost importance for the crimes of aggression, to have the understanding within Russian society and the contemplation there. Without it, I don't think it's possible. 
She stressed that for sustainable peace, it is important to talk about accountability now, before the war is won, because if there is no plan for it and criminals evade responsibility, history will repeat itself.
"I'm talking about accountability now, so that we would have  sustainable peace in the future, [not the] imperialistic dreams that the Russians have. And I'm not talking about Putin or not Putin.  What are they celebrating, really? Being the empire or not? We have to cut the cycle," Kallas added.
The support of Russians for the ongoing war in Ukraine has been explained by the ideology of Ruscism, which combines imperialism, militarism, and racism, and by the quasi-theological ideology of the "Russian world," which maintains that Russia is an exceptional country fighting the forces of evil.
In October 2022, Estonia, Lithuania, and Latvia called on the EU to establish a tribunal against the Russian leadership for its crimes against Ukraine, a call that was supported by the EU Parliament in January.
Kallas has consistently called for Russian crimes to be tried by an international court.
Russia's crime of aggression must be tried before international court – Estonia's PM
Tags: Estonia, Kallas, Munich security conference, Ruscism