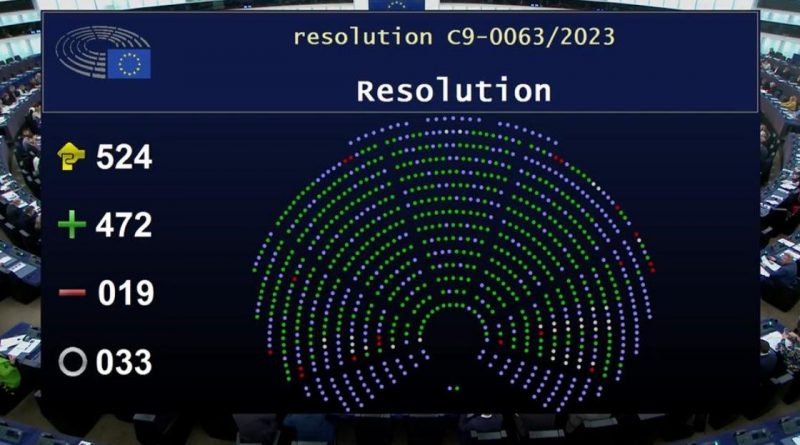 On 19 January, the European Parliament adopted a resolution demanding the political and military leadership of Russia and Belarus be held accountable for the crime of aggression against Ukraine. 472 MEPs voted in favor, 19 against with 33 abstentions.
DW says that a special tribunal – analogous to the Nuremberg trials – should be created in close cooperation with Ukraine, preferably through the UN, according to the adopted resolution.
Parliament says the atrocities committed by Russians in Bucha, Irpin, and many other Ukrainian towns "reveal the brutality of the war and underscore the importance of coordinated international action to bring those accountable to justice under international law," the European Parliament's website reports.
Ukrainian President Volodymyr Zelenskyy welcomed the adoption of the resolution:
I welcome the adoption of the @Europarl_EN resolution on the establishment of a Special tribunal for the crime of aggression against Ukraine. I call on all our partners to support such a tribunal. Russia must be held accountable for its war of aggression and justice must prevail.

— Володимир Зеленський (@ZelenskyyUa) January 19, 2023
"As regards accountability for the crime of aggression in particular, currently, Russian leaders cannot be held accountable… before any international jurisdiction," said European Commissioner for Justice Didier Reynders. Establishing a tribunal would, MEPs argue, fill a vacuum in international criminal justice and complement the investigative efforts of the International Criminal Court.
The European Parliament's website notes:
The exact modalities and composition of the special tribunal remain to be determined.
The tribunal must have jurisdiction to investigate not only Russian President Vladimir Putin and the political and military leadership of Russia, but also Aliaksandr Lukashenka and his cronies in Belarus.
MEPs point out that it is no longer feasible for the Russian Federation under Putin's leadership to return to business as usual with the west.
Read also:
NATO Parliamentary Assembly designates Russia as a terrorist state, calls for Tribunal
US senators call to designate Russian Wagner Group as a terrorist organization
Russia openly admits its terror bombing goal is to push Ukraine to capitulate