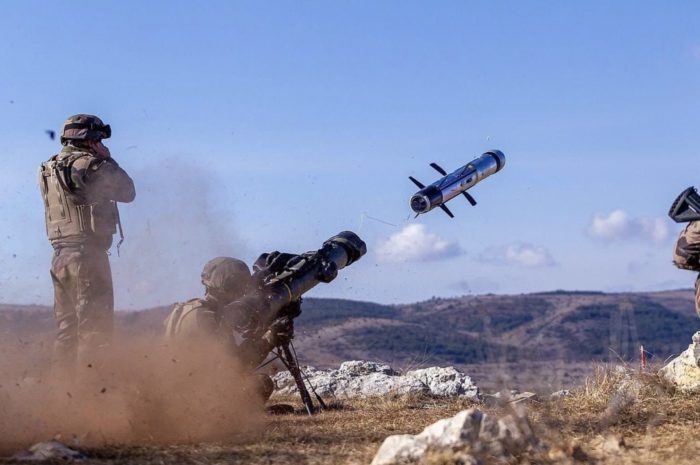 France handed Ukraine Akeron MP anti-tank missile systems (ATGM) of the fifth generation/ Source: Facebook 
France handed Ukraine Akeron anti-tank missile systems (ATGM) of the fifth generation, as reported by OpexNews, referencing the statement by Vice President of the Committee on National Defense and Armed Forces Jean-Louis Thiériot on Twitter. However, there were no previous reports of this.
According to him, France has supplied Ukraine with an unspecified number of anti-tank missile systems and missiles.
"I don't think sending five Jaguars is a real game changer. What is clear today is that the equipment we are sending is good and working. The Caesar howitzers, Mistrals, and Akeron MPs being sent are doing a very good job," stated Jean-Louis Thiériot
https://twitter.com/OpexNews/status/1625947933353906185?s=20
Akeron MP is a French fifth-generation, network-enabled ATGM system. The ATGM integrates command guidance and fire-and-forget operating modules. In addition, Akeron MP also features third-party targeting for indirect firing scenarios via its lock-on after launch for non-line-of-sight (NLOS) use.
The Akeron MP entered service in France in 2017. It was designed by MBDA France to replace the Franco-West German anti-tank guided missile system MILAN and the US-made advanced anti-tank weapon system-medium (AAWS-M) FGM-148 Javelin.
It is designed for infantry. Hence, it is a man-portable air defense system. Akeron MP has a range of up to 5 kilometers when installed on combat vehicles.
As a reminder, France has sent Ukraine the first company of 14 AMX-10RC light tanks. It is reported that their crews have already completed their training.
France has prioritized providing Ukraine with air defense systems, artillery, and tanks.
Read also:
France and Italy are working to provide a SAMP/T air defense system for Ukraine — Austin
French Thales company will sell two GM-200 radars to Ukraine after Ukraine's defense minister's visit to France
France to supply 12 additional CAESAR self-propelled guns to Ukraine – Le Monde
Tags: ATGM, France, military aid to Ukraine