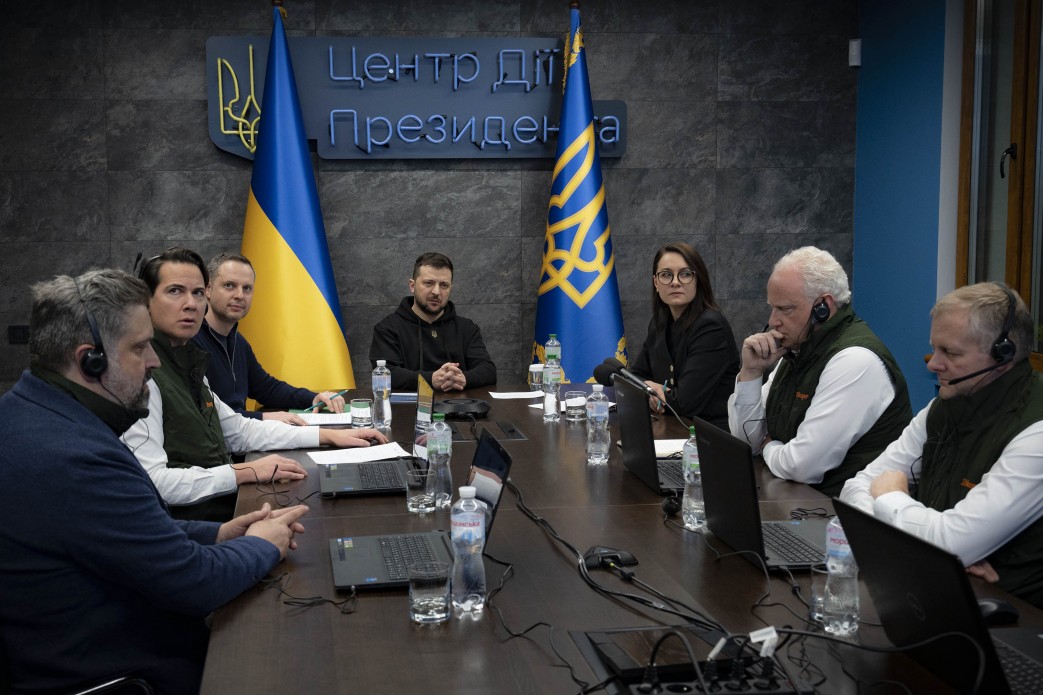 Ukraine's President Volodymyr Zelenskyy during the investment summit organized by JP Morgan.
Photo by the President's Office of Ukraine. 
Ukraine can become a member of the European Union in two years and will join NATO after the war is over, Ukraine's President Volodymyr Zelenskyy said on 11 February during the investment summit organized by JP Morgan.
Zelenskyy said that Ukrainians strongly believe in freedom and democracy, and are fighting for it, for the sake of themselves and future generations.
"Today, some world leaders are skeptical believing that Ukraine needs ten years or so to join the EU," Zelenskyy said. "They know us, and sometimes our spirit and energy scare them. We believe that we can join the EU in two years. And we need security guarantees. I believe that after our victory we will join NATO."

https://euromaidanpress.com/2023/01/23/record-high-86-of-ukrainians-support-countrys-accession-to-nato-poll-shows/?swcfpc=1
President Zelenskyy met with senior members of the largest investment bank in the world, JP Morgan, and took part via video link in one of the largest annual investment summits organized by JP Morgan, attended by 200 largest corporations, investors, and financial companies, according to the Office of Ukraine's President.
The parties discussed the creation of a platform for attracting private capital to rebuild Ukraine and promising directions of large investment projects in Ukraine, in particular in the sectors of green energy, IT, and agricultural technologies.
"I understand very well that doing business and investing cannot be beneficial to only one party. We want you to invest in Ukraine and earn money," Zelenskyy said.
In addition, Zelenskyy stressed that the Russian attacks on the Ukrainian energy system showed Ukraine how important it is to focus on the diversification of the electricity supply and renewable energy development. Zelenskyy noted that Ukraine began the de-centralization of the energy sector despite the ongoing war and invited foreign investors to cooperate.
Related: