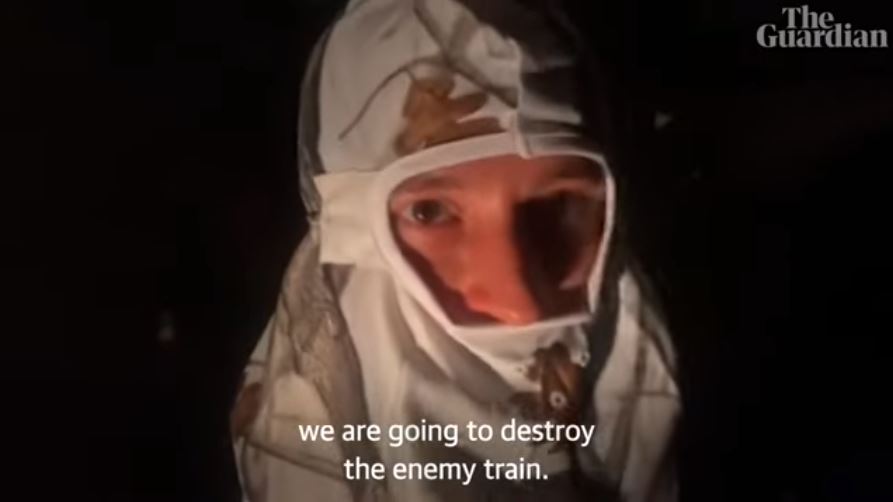 Screenshot from video shared by the Guardian 
Ukrainian saboteurs from the Bratstvo battalion, a volunteer group of Ukrainian special forces, are striking Russian officials on Russian territory, The Guardian reports.
Three members of the battalion, which operates technically independently from Ukraine's army but nevertheless side-by-side with the official forces, spoke with the newspaper in Kyiv.
The battalion recruits mainly civilians and stays apart from the official forces because the West finds it hard to swallow that Ukraine has the capacity to hit Russia in Russia, linked to the Kremlin's threat to use nuclear weapons, The Guardian writes.
Bratstvo, however, finds it vital for the Russian high command to feel the heat of battle on their own territory and spoke with the Guardian to send Putin a message that "it is very easy for us to cross the Russian border."
The small task forces, often four or five soldiers strong, find safe routes into Russia by examining the movement of livestock or taking the advice of those who smuggled contraband before the war.
The missions they described included:
destroying a Russian helicopter transporting high-ranking officials of the Russian ministry of internal affairs;
killing three Russian border guards and taking one captive (an outcome of a failed mission to capture or killing one of the high-ranking officers of the FSB).
Regardless of whether the Russian officials were killed in the helicopter crash, the fact of the attack is very demoralizing for the enemy.
Ukrainians "showed we can enter the territory of Russia and show the Russians that Ukrainians can act… After the Russians find out that saboteurs are working on their territory, they need to move a lot of soldiers to find these saboteurs…. And the very fact that Ukrainian saboteurs are shooting at Russian commanders is already a point of tension for Russians. This makes the Russian command nervous," Taras, a Bratstvo member, was quoted as saying.
Sometimes the missions do not go according to plan. The Bratstvo members described an incident that took place in late December when four members of their group were killed in Russia during a special mission.
This group comprised experienced members and veterans of this work. Oleksiy, an interlocutor of The Guardian, assumed that they "entered the second line of the Russian defense. And in front of it, the Russians laid mines in the ground."
The men were filmed minutes prior to setting out on their mission.
"I'm doing the operation I've dreamed about all my life," one of the members was filmed as saying, mentioning that he was going to destroy a Russian train.
Their missions are secretive, as information about the operation can be passed on to the enemy, and even parents of the Bratstvo battalion's members do not know the nature of their work. Nevertheless, their operations are "twice as safe" as those performed by the regular Ukrainian Army, Bratstvo battalion member Taras said:
"It seems that this is a very dangerous job, but we are very seriously preparing for it."