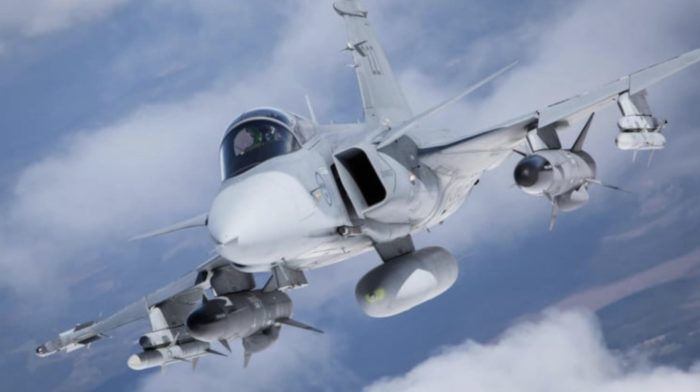 An illustrative photo of a fighter jet/ Source: depo.ua 
Ukrainska Pravda reports, referencing European Pravda and the commentary by Ukraine's Air Force spokesman, Yuriy Ihnat, to El Pais, that Ukraine intends to receive two fighter squadrons containing 12 fighter aircraft each from its international allies in the first aid package.
Ukraine's top priority is to acquire American F-16s. However, Kyiv is also considering the French Rafale and Swedish Gripen.
Ihnat confirmed that, in addition to the complex political negotiations required to carry out this operation, Kyiv would not be able to rely on these aircraft on the battlefield in the near future. Training pilots and ground support teams will take at least six months.
Ukraine's President Volodymyr Zelenskyy reiterated this week that following the agreement between the US and Germany to supply heavy tanks to Ukrainian troops, the next step should be to provide Ukraine with fighter jets.
As previously reported, the Royal Air Force intends to provide Ukraine with fighter jets once Russian troops are expelled from Ukrainian territory.
Previously, German Defense Minister Boris Pistorius opposed the provision of German fighter jets to Ukraine.
"This is out of the question," Pistorius stated.
Meanwhile, Dutch Foreign Minister Wopke Hoekstra stated last week that the Netherlands "has no taboo" on discussing Ukraine's request for F-16s, and the Slovak government has openly discussed plans to provide Ukraine with Soviet-made MiG-29s.
Update:
Yuriy Ihnat commented to Ukrainska Pravda that Ukraine is not presently anticipating fighter jets from the allies. He has also pointed out that he did not state the number of fighter aircraft that Ukraine seeks to receive, as a Spanish news outlet El Pais reported that Ihnat said Kyiv seeks 24 interceptor jets. Ihnat explained that the error was due to a misunderstanding in translation.
Read also:
Lockheed Martin to ramp up production of F-16s to meet Ukraine's demand for fighter jets – Financial Times
Ukrainian Foreign Minister hints they are already working towards the supply of F16 after Germany approved Leopard 2s
US Amb to OSCE expects US support to transfer allied F-16 fighters to Ukraine
Netherlands would consider helping Ukraine with F-16 fighters, Leopard 2 tanks – NL Times
Swedish MP calls to allow selling SAAB JAS 39 Gripen fighter jets to Ukraine
Tags: fighter jets, military aid to Ukraine, Ukrainian Air Force