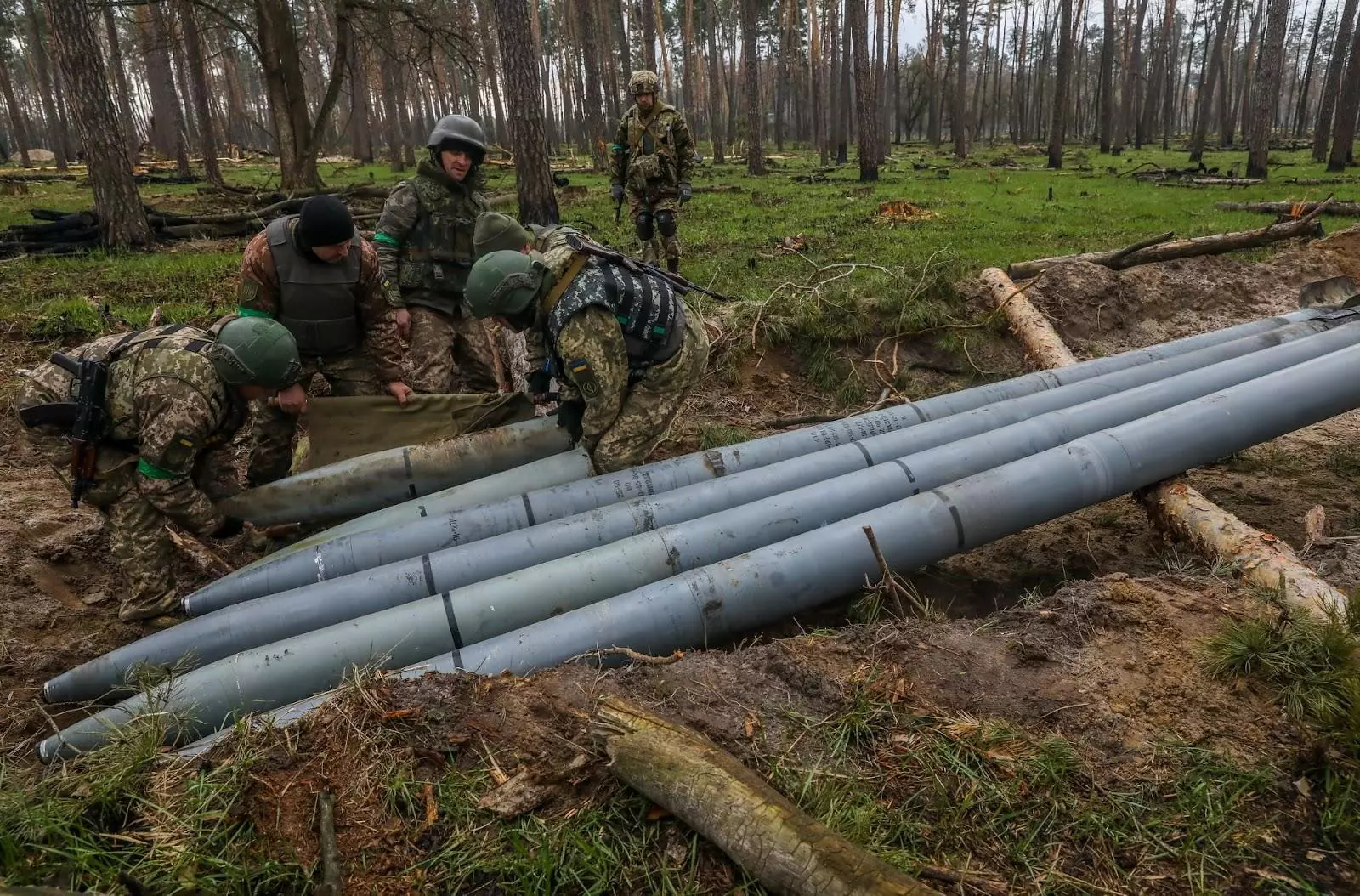 Russian cluster munitions for rocket artillery captured by Ukrainian troops. Source: Nick Tymchenko 
Editor's Note
In its December 31 Russian offensive campaign assessment, the Washington-based Institute for the Study of War
says
that Russian forces are likely depleting their stocks of artillery ammunition and will struggle to support their current pace of operations in certain sectors of the frontline in Ukraine as a result.
Ukrainian Main Military Intelligence Directorate (HUR) Chief Kyrylo Budanov reported on December 31 that Russian forces in Ukraine are experiencing significant issues with artillery ammunition that will become more pronounced by March of 2023. Budanov stated that Russian forces had previously used 60,000 artillery shells per day (as of some unspecified date) and now only use 19,000 to 20,000 shells. Budanov stated that Russian forces have also removed all remaining artillery ammunition from Belarusian military warehouses to support their operations in Ukraine.
US intel chief says Russia using up ammunition in Ukraine faster than it can replace it – NBC News
The United Kingdom Ministry of Defense (UK MoD) reported on December 24 that Russian forces currently lack the necessary stockpile of artillery munitions to support large-scale offensive operations and that sustaining defensive operations along the lengthy frontline in Ukraine requires the Russian military to expend a significant number of shells and rockets daily.
Russia is running low on munitions and cruise missiles – British Intelligence
ISW assesses the constraints on munitions will likely in part prevent Russian forces from maintaining a high pace of operations in the Bakhmut area in the near term.
Russian advance rate slowed down at Bakhmut yet it's too early to assess if Russia's Bakhmut offensive culminated – ISW
The depletion of the Russian military's artillery ammunition stocks will likely impact their ability to conduct a high pace of operations elsewhere in Ukraine as well. This Ukrainian report that the Russians have already depleted ammunition stockpiles in Belarus is a further indicator that a renewed large-scale Russian offensive from Belarus in the coming months is unlikely.
Read also:
Russia's MiG-31K aircraft knocked out of action after catching fire in Belarus – Belarusian OSINT group
Russia is unlikely to attack Ukraine from Belarus – Ukraine's spy chief
Russia setting conditions for renewed offensive from Belarus – ISW
Russian attack from Belarus not imminent now yet Russia plans for new offensive in winter – ISW
Tags: ammunition, artillery, Russian arms industry