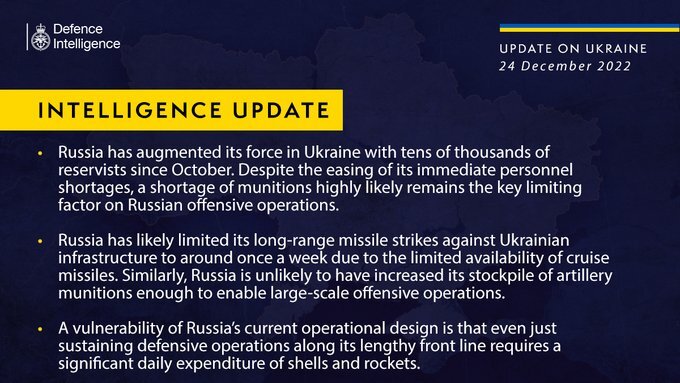 British Intelligence update on Ukraine as of 24 December. Screenshot/Twitter 
The shortage of munitions is highly likely to be the key limiting factor to Russian offensive operations in Ukraine, according to the daily intelligence update on Ukraine published by the British Ministry of Defence on 24 December.
Latest Defence Intelligence update on the situation in Ukraine – 24 December 2022

Find out more about the UK government's response: https://t.co/pCnQtNmhAj

🇺🇦 #StandWithUkraine 🇺🇦 pic.twitter.com/z4gjnDuyON

— Ministry of Defence 🇬🇧 (@DefenceHQ) December 24, 2022
Russia's scarcity of ammunition makes its current operational design vulnerable. Despite the partial mobilization of reservists, the ability of the Russian forces to launch large-scale offensive operations in Ukraine is limited at this point.
Furthermore, the shrinking stockpiles of long-range missiles might be the reason why Russia does not resort to massive missile attacks on Ukraine's critical civilian infrastructure more often than around once a week, according to the British Intelligence.
Related:
Tags: British intelligence, mobilization, Russian invasion of Ukraine