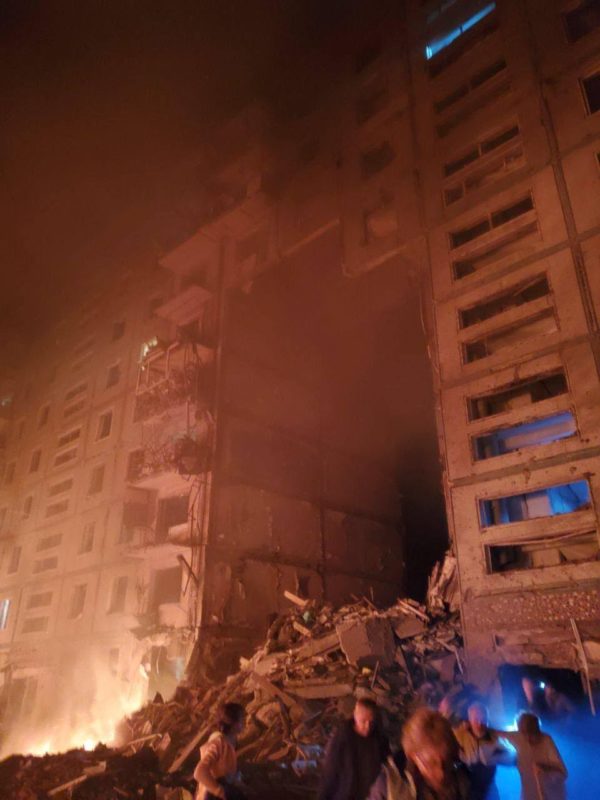 Entire section of a high-rise apartment building destroyed by Russian missile in Zaporizhzhia in the early hours of 9 October 2022. Source. 
Last night one of the Russian missiles destroyed an entire section of a high-rise building in the central-Ukrainian city of Zaporizhzhia causing multiple deaths among residents. According to the latest reports, the Russian attack killed at least 17 civilians.
At about 22:00 on 8 October and about 2:20 on 9 October, the residents of the central-Ukrainian city of Zaporizhzhia heard series of explosions in the city.
Following the late 8 October attack, Zaporizhzhia Oblast Administration Head Oleksandr Starukh reported:
"The enemy aimed a missile at an infrastructure object of the regional center [of Zaporizhzhia]. A fire broke out. Information about the victims is being clarified."
Then at 2:23, he wrote:
"The enemy continues to terrorize the city of Zaporizhzhia. There are almost a half score of new missile impacts. Consequences are being established."
It turned out that one of the Russian missiles hit a high-rise. Starukh reported:
"As a result of an enemy missile attack, a high-rise building in the regional center was destroyed. There are victims. Rescue workers, doctors, and all relevant services are working at the site of the tragedy. People are already being provided with all the necessary assistance."
As a result of the night rocket attack on Zaporizhzhia, apartment buildings and streets of the private sector of the city were damaged.
At least 17 civilians were killed by the Russian attack on Zaporizhzhia at 2 am today, according to the city council

More people can remain under the rubble. "Those *** Russians simply destroyed a multi-story building at night, at 2 am," the man says in the video. pic.twitter.com/zFZCTcMz9D

— Euromaidan Press (@EuromaidanPress) October 9, 2022
At about 6:00, Secretary of the Zaporizhzhia City Council Anatoliy Kurtiev said that the Russian night attack on Zaporizhzhia damaged apartment buildings and streets in one-family home neighborhoods of the city:
"According to preliminary data, 5 one-family homes were destroyed and about 40 were damaged. Currently, 17 people are known to have died. Sincere condolences to the relatives," he added.
Lately, Russian troops keep carrying out missile attacks on Zaporizhzhia almost every day.
Read also:
Russia attacks central-Ukrainian Zaporizhzhia using Iranian drones, injures one – oblast head
Russia hits Zaporizhzhia city, oblast with missiles, destroys infrastructure, kills two
Russia kills 23 in missile strike on humanitarian column in Zaporizhzhia (18+) UPDATED
Russian missile strike on central Zaporizhzhia kills at least one, 6 rescued from the rubble