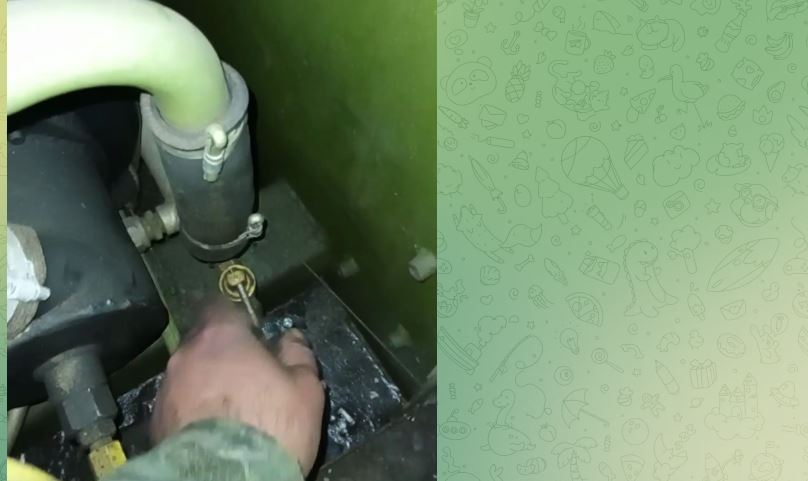 Screenshot from an Atesh video teaching Russian soldiers to wreck their own equipment 
Atesh, a Ukrainian-Crimean Tatar partisan movement created in September 2022, has reported that 4,000 Russian soldiers have enrolled in an online course teaching Russians to "survive during the war" by wrecking their own equipment.
"Our students have mastered the art of breaking equipment and sabotaging orders. Atesh students know that there is no need to go to war when you can earn good money in the rear, repairing your equipment and not risking your life.
If YOU are a serviceman of the Russian Federation or a fighter of the Wagner PMC, you may find this information useful," Atesh so advertises its Atesh school, which consists of videos giving Russian military equipment operators advice on making their gear malfunction.
These include instructions on "making easy money on the front" by pouring sand inside the gearbox of a BMP-3 IFV, perforating the cables of a T-72B3 tank, opening a valve to make the engine of an MT-LB AFV overheat, etc. "You just sit there and get paid while you wait for your equipment to be repaired," say Atesh members.
Videos for Russian soldiers or Wagner recruits by Ukrainian Atesh partisans include, for instance, advice on disabling a T-72B3 tank by puncturing its cables.

"Now it needs to be repaired. And while you sit and wait, you still get your money" https://t.co/WoIbDriLdH pic.twitter.com/figIYxEQGS

— Euromaidan Press (@EuromaidanPress) February 15, 2023
The partisans are also engaged in sabotage: videos shared on their Telegram channel include spraypainting their logos on wrecked Russian equipment:
Ukrainian partisans say 4,000 Russian soldiers learning to wreck own equipment

They have reportedly enrolled in "Atesh school," an online course teaching Russians to "survive during the war" & make money by wrecking their own equipment https://t.co/WoIbDriLdH pic.twitter.com/gw7iHIsDmw

— Euromaidan Press (@EuromaidanPress) February 15, 2023
The results of their "school" can already be seen. On 11 February, Ukraine's General Staff reported that Russian occupiers in Mariupol were repairing their military equipment deliberately damaged by Russian military personnel in order not to participate in hostilities, with the main tactic being to wreck the equipment's engines.
Atesh took responsibility for this incident, announcing that at least seven units of equipment are now unfit for service.
"This was made possible by our educational activities within the framework of the project Atesh School. We urge the rest of the Russian Army to follow their comrades' example and not risk their lives for the wishes of one madman," Atesh wrote on their Telegram channel with over 20,000 subscribers.
Apart from sabotage, Atesh assassinates Russian occupiers. One of Atesh's recent feats includes blowing up a car with four Russian servicemen and security service operatives in occupied Nova Kakhovka. They have also taken responsibility for assassinating top Kherson quisling official, Kirill Stremousov.
But their goals are far-ranging. Claiming to have "agents" in the Russian army and Russian strategic enterprises, they have taken responsibility for explosions in occupied Crimea and Russian cities bordering Ukraine such as Bryansk.
Ukrainians and Crimean Tatars created the Atesh military guerrilla movement in September 2022 because of Russia's full-blown invasion of Ukraine.
On September 26, the Atesh warrior oath was published on the movement's official Telegram channel, and on September 29, a video message from one of the guerrillas was released, calling to join the movement:
"Now it's time to reveal ourselves. We are the underground movement 'Atesh,' which includes Crimean Tatars, Ukrainians, and Russians. We have mobilized into the Russian army and we will destroy it from within. We will leak the data of positions, warehouses, soldiers, equipment. We will sabotage warehouses and headquarters. There are more of us every day!"
On 11 November, the movement's guerrillas claimed to have eliminated 30 Russian servicemen in hospitals in Simferopol.
On 11 December, Atesh claimed responsibility for setting fire to barracks with Russian servicemen in the settlement of Sovetskoye, and on 30 January, they killed two officers of Russia's National Guard by blowing up their car en route to occupied Crimea.
Growing partisan movement of Kherson Oblast now bombs collaborators
Tags: Atesh, partisans, Russian Army