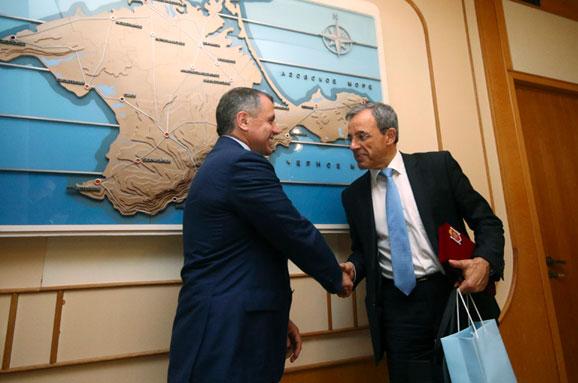 Photo: REUTERS. Crimean "leader" Vladimir Konstantinov with French politician Thierry Mariani 
An open letter to Thierry Mariani, French MP who backs Crimea's occupation
Dear Monsieur Mariani,
Congratulations! I can only admire your unfailing love for Russia and bow to your perseverance in such titanic efforts to pass a resolution draft to the French National Assembly calling for an end to economic sanctions against Russia. How we feel for you: the vote was held in a barely occupied lower house on a spring day! Now, isn't the absenteeism of French MPs convenient? With the support of your cronies in the upper house who, like you, are inveterate fans of Crimean holidays, your resolution – somewhat diluted in order not to obstruct the extremely delicate task of our French Foreign Minister – was finally approved on June 8th by an overwhelming majority of 301 votes to 16. How can we not burst with pride to be French, European, Republican, courageous, rational, visionary and united with the great Russia, all at the same time! In actual fact, the French senators were more concerned that their rural electorate would have the means to dispose of their pig farming surpluses in Russia; far easier to support your cause, wouldn't you say, than attempting to reform a system that is cruel to animals and woefully out-dated, given the impossibility of satisfying the almighty French Farmers' Union!
Ever valiant, you also go to the utmost trouble to put an end to personal sanctions most unfairly imposed upon your Russian friends in Moscow. Your exemplary behaviour touches me beyond measure; it even reminds me a little of the fight for justice by those great enlightened minds of the eighteenth century. Come to think of it, isn't it rather surprising that Amnesty International stays silent on this issue? You are so right to remind us of the insult inflicted onto your colleague Sergei Naryshkin, decorated with the highest distinction in France, la légion d'honneur. Although, please forgive my presumptuousness but I cannot help but feel that this distinction has become somewhat "wheeler-dealer" nowadays. Alas, I concede the system is unfair since we know that the Crown Prince of Saudi Arabia received this honour from our Glorious Republic for arms sales favours…
But who is this bel ami you are defending so valiantly? After a long search of a few seconds on Google, I discover he is chairman of the Duma, the man responsible for official propaganda lies, implicitly justifying the forceful Russian intervention in Ukraine, which has taken (just a trivial detail) tens of thousands of young lives. This high ranking yet ever so discreet gentleman rails against those Ukrainians who have seized power in Kyiv, accusing them of being nationalist, anti-democratic, anti-Russian and malicious towards so called Russian minorities. Monsieur, why condemn a man whose only crime has been to incite fear and hatred?
You are right to raise another pressing issue, one far more profound in my humble opinion: does it make sense to deprive our powerful, efficient, strike-free French defence industry of lucrative Russian contracts? After all, let's be honest, this massive Eurasian federation would have merely invaded a tiny Russian-speaking peninsula barely larger than Brittany. Who cares if 40 % of the population of Crimea were at that time of Ukrainian or Tatar origin? We know that our traditional French Secular Republic despises minority and identity movements that are prey to division and communalism. It's just as well that Putin put an end to this Ukrainian folly of giving visibility and autonomy to small, unimportant, forgotten cultures. But fear not, the sacrosanct policy that the Russians have mastered will create a new front in our common struggle against Islamism. And, if there is radicalisation among Crimean Tatars, we can always blame the deceitful Americans and their accomplices from Kiev for arming them on the sly, much as your Muscovite acquaintances are doing so brilliantly in the Donbas. Please do not worry yourself; it is a safe bet that the Turks, slightly annoyed with their Russian friends, will not get involved if their Turkish brothers are ill-treated. Thierry, allow me to reassure you once again; it will always be more salutary to take up the Palestinian cause rather than the Tatars' one and vilifying Israel in Parisian salons will remain eternally more chic than criticising Our Glorious Russia!Moreover, since we are now into redefining borders, perhaps we could get rid of the Alsatians who have at times been annexed to Germany? They will probably be so much happier in US-friendly, harmonious, modern, rich, dynamic, hardworking Germany and furthermore they will be better prepared to cope with the vagaries of globalisation.
I understand your anger but please do stay calm; the Russians are generous to their friends. And who knows, perhaps one day, if we Europeans bend to their utterly reasonable demands and provide them with weapons and livestock, we will witness the dismemberment of Kazakhstan that your wife knows so well. Now I come to think of it, this could yet be another great business opportunity for French companies in those new Russian-speaking Kazakh entities that your dear friends may very well rename "New Siberia".
My dear Mr. Mariani, I give you a few minutes of relaxing music. Listen to Jamala's song, winner of Eurovision 2016, which the Russians are so strangely fond of. In this music entitled "1944", Jamala revived with beautiful lyrics the cruel deportation of her people by the Kremlin. The singer, who by the way did not cover her hair, cries for her homeland where today she is persona non grata. Crimea, a multicultural land, has been one too many times under the Russian steamroller of which you boldly make yourself the champion. But perhaps you would prefer to read Lev Tolstoy, who in his short story Hadji Murat, described all the hatred of the Caucasian Muslims crushed under the ruthless Russian yoke. A cause and effect relationship maybe, wouldn't you say?
Pierre Scordia
Lecturer at University College London
Founder of FΩRMIdea | form-idea.com
---
Related:
Tags: Crimea, France, Mariani, Op-ed, Russia's Anschluss of Crimea, Russia-France relations, Russian agents of influence, Ukraine-France relations, Western appeasement