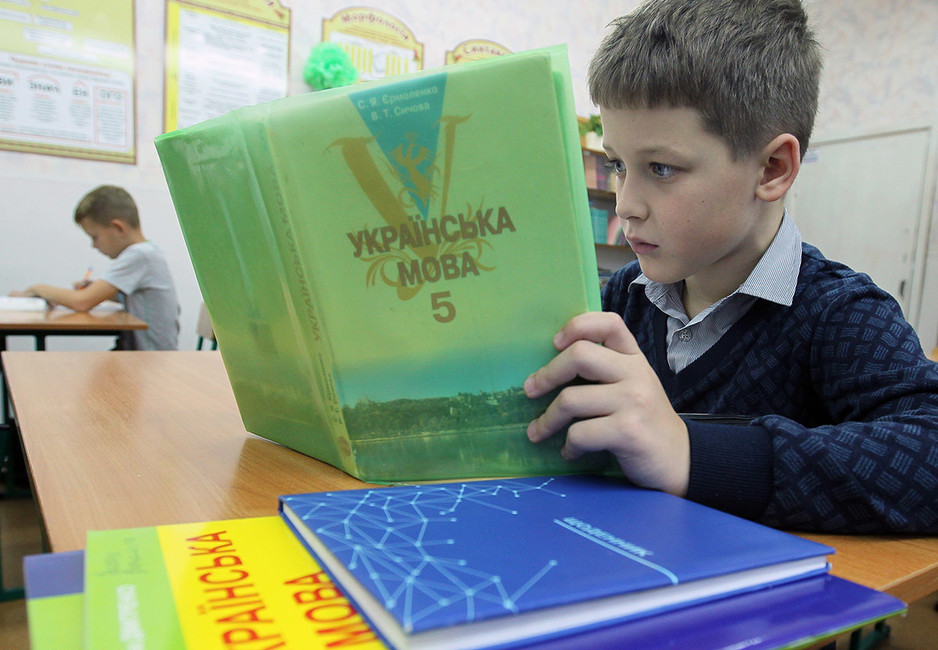 A student with a Ukrainian language textbook for 5th grade. (Image: TASS)  
Since the 2014 Anschluss, Moscow has often tested out policies of repression on the Ukrainian peninsula that it has then extended to the Russian Federation. In its effort to make Ukrainian and Crimean Tatar "outcast" languages, the Russian authorities may be developing a system they will employ against non-Russian languages in Russia itself.
That makes an article by Ivan Zhilin on the Open Russia portal particularly important because he traces the ways in which the occupiers, despite proclaiming that Crimea under Moscow's rule has three "state languages," Russian, Ukrainian and Crimean Tatar, in fact has worked against the second and third.
"The Ukrainian language never enjoyed a great deal of popularity in Crimea," Zhilin says. In March 2014, there were only eight Ukrainian schools and 829 classes in which Ukrainian was the language of instruction. Thus, of 209,986 pupils on the peninsula, only 13,688 studied Ukrainian.
The situation got worse following the Anschluss.
"Of the eight Ukrainian schools, only one remains. Of the 829 Ukrainian classes, only 28. And education in Ukrainian today is being received by only 371 pupils, something officials say reflects the desire of Ukrainians to learn Russian and their escape from past oppressive measures to force them to study that language." But Ukrainians in Crimea have "a different opinion."
They wanted their children to study Ukrainian, but the Russian occupiers did everything they could to block their desire, talking to parents and even creating a Catch-22 situation in which no Ukrainian class could be formed without applications but no applications could be filed if there wasn't a Ukrainian class.
As a result, some Ukrainians with children left occupied Crimea and moved to other parts of Ukraine so that their children could study their own language, Zhilin says. The future of Ukrainian language instruction in Crimea as long as the Russian occupation continues is thus bleak indeed.
The situation of Crimean Tatar is also dire. The third largest nation in Crimea, they had 14 schools and 384 classes in their national language as of March 2014 in which 5551 pupils were enrolled. After the Anschluss, "the number of schools remained the same, but the number of classes fell to 348."
Teachers and activists say the occupiers have sought to force Crimean Tatars to study other languages rather than their native one. First, parents who ask for instruction in Crimean Tatar are called in and told that Crimean Tatar is not so widely used "on the territory of Russia. And then they are told there can't be any classes because there are too few applicants.
The United Nations commissar for human rights declared this fall that "the introduction of the educational standards of the Russian Federation [in Crimea] has limited the right of ethnic Ukrainians and Crimean Tatars to education in their native language." Ukrainian schools have almost completely disappeared, and instruction in Crimean Tatar has survived "only 'thanks to the high level of self-consciousness' of the Crimean Tatar people."
Read More:
Tags: Crimea, Crimean Tatar language, Crimes of the Russian occupation regime in Crimea, Ukrainian language