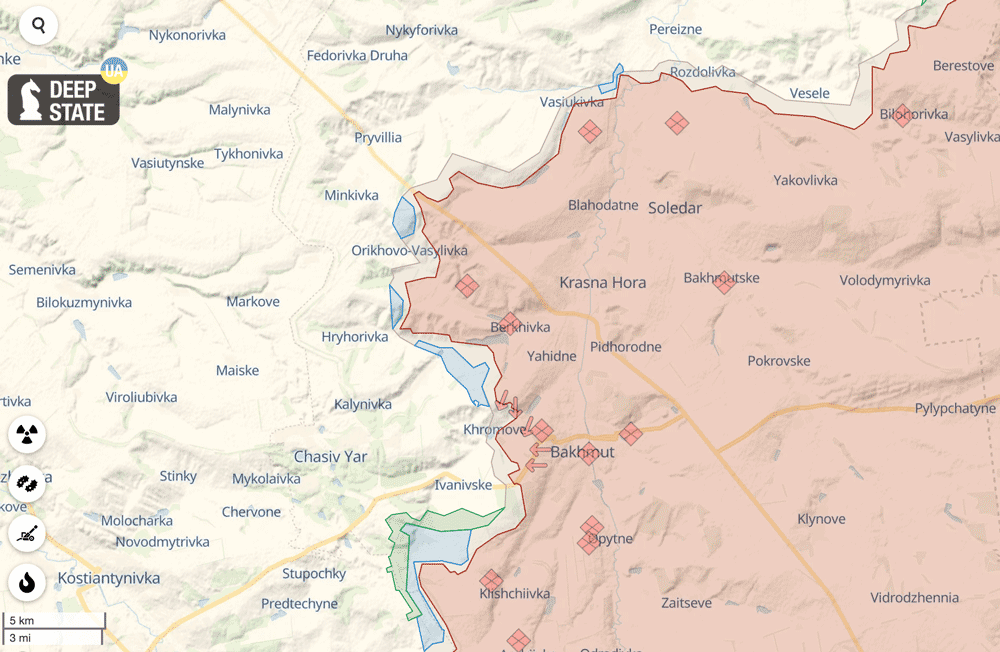 Situation in the Bakhmut sector as of 27 may 2023. Map: Deepstatemap 
During the counterattacks, Ukraine's Defense Forces managed to advance 350-400 meters in some areas in the Bakhmut direction, according to Serhii Cherevatyi, the Eastern Group of Forces spokesman. He said it on the national telethon on 27 May, Liga
reports
.
"During counterattacks in some areas, we managed to advance to a distance of 350 to 400 meters," said Cherevatyi, not specifying where exactly the advancements occurred.
Recently, Ukrainian military actions have focused on the northern and southern flanks of the Bakhmut front.
He says the Russian activity has decreased in the area, where only two combat engagements occurred on 26 May. At the same time, the average number of fire attacks did not see a decline, with 465 Russian artillery strikes and two air raids during the day.
He claimed that 54 Russian troops were killed and 84 more wounded in the Bakhmut direction on 26 May as Ukrainian troops hit a Russian BM-21 Grad multiple rocket launcher, a 2S4 Tyulpan heavy self-propelled mortar, three drones, three artillery pieces, and two field ammunition depots.
According to Cherevatyi, the decrease in the intensity of the fighting is due to the enemy's heavy losses.
"Prigozhin's statements are a latent surrender. We are now observing some rotational movements on their part, which is also associated with a decrease in hostilities. We continue to strike at them," the AFU spokesman summarized.
Deputy Defense Minister Hanna Maliar has reiterated that Ukrainian troops are maintaining control over a small southwesternmost portion of Bakhmut City.
Read also:
Tags: Bakhmut