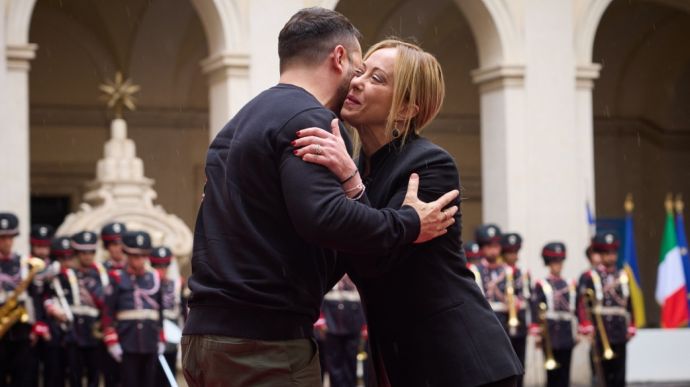 The Italian Prime Minister, Giorgia Meloni, has promised to provide full support for Kyiv's EU membership bid, including assistance with reforms, following talks with President Volodymyr Zelenskyy in Rome. This was reported by a correspondent of "European Truth".
"We acknowledge Ukraine's justifiable desire to join the EU, and we support it," said Meloni at a joint briefing with Zelenskyy.

"Ukraine is currently fighting to protect European values. These are the values of all our citizens. That's why we have decided to take an active position in supporting Ukraine's candidate status for EU membership. We will continue to provide our full support to facilitate the gradual integration of Ukraine into the EU," Meloni promised.
She noted that Ukraine, of course, must implement reforms on the path to the EU. "And we are ready to assist within the framework of reforms," Meloni added.
"The truth is that Ukraine is a victim of aggression, and by defending its integrity and sovereignty, it is pushing the war away from the rest of Europe. This is extremely important to us. What the Ukrainians are doing, they are doing for us too," the head of the Italian government also stated.
Meloni also expressed confidence in Ukraine's victory in the war against Russia, stating that Rome will continue to work with its allies to provide further military support to Kyiv.
"I am convinced that Ukraine will win, that it will emerge even stronger, more prosperous. Ukraine's future is a future of peace and freedom, and it is a European future. There are no other possible solutions," said Meloni.

"Peace cannot be achieved with defeat, with the surrender of Ukraine's territories. This would be very dangerous for peace in Europe and would set a precedent for all nations of the world. We will only reach peace when Russia stops military actions and attacks on civilian targets. We will continue to call on Moscow to cease hostilities and withdraw its troops from Ukrainian territory," added Meloni.
She assured that Italy is ready to provide all possible assistance when Kyiv deems it necessary to start peace negotiations with Russia. "We support President Zelenskyy's 10-point peace formula," added Meloni.
In Rome, Zelenskyy also met with President Sergio Mattarella, who stated that peace in Ukraine must be real, "not a capitulation". Following talks with President Volodymyr Zelenskyy in Rome, the Italian Prime Minister Giorgia Meloni expressed confidence in Ukraine's victory in the war against Russia.
Tags: Italy, Ukraine-Italy relations, Zelenskyy