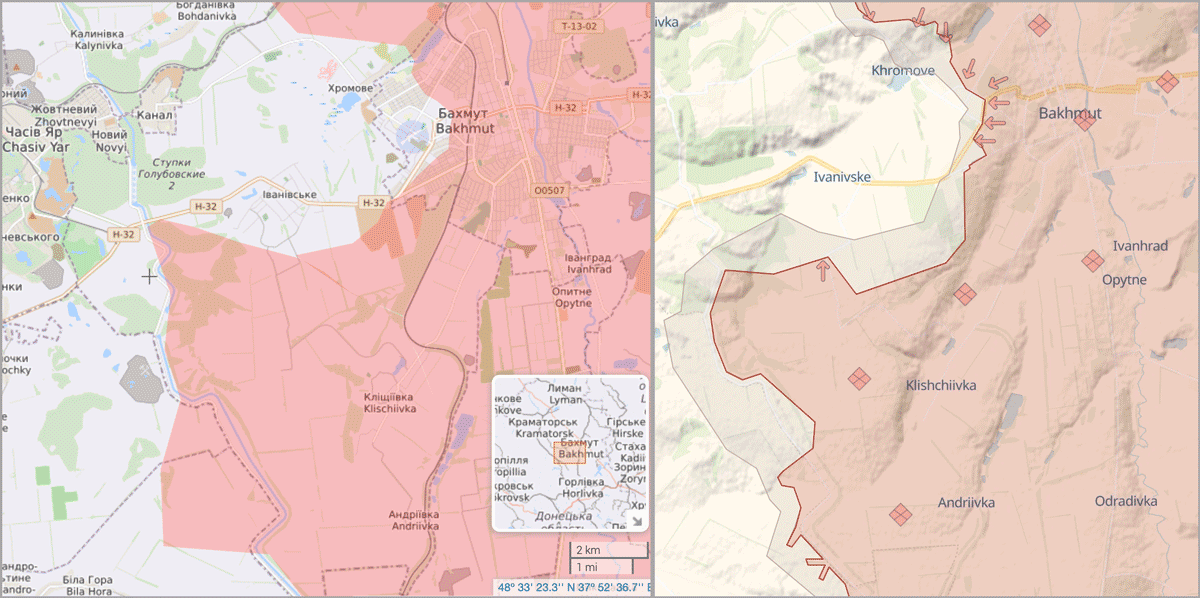 Frontline maps by Liveuamap (left) and DeepStateMap (right) showing the situation south of Bakhmut as of 11 May 2023. The DeepState's map shows the recent Ukrainian gains in the area. 
Editor's Note
In its latest Russian offensive campaign assessment, the US-based think tank Institute for the Study of War (ISW)
confirms
that Ukrainian forces have successfully conducted limited counterattacks around Bakhmut on 9 May.
Geolocated footage published on May 9 and 10 indicates that Ukrainian forces likely conducted successful limited counterattacks north of Khromove (immediately west of Bakhmut) and northwest of Bila Hora (14km southwest of Bakhmut) and made marginal advances in these areas (1, 2, 3, 4, 5, 6, 7, 8, 9, 10, 11).
Russians retreated in places up to 2 km near Bakhmut, Ukrainian commander says
Ukrainian sources claimed on 9 May that Ukrainian forces destroyed the 6th and 8th companies of the 72nd Motorized Rifle Brigade of the 3rd Army Corps near Bakhmut and advanced 2.6km along a 3km frontline in the area, although ISW has not observed visual confirmation of these reported wider Ukrainian advances.
Frontline report: Ukrainians expand area of operation south of Bakhmut, continue to gain ground
A prominent Russian milblogger claimed on 10 May that the Ukrainian forces tried to advance further in the Luhansk People's Republic (LNR) 4th Motorized Rifle Brigade's zone of responsibility in the Bakhmut area following Ukrainian counterattacks on 9 May but that formations of an unspecified Russian paramilitary company (PMC) prevented a Ukrainian breakthrough.
The Russian Ministry of Defense (MoD) claimed that Russian Airborne Forces (VDV) are constraining the actions of Ukrainian forces on the flanks around Bakhmut.
Frontline report: Massive HIMARS raid makes Russians believe counteroffensive to start on May 9
ISW has previously assessed that reports of Ukrainian counterattacks throughout Donetsk Oblast appear to be a part of an ongoing pattern of localized and limited counterattacks.
Tags: Bakhmut, counter attack, Donetsk Oblast