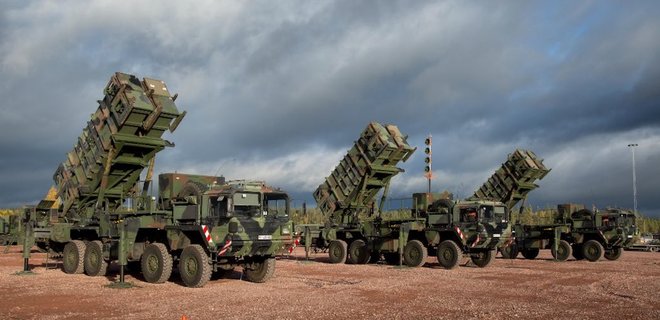 Patriot SAMs in Ukraine. Photo: Ukrainian Defense Minister Oleksii Reznikov's twitter 
Russia's costly "hypersonic" weapon Kinzhal was unexpectedly intercepted by the 1990s-era Patriot PAC-3 system.
After initially denying media reports that Ukraine's air defense shot down a hypersonic Kinzhal missile, Ukraine's Air Force confirmed 6 May that the massive explosion heard above Kyiv on 4 May was indeed the "unstoppable" Russian missile being destroyed by the US-donated Patriot SAM.
"My congratulations to the Ukrainian people on a historic event! Yes, we shot down the 'unparalleled' Kinzhal!" Ukrainian Air Force Commander Mykola Oleshchuk  wrote in a Telegram post.
According to Oleshchuk, during a night attack on May 4 in the sky of Kyiv Oblast, a MiG-31K fired an X-47 missile from Russia, which was shot down by a US-produced Patriot air defense system.
Not "unstoppable" Kinzhals
The Kinzhal missile is a Russian hypersonic air-launched ballistic missile that can carry either nuclear or conventional warheads. It was one of the six new strategic weapons unveiled by Russian President Vladimir Putin in March 2018, and it has been used repeatedly in the war against Ukraine since February 2022.
The missile is claimed to have a range of 2,000 km and a speed of Mach 10 (3,400 m/s). It can be launched by MiG-31K interceptors, Tu-22M3M bombers, or Tu-160M strategic bombers. It is designed to hit NATO warships, missile defense systems, and other high-value targets close to Russia's borders. It is also said to have high maneuverability and precision, making it difficult to intercept by existing air defense systems.
However, some experts have cast doubt on the effectiveness and invincibility of the Kinzhal missile. They argue that it is not a true hypersonic weapon, but rather a modified version of the Iskander ballistic missile that has been used for decades. They also point out that it has a limited payload, accuracy, and range compared to other missiles. Moreover, they question whether Russia has enough missiles and launch platforms to sustain a prolonged campaign.
According to Defense Express, which analyzed photos of the missile wreckage, the downed Kinzhal missile had a nose cone with traces of damage that indicated it was hit and punctured by the Patriot system. The media outlet also explained that the Kinzhal is not truly hypersonic, as it can only accelerate to such speeds due to the booster but cannot maintain them permanently. In the terminal stage, it enters the target along a ballistic trajectory and has a high but far from hypersonic speed.
Russia poured "astronomical funds" into the development of "hypersonic" weapons such as "Kinzhal" and "Tsirkon," claiming that they weapons can overcome not only existing missile defense systems but also prospective ones. However, in reality, they were intercepted by the Patriot PAC-3, which was developed in the 1990s, Defense Express stresses.
In early March, Russia launched six Kh-47 Kinzhals at Ukraine during a missile strike, and Air Force spox Yuriy Ihnat announced that Russia had stocked 50 Kinzhal missiles designed to hit "decision-making centers" for the strike.
US provides Patriot SAMs to Ukraine amid war with Russia
The US announced on 21 December 2022 that it is providing a Patriot missile battery to Ukraine, as part of a new aid package to help the country defend itself against Russia's invasion. The Patriot Air and Missile Defense System is capable of bringing down cruise missiles, short-range ballistic missiles, and aircraft at a significantly higher ceiling than previously provided air defense systems, according to a State Department spokesperson.
The Patriot SAMs are considered one of the most capable long-range air defense systems in the world. They use advanced interceptor missiles and highly effective radar systems to track and engage incoming aerial threats. The latest modification, PAC-3, can also shoot down ballistic missiles, including the Iskander missiles that Russia has used to attack Ukraine and hypersonic missiles such as Kinzhal and Zircon.
https://twitter.com/EuromaidanPress/status/1648646439197655040
The US first announced the transfer of Patriot systems to Ukraine in December 2022 as part of the regular mizlitary assistance package. Since then, Germany and the Netherlands have delivered their Patriot systems to support Ukraine.
The first Patriots arrived in Ukraine on 19 April 2023, and on 24 April, Ukraine's Air Force announced that the first Patriot battery is on combat duty.
https://twitter.com/EuromaidanPress/status/1650432667052113925
In preparation for the arrival of the American MIM-104 Patriot system, Ukrainian soldiers completed their training on US Patriot air defense systems at Fort Sill, Oklahoma.
The addition of the Patriot SAM to Ukrane's air defense is expected to boost the country's air defense capabilities, which have been severely tested by Russia's relentless air strikes and drone attacks since October 2022, with Ukrainian officials reporting that Russia attempted to locate the position of the systems during a recent missile attack. However, experts interviewed by CNN caution that they may have limited effect against Russia's overwhelming numerical and technological superiority in the air domain. The Patriot SAMs are also vulnerable to counter-battery fire and electronic warfare from Russia's forces.
Ukraine to run out of air defense missiles, Western fighter jets needed – US military expert
Tags: air defense, Kinzhal, MIM-104 Patriot