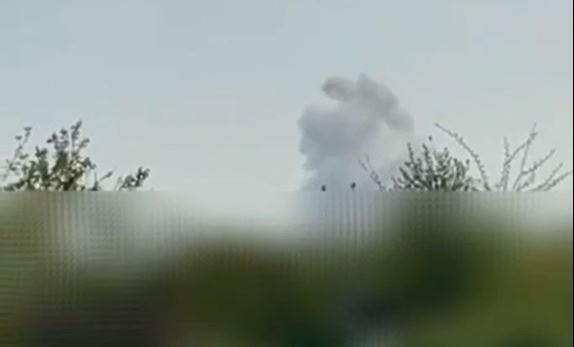 Screenshot from video 
Explosions were reported in occupied Crimea on the morning of 6 May, local Telegram channel ChP Krym and Russian media outlet RIA Novosti wrote. Residents informed the media of the blasts in the Krasnohvardiisky district, in the center of the peninsula near the railway hub of Dzhankoi,
https://twitter.com/EuromaidanPress/status/1654829392177123336?
Russian-appointed "authorities" in Crimea later announced that the air defense system was activated in the northern part of the peninsula, allegedly with no casualties or damage.
Several incidents involving explosions in occupied Crimea have been reported in recent weeks. The same vicinity of today's attack, Dhzankoi, was targeted by Ukrainian drones on 20 March in an attack that Ukrainian officials said hit a railway hub as part of preparations for Ukraine's impending counteroffensive. On April 8, 2023, the Russian occupation authorities in Feodosia reported shooting down a missile allegedly from mainland Ukraine.
The explosions occur amid Ukraine's preparations for a counteroffensive, which targeted such locations in occupied Crimea as a fuel depot in occupied Sevastopol, which caught fire after an alleged drone attack on 29 April. The same day, explosions were reported in Russia's Kursk Oblast, where Russian soldiers claimed to have witnessed the blasts, believing they were caused by a missile or drone attack.
And just two days ago, another Russian fuel facility caught fire in Russia's Krasnodar Krai, located across the Azov Sea from the occupied peninsula.