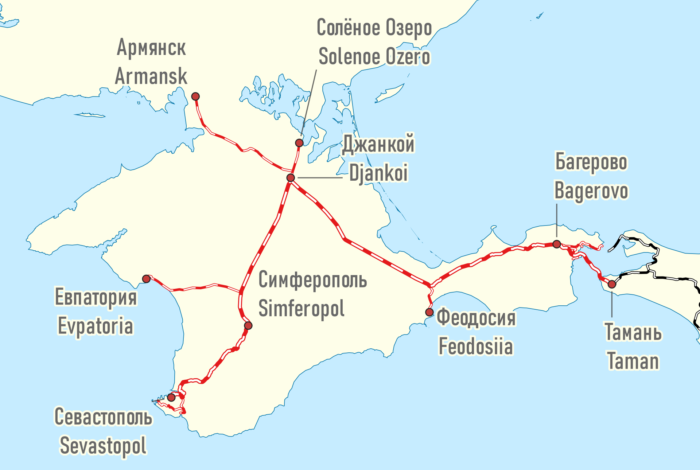 Explosions in the city of Dzhankoi that according to Ukrainian intelligence destroyed Russian Kalibr NK cruise missiles during their transport by rail, also significantly damaged a crucial railway station, head of Ukraine's United Press Center of the Southern Defense Forces Nataliia Humeniuk t0ld RFE/RL.
She claimed that using the railway station, a key transport hub in occupied Crimea, is now impossible, evidenced by the Russian occupiers' "commotion" around the incident. Russia will try to repair the damage as soon as possible, because having rail connection is critical for delivering personnel and weapons to the south of occupied Ukraine, Humeniuk said.
According to her, the strike is part of Ukraine's fire control of enemy forces as part of preparations for Ukraine's spring counteroffensive.
"The attack on the railway hub is one of the elements of our plan which precedes those very active measures that everyone is eagerly waiting for, as the exhaustion of the enemy's logistics and even the cessation of it in some directions is a guarantee of successful actions later on," said the spokeswoman.
On the evening of 20 March, social media reported the sound of explosions in Dzhankoi and power outages in one of the city's districts. According to local media, Russian air defense units shot down a drone.
Photos of the wreckage of drones allegedly shot down last night in Dzhankoi look similar to parts of the airframe of the Chinese commercial drone Mugin-5.
The Russian-controlled head of Crimea, Sergey Aksyonov, responded to the explosions in Dzhankoi by reporting that air defense was active.
The Defence Intelligence of Ukraine stated that the explosions in Dzhankoi destroyed Russian "Kalibr NK cruise missiles during their transport by rail."
According to the intelligence, these are missiles designed to be launched from surface ships of the Russian Black Sea Fleet. They have a range of more than 2,500 kilometers against ground targets.
Blasts heard in Dzhankoy, occupied Crimea, in alleged Ukrainian drone attack on railway hub (updated)
Destroying Russian supply lines was one of the strategies Ukraine's army used before conducting an offensive on south Ukraine's Kherson Oblast, from where the Russian Army retreated in November after being cut off from reinforcements.
Occupied Crimea is no stranger to Ukrainian strikes. In August 2022, a series of explosions reportedly targeted three airbases, In December 2022, a powerful blast was heard in Russian-occupied Sevastopol.
According to Ben Hodges, former commander of the US Army in Europe, Ukraine will retake occupied Crimea in 2023, and to do so, it will disrupt the logistical networks that are important for Crimea. These include the land bridge that runs through Melitopol and Mariupol, as well as the one through Kerch.
Ukraine to liberate Crimea by end of August 2023 – former commander of US Army in Europe
Tags: Crimea