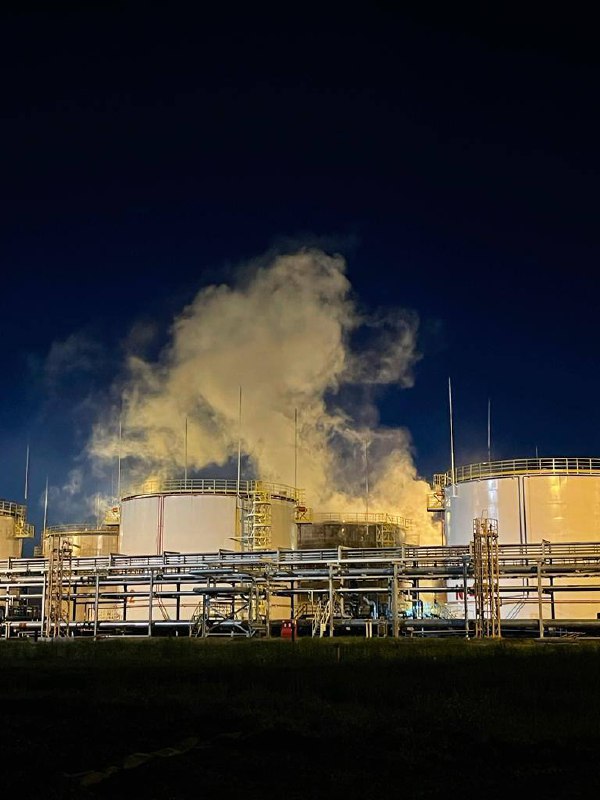 Fuel storage tank on fire at Ilsk refinery in Russia's Krasnodar Krai early on 4 May 2023. Photo via UNIAN 
In the early hours of 4 May, a fire at an oil refinery in Russia's Krasnodar Krai, after what might be the third drone attack on Russian fuel facilities over the recent days.
The Ukrainian news agency UNIAN says local Russian social media users wrote that they heard "pats" (a common Russian media euphemism for the sounds of explosions, – Ed.) before the fire at the Ilsky refinery, linking the "pats" to a possible drone attack on the facility.
https://twitter.com/EuromaidanPress/status/1654031909167550464?sdfds
The urban-type settlement of Ilsky is located far behind the front line (more than 350 km):
Another fuel facility in the same Russian region was apparently attacked by drones a day ago, which resulted in a massive blaze that engulfed a fuel storage tank:
Oil depot on fire in Russia's Krasnodar Krai near occupied Crimea
On 29 April, four fuel storage tanks caught fire in Sevastopol, occupied Crimea, after an alleged drone attack:
Fuel depot on fire in occupied Sevastopol after alleged drone attack
Update:
The Russian state-funded news agency TASS reported that four drones carried out the attack on the Ilyinsky Oil Refinery. One of those failed to detonate, and "it will be blown up in a controlled manner, we were told by the emergency services of the Southern Federal District."
A video emerged apparently showing the moment of the attack:
https://twitter.com/EuromaidanPress/status/1654049978287833095
Read also:
Tags: fuel, Krasnodar Krai, Russia, UAVs