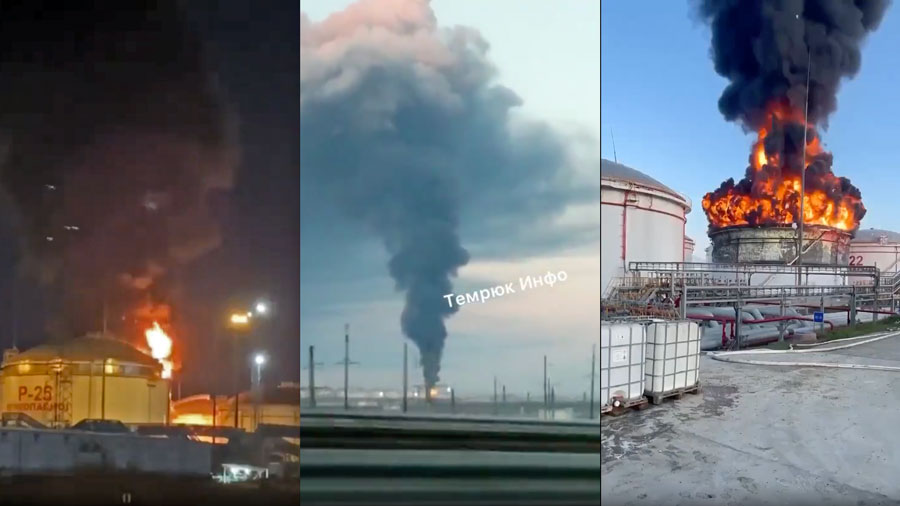 Screenshots from social media videos showing the fire at a Russian oil depot in Krasnodar Krai near Volna settlement on 3 May 2023. 
Early on 3 May, a blaze broke out at an oil depot on Russia's Taman Peninsula near the Kerch bridge, according to the local governor and multiple videos posted on social media.
"A tank with petroleum products caught fire in settlement of Volna, Temryuk District. The fire has been classified as the highest rank of difficulty. According to preliminary information, there were no casualties," Telegram channel Russian governor of Krasnodar Krai Veniamin Kondratyev reported.
NASA FIRMS satellite data confirm fires at the oil depot in Volna on Russia's Taman peninsula, more than 250 km behind the frontline. pic.twitter.com/SORZWWop0d

— Euromaidan Press (@EuromaidanPress) May 3, 2023
The oil depot is less than ten kilometers from the Kerch Strait bridge Russia illegally built several years ago to connect Russia's Krasnodar Krai to occupied Crimea. It is not yet known what caused the fire at the fuel facility located more than 250 km behind the front line.
https://twitter.com/EuromaidanPress/status/1653636755323752450?sdvs
The fire at the Taman oil depot may be the next step in a series of alleged Ukrainian attacks on Russian logistics capabilities. In recent days, an allegedly Ukrainian drone attack caused a massive fire at an oil depot next to the Russian Black Sea Fleet base in occupied Sevastopol, then blasts damaged at least two railway lines in Russia's Bryansk Oblast north of Ukraine, causing the derailment of two freight trains.
Update:
Russian state-run news agency TASS claimed the blaze in the Volna near the Kerch bridge was "due to the fall of drone."
Update:
CCTV footage that emerged on social media later on 3 May apparently shows a drone attack on the Taman oil depot:
https://twitter.com/EuromaidanPress/status/1653912572956114945?dsf
Read also:
Fuel depot on fire in occupied Sevastopol after alleged drone attack
Fuel and timber train derails after explosion on railway in Bryansk Oblast, Russia
Tags: Kerch Strait, Krasnodar Krai, oil depot