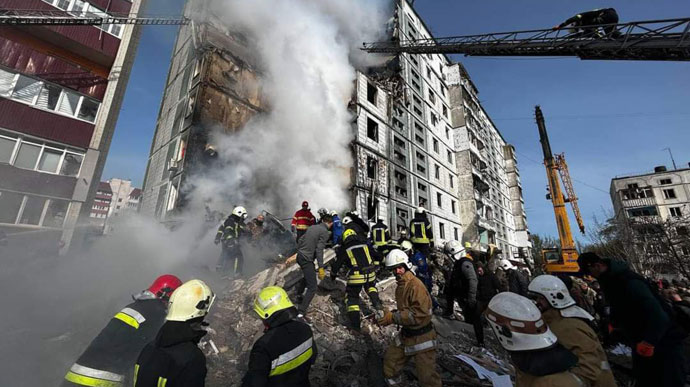 The rescue operation continues in Uman. Photo: State Emergency Service 
At about 4 AM, Russia attacked Ukrainian cities from Tu-95 strategic aircraft near the Caspian Sea.
Ukraine's air defense shot down 21 of 23 cruise missiles of the X-101 and X-555 types, as well as 2 drones, Ukraine's Commander-in-Chief Valeriy Zaluzhnyi reported. However, at least three locations were hit, according to acting Interior Minister Ihor Klymenko.
Reportedly, the moment that Russian missiles hit apartment buildings in central-Ukrainian Uman, at about 5 AM
📽️ https://t.co/j8LzVCPasc pic.twitter.com/Kr0On5u3eM

— Euromaidan Press (@EuromaidanPress) April 28, 2023
Two missiles damaged three apartment buildings in the central-Ukrainian city of Uman, Ukraine's largest Jewish pilgrimage location.
As of 8:30 AM, nine people were killed; at least 17 were injured in Uman acting, according to acting Minister of Internal Affairs Ihor Klymenko.
Russian missiles struck apartment buildings in Uman. Photo: Ihor Klymenko/Facebook
Two people were injured in the nearby city of Ukrainka.
Upd. The death toll from the Russian missile strike on Uman has risen to 10. At least 14 people were rescued from under the rubble.

221 rescuers from Ukraine's emergency service are on the spot. Dogs help them find people buried under rubble.
📷 @SESU_UA pic.twitter.com/3w3l6HyygE

— Euromaidan Press (@EuromaidanPress) April 28, 2023
In Dnipro, a central-Ukrainian megapolis, Russian missiles destroyed a private house was destroyed in Dnipro, killing a 2-year-old girl and a 31-year-old woman were killed and injuring three people, a 58-year-old man, a 57-year-old woman, and 31-year-old man. Fires erupted at several locations in the city, according to Serhiy Lysak, head of the Dnipropetrovsk Oblast Council
The missile strike on Dnipro destroyed a private house and set several commercial locations on fire. Photo: Serhiy Lysak
Firefighters extinguish fires that erupted after Russian missiles hit three apartment buildings in central-Ukrainian Uman, where they killed at least 10 people.

Three days of mourning have been announced in the city.

📽️ National Police pic.twitter.com/KfnhECF1Tu

— Euromaidan Press (@EuromaidanPress) April 28, 2023
Such Russian cruise missile strikes on Ukraine have become rarer recently, a fact attributed to problems with Russia's replenishment of its missile arsenal. However, artillery strikes on frontline regions have never stopped; as well,  Russia continues to pound frontline regions with refurbished S-300 air defense missiles that Ukraine cannot shoot down, as they move by a ballistic trajectory.
Tags: Dnipro, Russian missile strikes, Uman